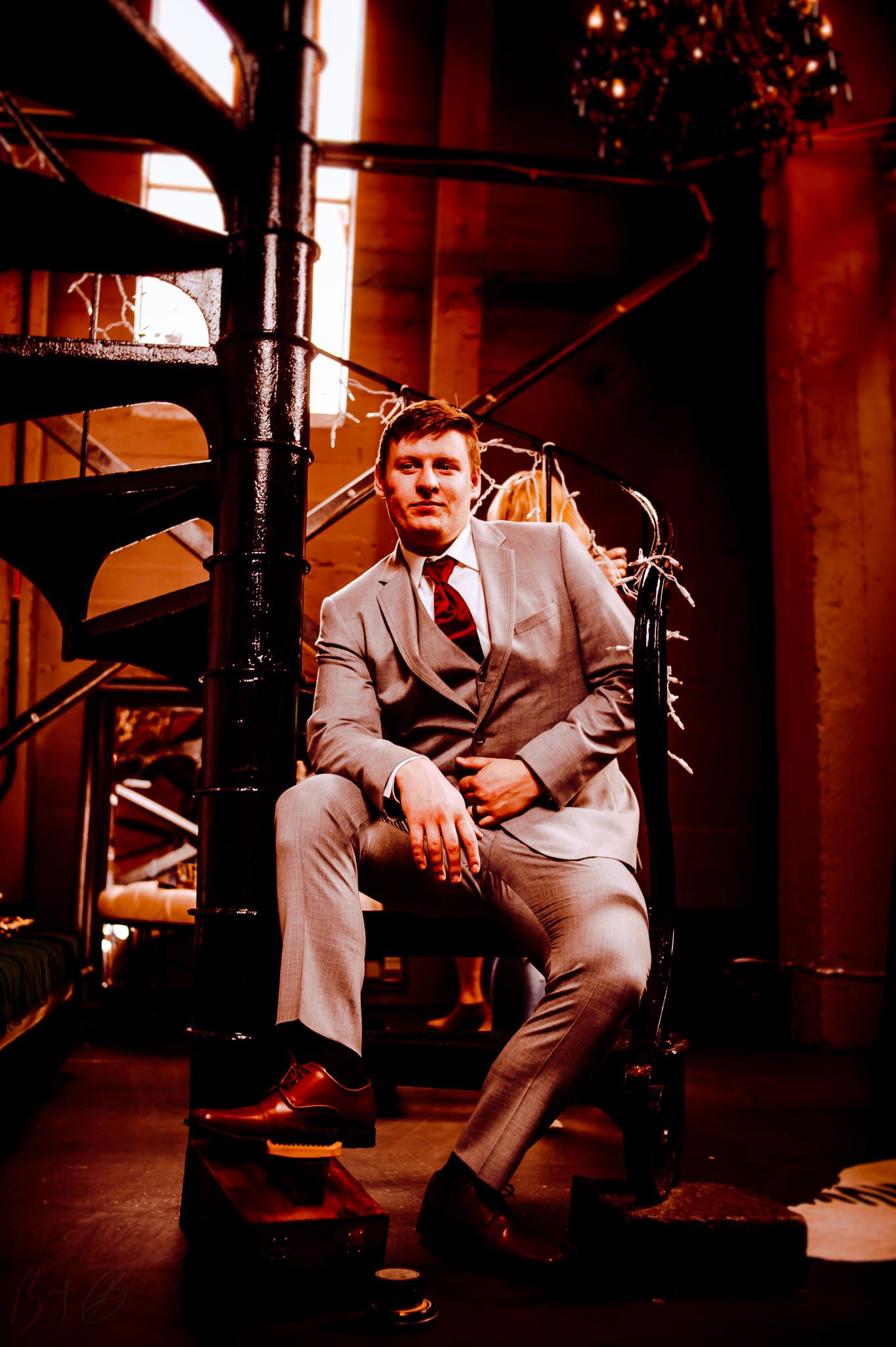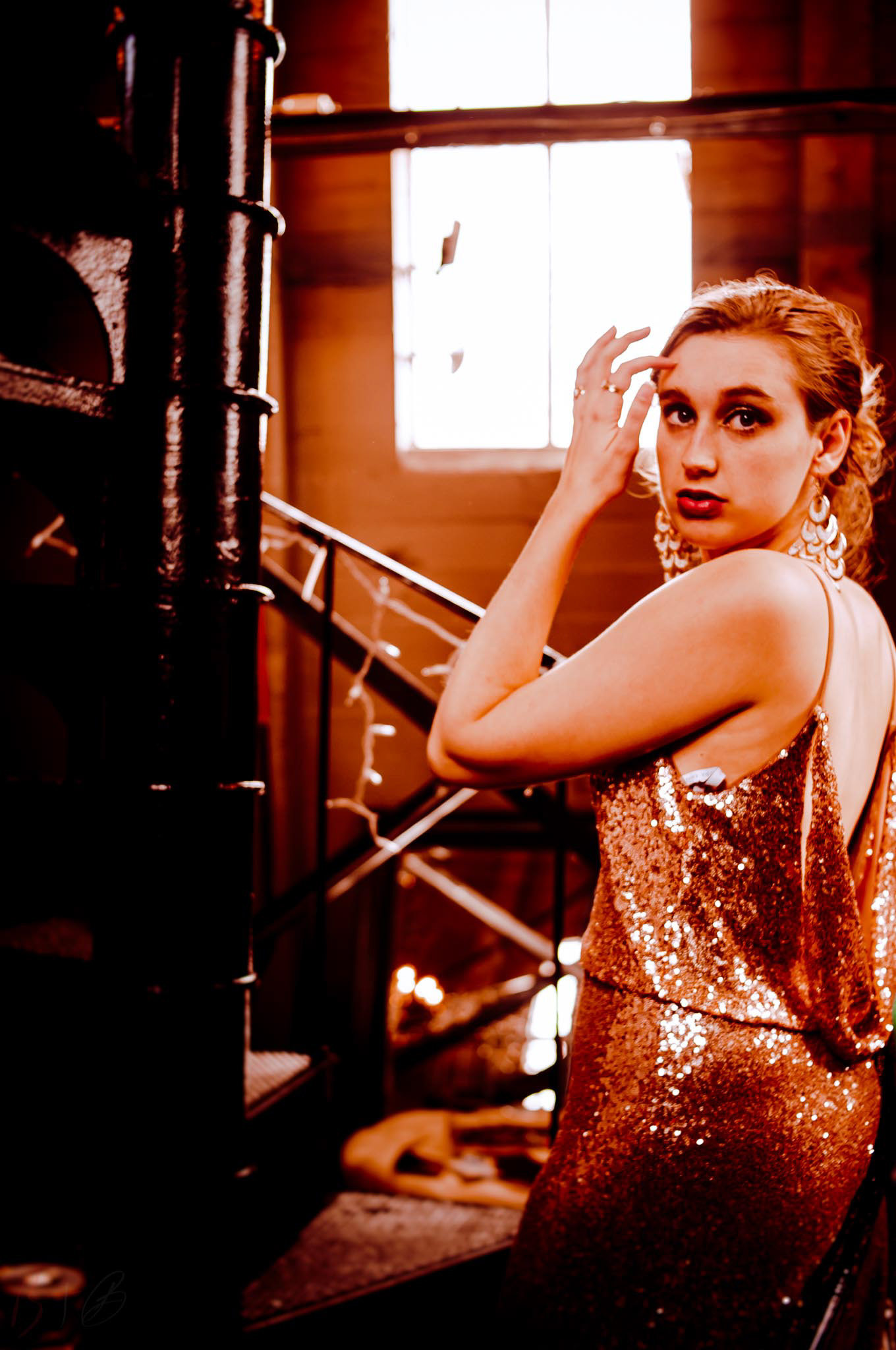 Ben: 
Alright, I'll start because it still shocks me.
Becca:
 Gotta keep you on the toes, would hate to become boring.
Ben: 
That would never happen! 
There I was coming home from work, feeling like I helped get the city on track with all the tech work and looking forward to hearing about Becca's day what mischief she had gotten herself into.
 You'd be surprised for someone who can take forever to finish her first cup of coffee.
 She magically always finds an adventure to go on. 
Maybe that is why she can never finish that cup of coffee quickly, adventure is always calling and distracting her. 
*grins and winks*
Becca: 
*grins and roll eyes* 
Would you just start it, if not I'll just get to the facts, and it will be boring!
Ben: 
Okay, okay! 
So there I was coming home in February, to a beaming happy wife.
 Nothing new there, edits must have been good, she must have learned something new (obviously not photoshop or else there would be corks everywhere,  remembering the time it happened), the book(s) must have been good, she must have called and talked to her friends or family, she must have traveled somewhere with a friend today, 
"Hey tiger, how was your day? What are you up to? What are the plans for dinner?" 
Becca: 
HOW DO YOU FEEL ABOUT GOING ON AN ADVENTURE FOR THE WEEKEND?
Ben: 
Hey I thought you wanted me to tell the story? 
Becca
: I do, but that is one of my favorite things to ask you, so I had to belt it out. 
*sheepishly grins and winks*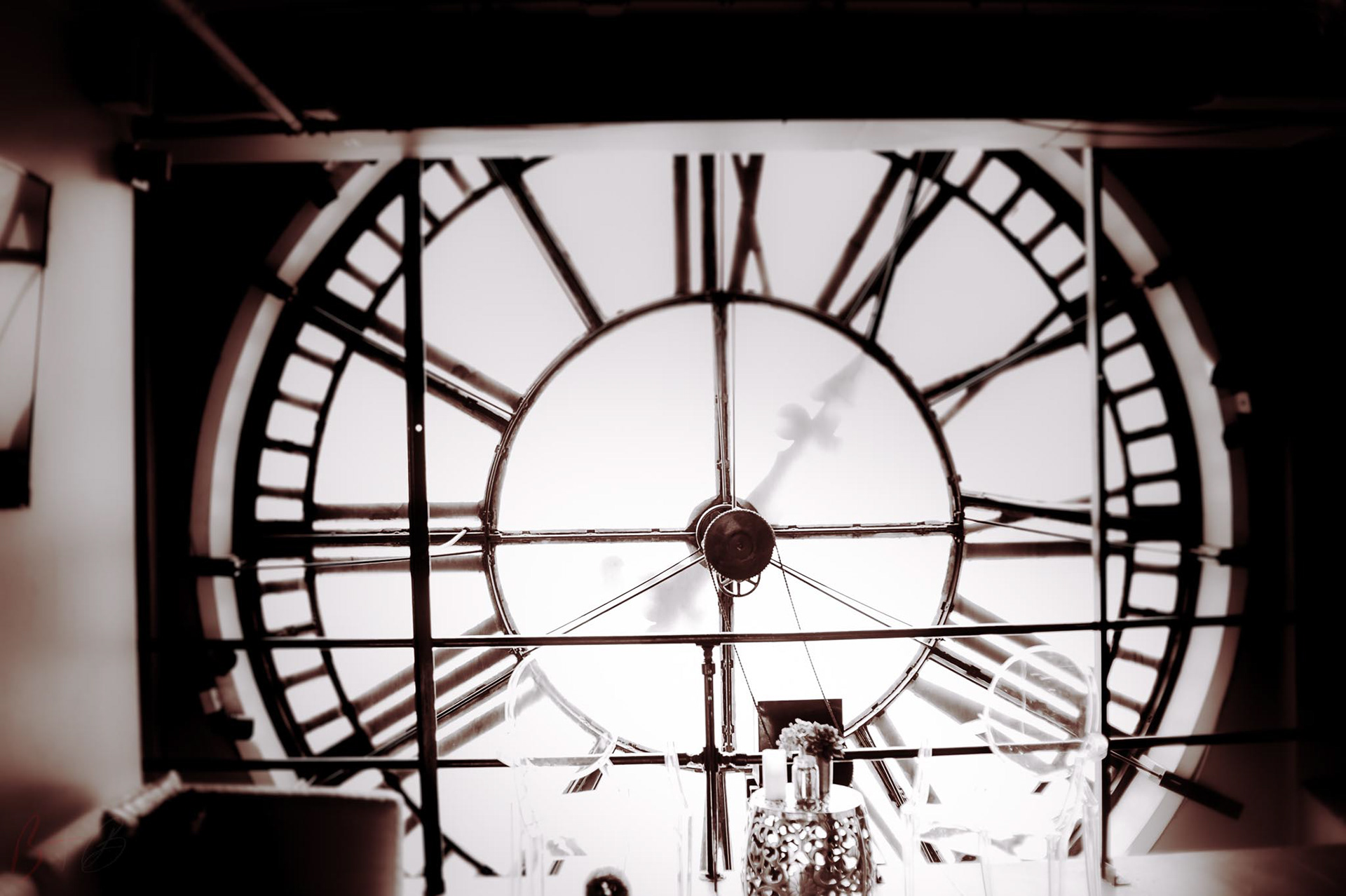 Ben: 
*chuckles* Yes, yes it is, I'll get back to telling the beginning of a favorite time with you. 
"Want to have a weekend away?" Becca screeched in her loud high pitched, excited voice, right in front of my very near face.
 As excitement crept into my voice I said "Where are we off to?" 
My wife responds with the following, "Well you see there's a clock tower in denver and I have a fellow photographer that wanted me to send a selfie shot to her to see if we would be a good fit for a stylized modeling shoot!" 
Mixed sarcasm with honest concern filled my response, "First things first, who are you and what have you done with becca? Secondly that's so awesome! And thirdly but really where is she and who are you?"
 I knew my wife well, she throws fits at the mere mention of me taking her photo. Now she wants strangers to take our photos? Really who is this person in front of me.
Becca: 
A person who has been told by you to get out of my comfort zone. A person, who has been told by many that I love my comfort zone. A person you vowed to be married to under the words growth and understanding. A person who vowed to never stop being your adventurous partner. Aka, yo wife. Was the one, standing in front of you. 
Ben: 
Someone is sassy, like dayuuuuum. 'Aka yo wife', I felt that one.
Becca: 
*shrugs and sips blueberry water*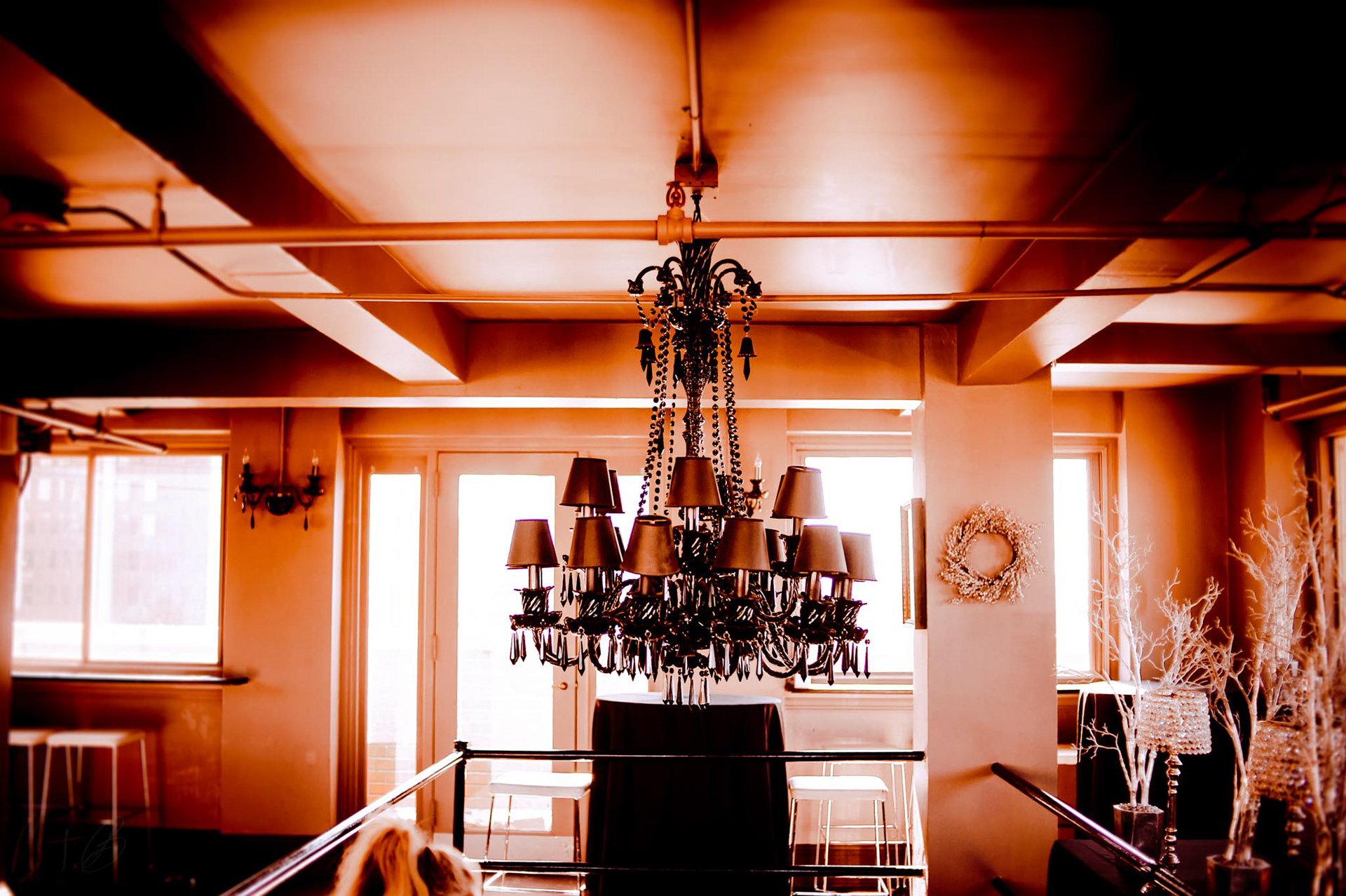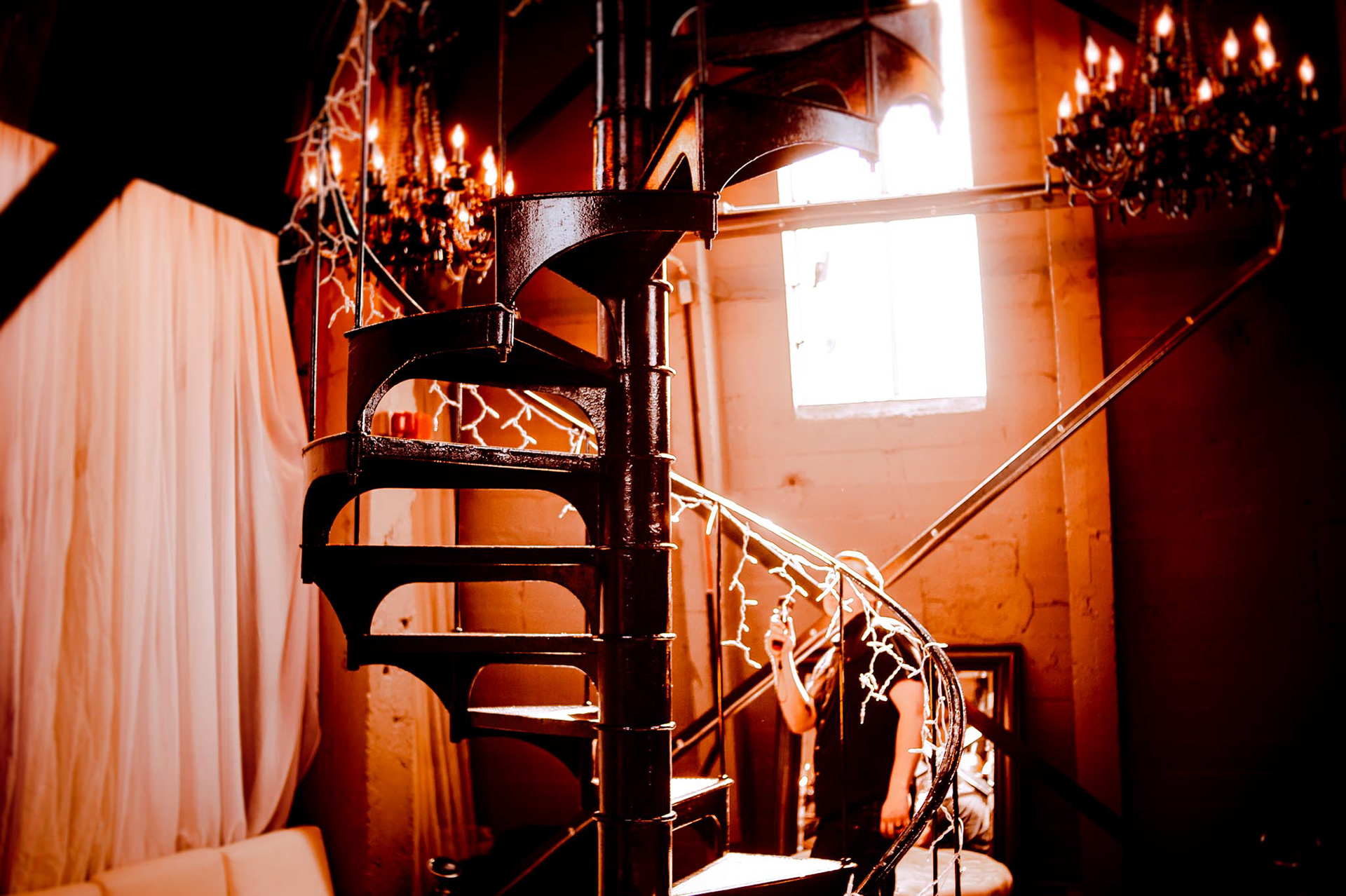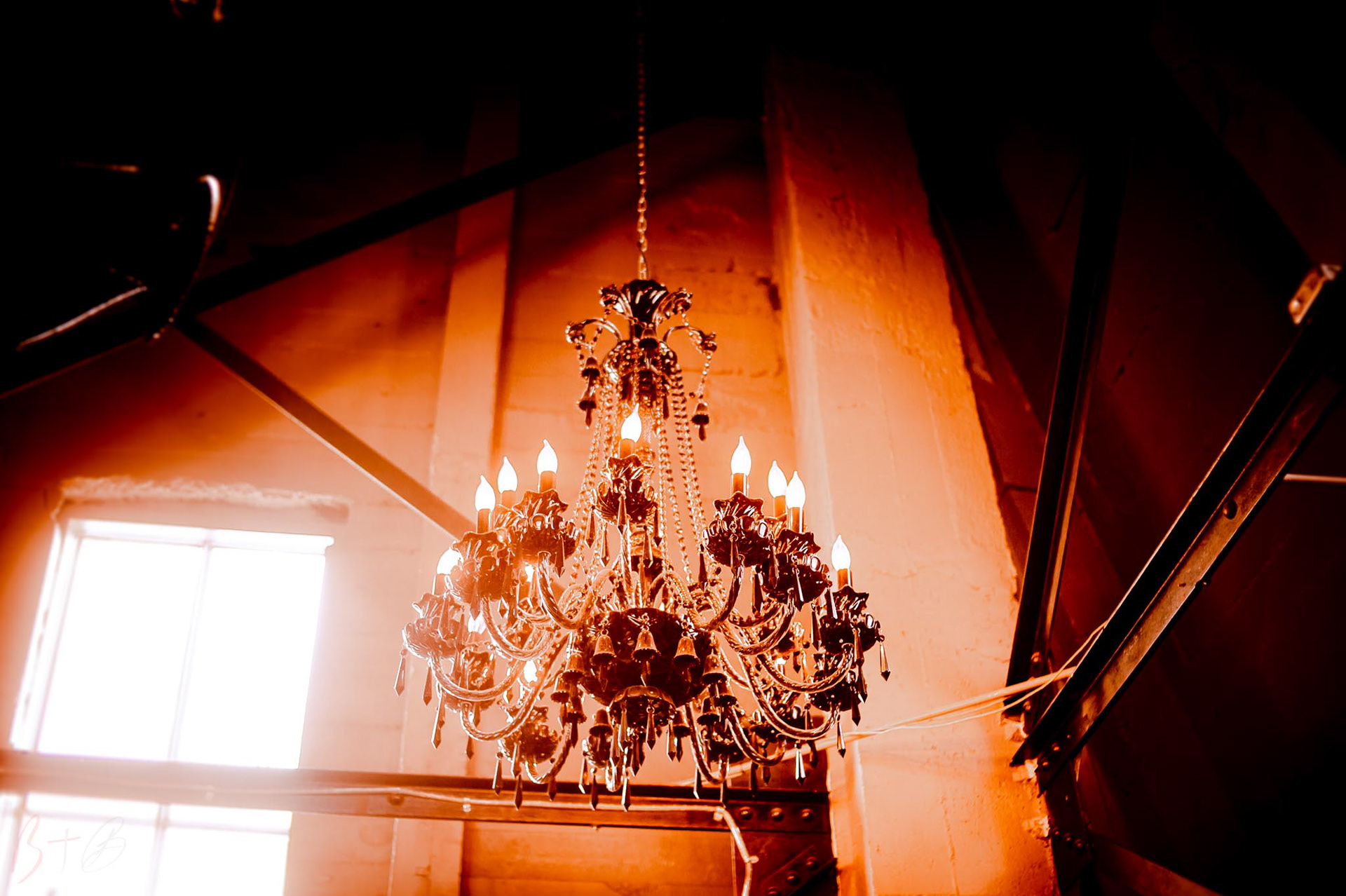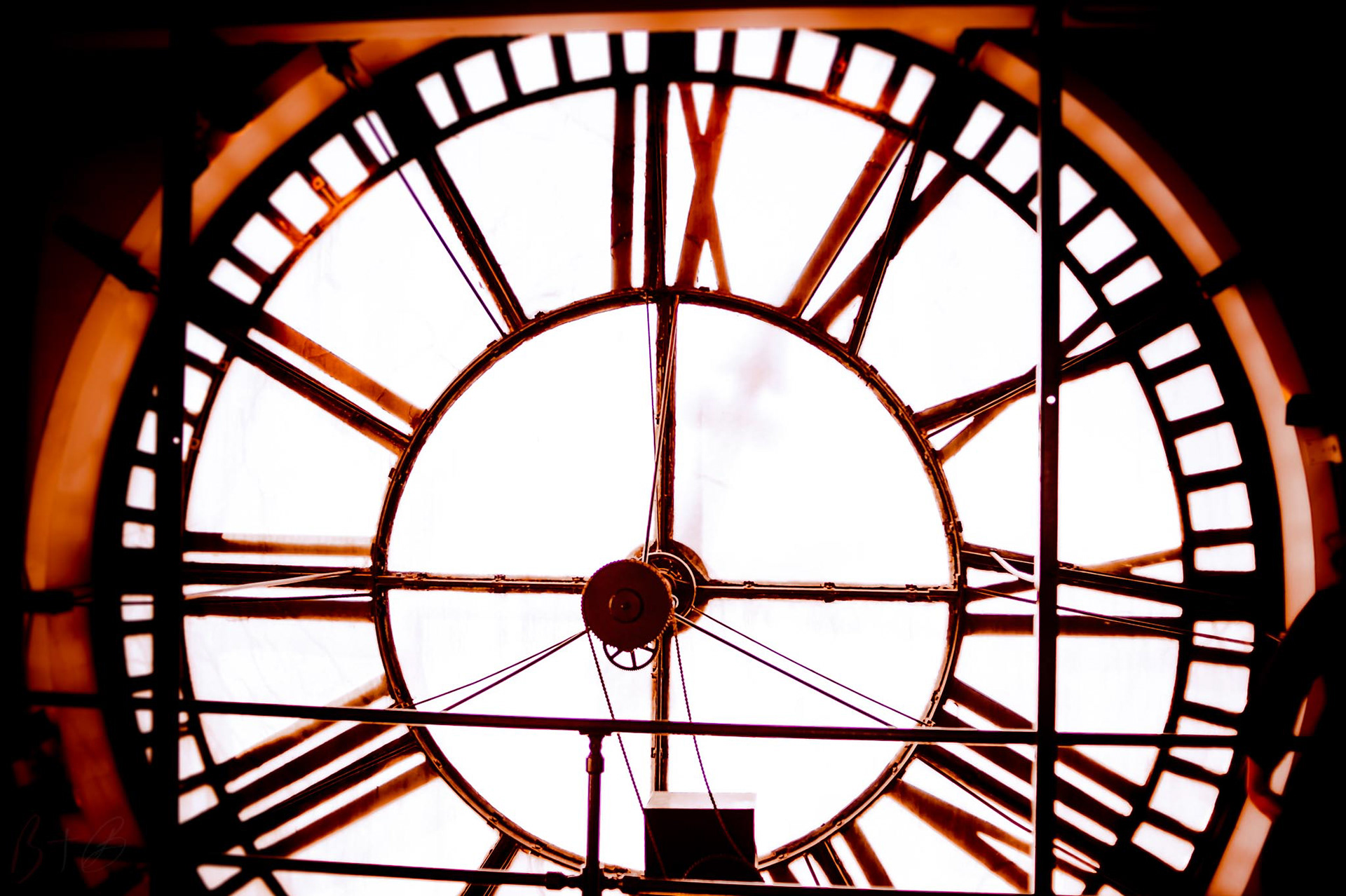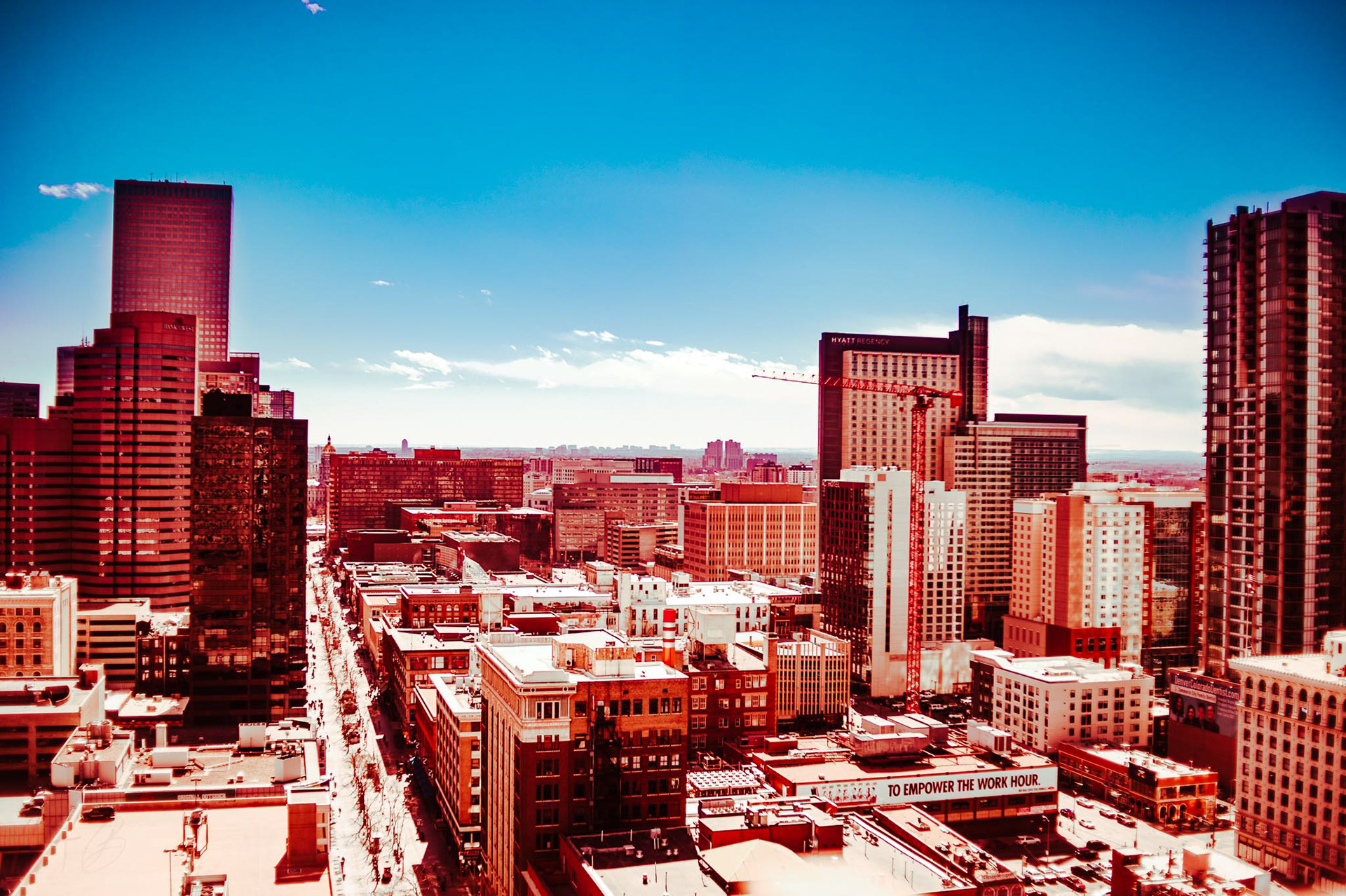 Ben: 
Okay, back to the storytelling. 
After asking who are you to my wife, my wife states with a happy tone, "It's me! You have been mentioning wanting to go on a road trip lately, actually more than one roadtrip, but figured, this would be a good last trip to Denver and make a happy memory instead of one of aggravation and sadness and separation." 
All I could think and say was "Yeah, I am down!!"
 It had been a long time since our last adventure, if there is one thing Becca and I never argue over is, there is always time for ONE MORE adventure. 
Life is too short to not go. You'll make your money back, you'll talk more about your time spent adventuring than your time playing video games. 
Speaking from experience on the last part. I can tell you I played video games, but not of the talks I had while playing and only a few wow moments. 
However, this blog is a year and 6 months old, and I can recall many things from this trip. It was a lot of good times even there were some scary and crappy moments.
Becca: 
And that is something, because you have a terrible memory, glad our times together are worth remembering to your brain! 
Ben: 
All the times with you are memorable and worth remembering, even the days where we aren't being exactly our best. 
Becca: 
Agreed, the good and bad times with you are better than no time at all. 
Ben:
 Exactly, now back to story?

Becca: 
Yes please, let me know if you want me to jump in!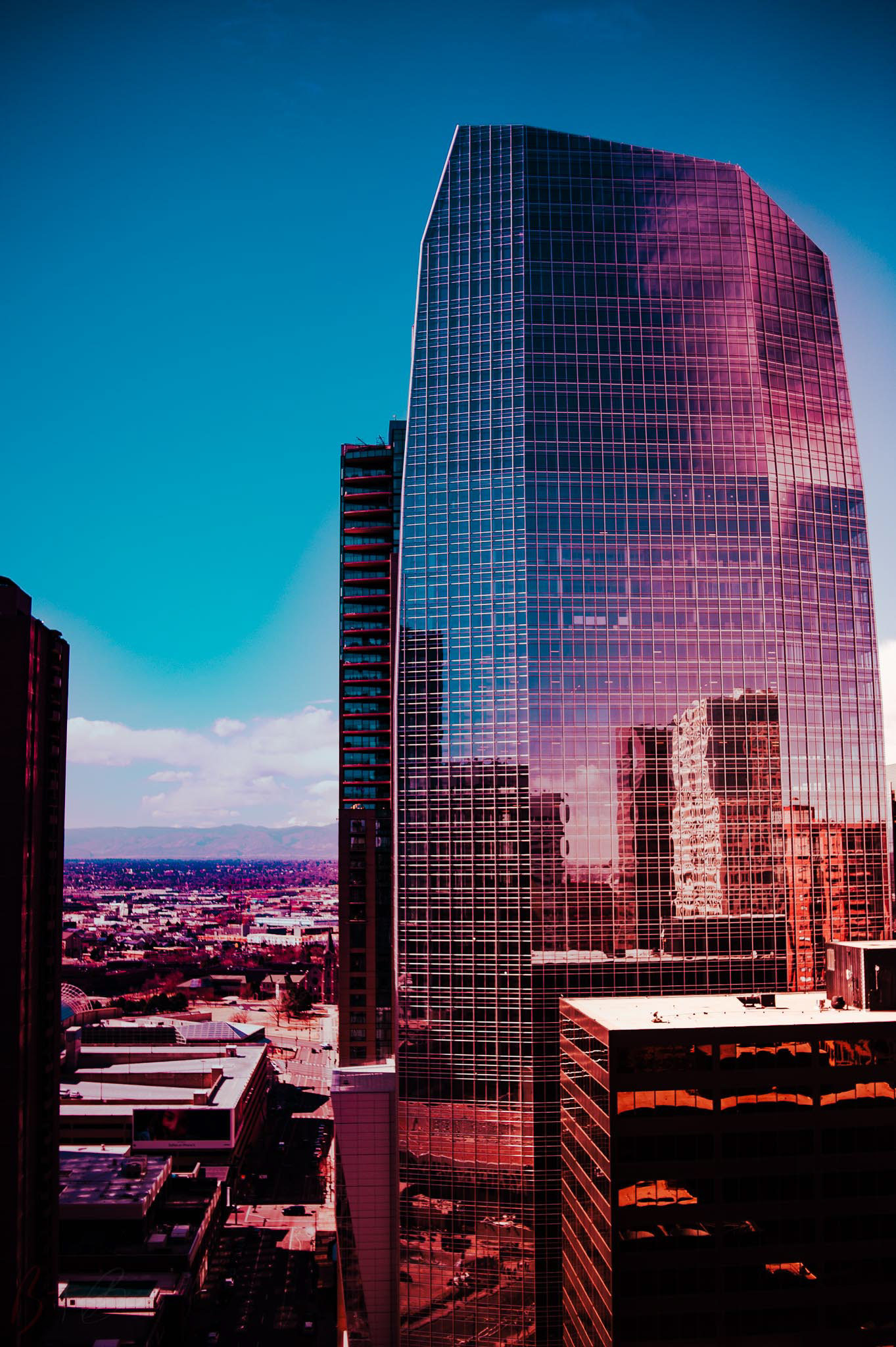 Ben: 
Will do, thanks for your help! 
Once we started looking into air b and b, how much it would be to drive, how that day would progress I started getting hyped and ready for this amazing weekend trip. 
We had decided that although it would be our first time to model for someone else together, we could pull it off. Being a team, we knew we could do anything with each other.
Becca: 
I love being your teammate fooooo lifeeeeeeee. 
Like holllaaaaahhhhh I got ya back! 
But really, once we start booking things, the excitement just builds.
 Idc if it is just a weekend away in town at a local bnb's, it is a HELL YEAH LET'S GET THIS PARTY STARTED.
Ben: 
So there we were talking to Ashley (The Coordinator) to get the scoop on dates and times, where to be and when to be there, she let us know that we need to get sized for our suit and dress that we would be wearing for the stylized session
. I asked Becca "Hey do you think we could find someone local to size us?"
 "I don't see why not"  she said with a big smile on her face. 
"We should just go for a walk downtown until we find a shop to size us!" 
We both agreed. 
Walking down the street we came upon a shop for flower arrangements, suits and dresses mainly for prom, and anything in between. 
The place smelled like Thanksgiving rose parade! The store owner was astounding and we were so glad that we didn't just go to a regular old clothing store to do this!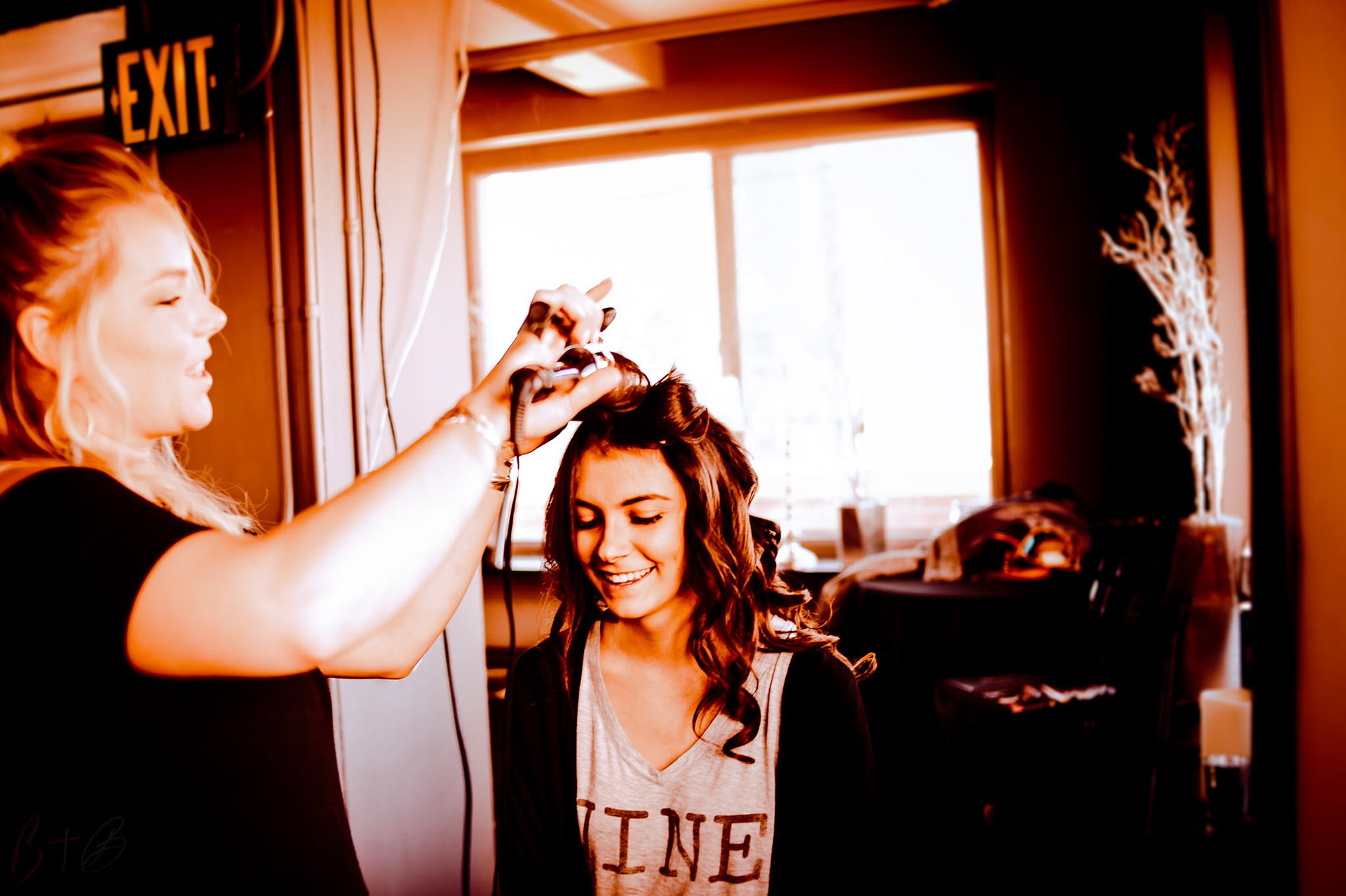 Becca: 
*sips tea* 
dude, #shoplocal #shopsmall ALWAYS.
 Most small businesses love what they do,
 and not enough people understand their passion,
 like your assistant should not be a dead inside human being 
because corporate america sucked their soul out. 
Ma and Pop shops always have more life in them! I swear! 
Ben:
 Yeaaaah, I know. You right
. You were also right in trusting our neighbor to watch our fur babies. 
They were so happy, even if Belle tricked our neighbor a few times. 
You are right, the princess is a diva.
Becca: 
*sips tea*
Ben: 
YEAH YEAH, 
SIP YA TEA WOMAN.
Becca:
 Gladly.
Ben: 
So we got the sitter, we got the air bnb, 
we got the sizes, so next I decided to do something I had been hounding becca todo, 
A VLOG. 
Becca: 
Okay, let me explain: I hate being on camera. 
I figured the vlog would warm me up to the idea of behaving and watching my face…
 I am always thinking, and that shows on my face. 
Alot, it used to get me in a lot of trouble until my grams learned to ask what I was thinking. 
Ben: 
And sometimes your face is just cranky because you need tea or food.
Becca: 
*sips tea*
Ben: 
Remember how before this, all the trips to denver held sad memories, 
this was the really only ever time that denver was good.
Becca: 
Yeah after doing long distance and having denver, 
represent a short time together before leaving, 
this seriously was the one time that denver was good to us.
Ben: 
So we were going to make one last trip, remembering it all.
 Mountains speak volumes, reaching into your memory and releasing a joy you've experienced before.
 They brought back fear, sadness, happiness. 
We talked about these times and when you spend that long getting to know each other it strengthens you, revisiting those moments going for this last trip made it later on to model for others when all I was able to focus on was Becca.
Becca:
 It really is hard to only get limited time with one another, but I guess that is why we are so good about scheduling our time for one another and why we are so good at taking the busy life we have and balancing work and relationship. Yet outside of being told to take photos, all I can remember from modeling is Ben.
Ben: 
Thankful for the sad times in Denver, 
but really grateful for this weekend, and giving a good ending to that chapter of our lives.
Becca: 
Amen. 
*clinks tea*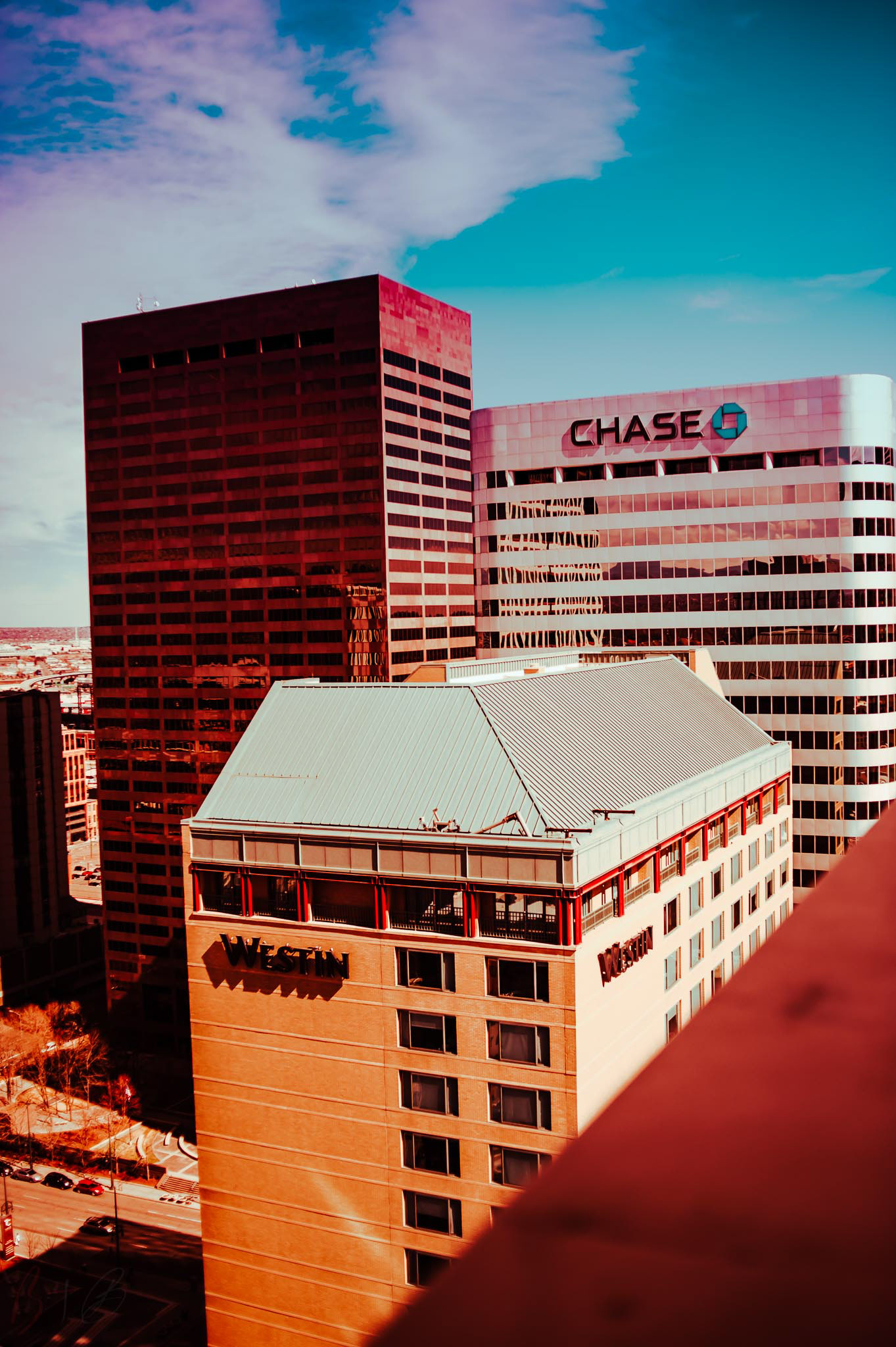 Ben: 
Ironic how we were always chasing time, to be together, and our last chapter in Colorado, was in a 1911 Clocktower.
 In a city filled with sad memories of saying "till next time" and countdowns till next time.
 Funny how that 10 hour drive, there and back, felt so much shorter even though it was longer (we'll get to that) knowing that I had you the whole time, no goodbye.
Becca: 
The irony is not lost at all. 
Someone upstairs had fun with this ending, most definitely.
Ben:
 Even choosing a different route than the way we typically went to drop off at airport,
 I70 seemed shorter, the less treacherous path. 
Passing through hometown felt lighter,  that chapter was getting recognition for getting me
 to the chapter that got me, Becca. 
But also there was no more goodbyes, just "Never again denver." 
Becca: 
I have to agree, passing through brought back meeting your family for the first time, 
and how far we had come in our relationship and lives, and it just over all started off really well.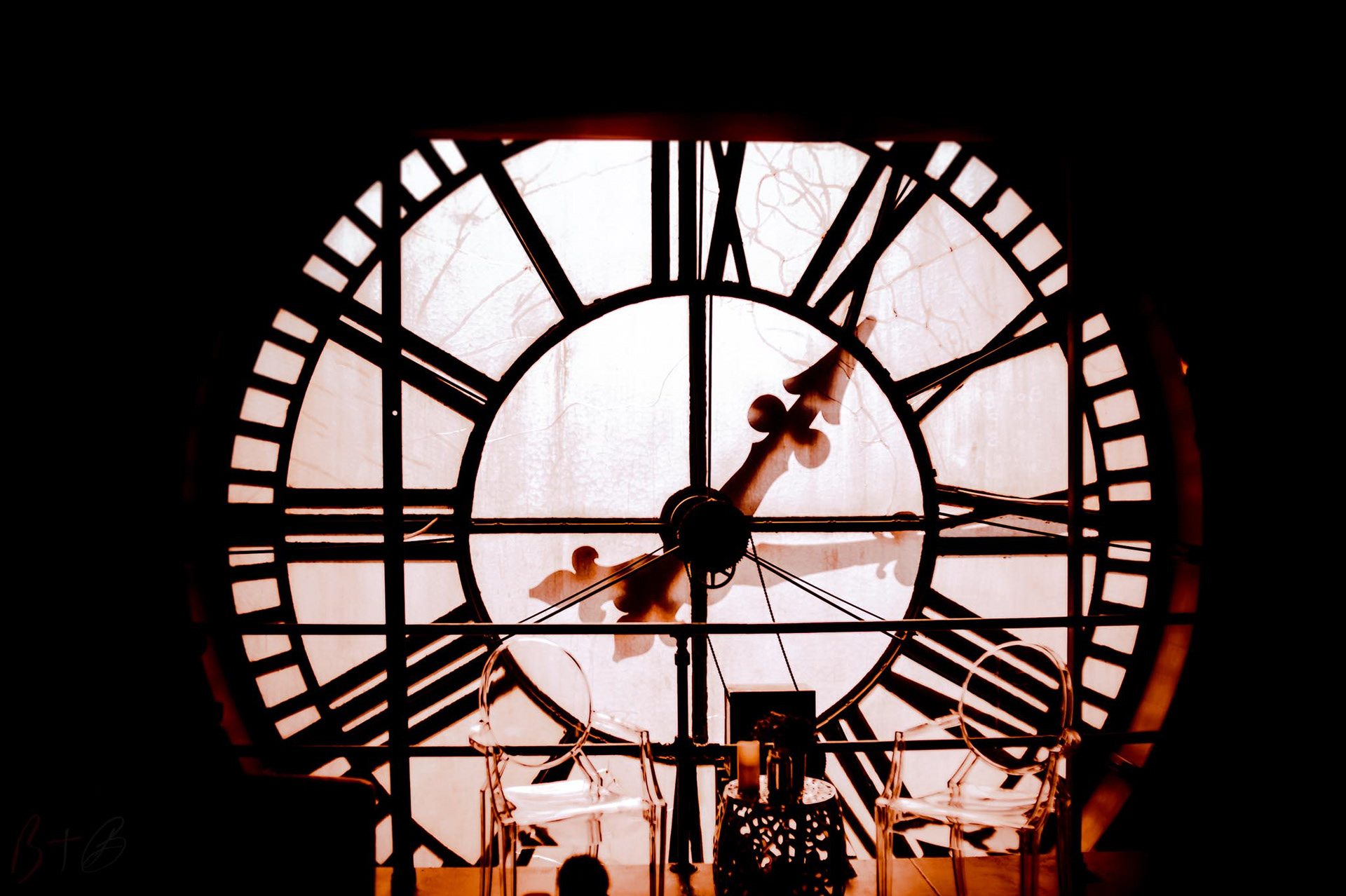 Ben: 
I had planned to show becca Fort Collins too but ended up having to turn around 
because of the airbnb check in time, as well as our stomachs were growling. 
Becca: 
Yeah I was actually growling, but really traffic was nuts and I was not having it!
#hangrygrammypassenger but as the professional media team that we are, we decided to take a long way back to air bnb, to find the clocktower for the next day. 
Ben: 
To be honest I joined in too…… #hangrygrampydriver, but the excitement returned once I saw the clocktower, then it ticked away as more Denver drivers got between my destination and I.
When we got back to our airbnb to meet up with our host and drop off our bags. The hosts were amazing and they set the tone for how airbndb's work, they told us how to get in and the rules then pretty much left us to decompress from the trip.
Becca: 
What you just said sounds like it took awhile 
but it literally took about 6 minutes to get in and out 
and on our way to feed the monsters within..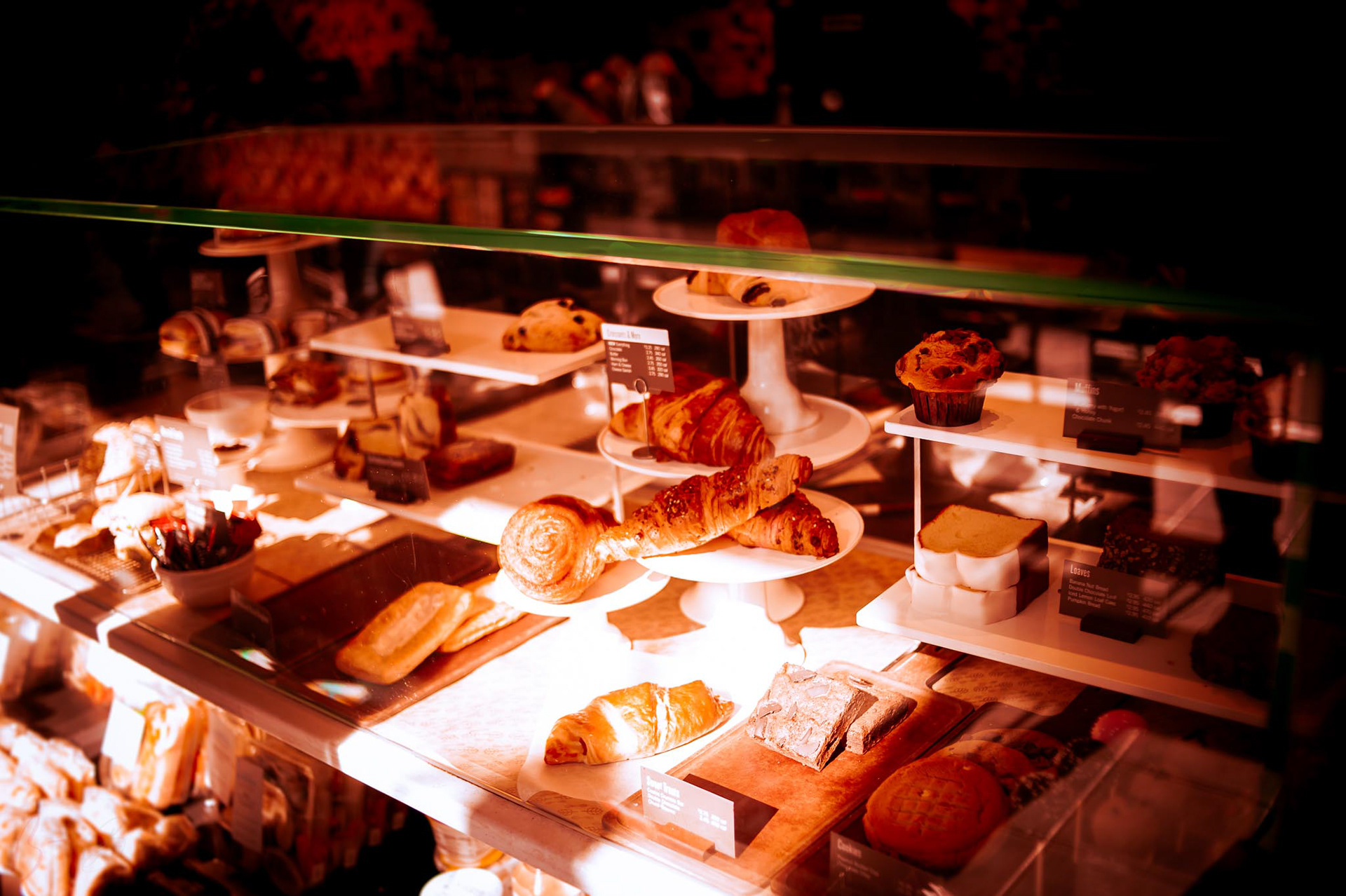 Ben: 
With both of our stomachs rumbling and tumbling, not knowing what to get, we googled and we knew where the best most reasonable place was: Texas Roadhouse popped up, it was also only 3 minutes from Air BNB.
We enjoyed some of those amazing rolls and split food like we always do once we had a set of full tummys we headed back to airbnb to shower, watch an episode of Fixer Upper (fav show) not to mention get some rest so we can get up early the next day.
Becca: 
The food was totally needed and filled my heart with happiness! And seriously, 'Mama needs a marg' is a thing in this household, because some days just call for a marg and a beach. Margs are typically easy to get, beach trip can be a little difficult. Plus it is the perfect thing to help dooze off.
Ben: 
The next morning we woke around 5 am. I decided to help with the mane that is on Becca's  head.
Here's to all the ladies and gents that take time every morning to do their hair. As I don't usually don't do much and I started helping to curl her hair at 5am I made a firm decision never to curl my hair!
Becca: 
Thank you so much! 
You already got wavey cali boy locks, you do not need to curl your hair…..
 It's perfect just the way that it is.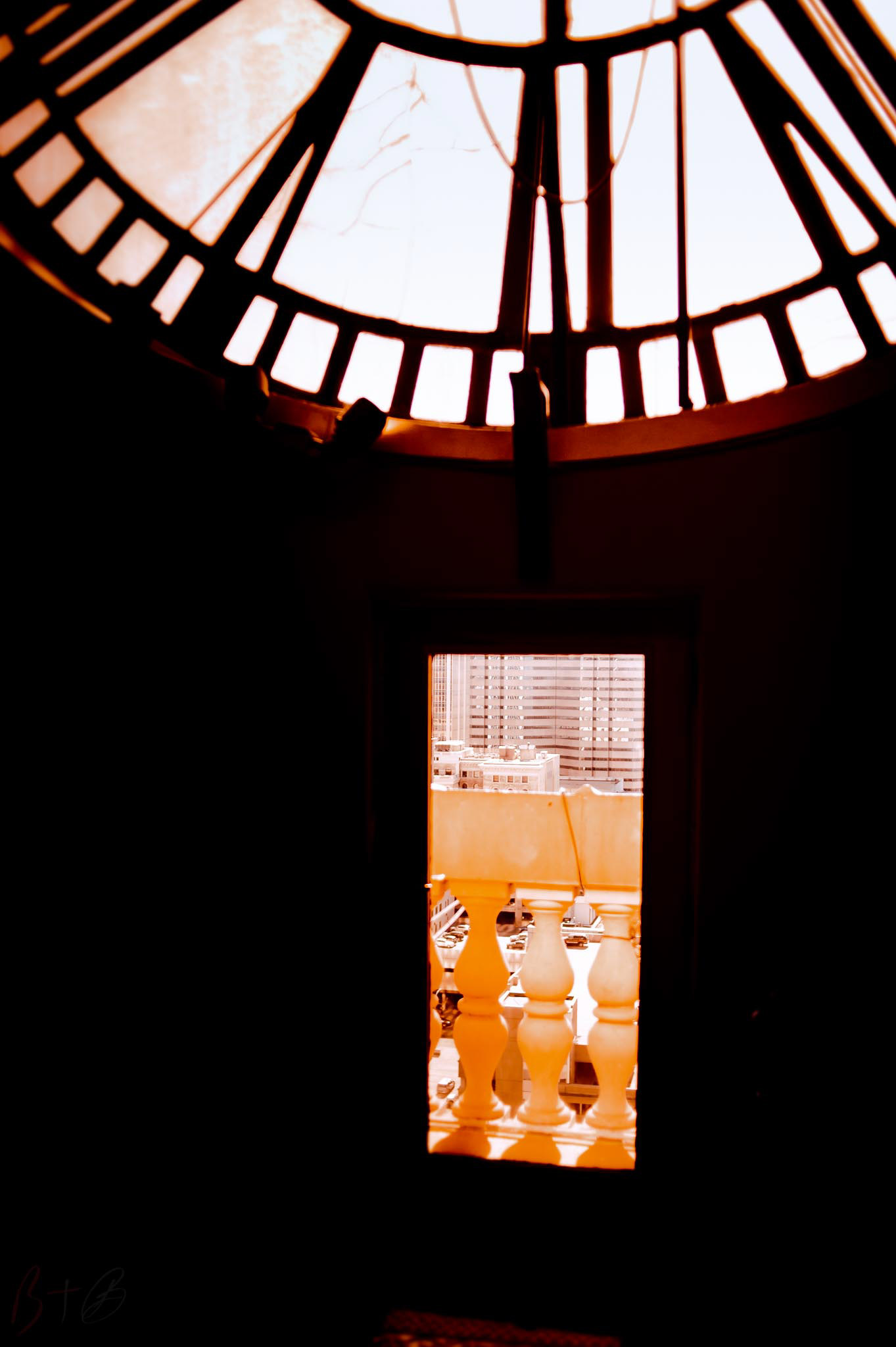 Ben: 
So because we were going back to Montrose, CO, 5 hour drive, after the shoot, we both made sure nothing was left behind and everything was packed ready to go with us to the Denver clock tower. 
That meant we trekked with our luggage, because Becca refuses to leave a bag in the car. 
Becca: 
"The safest bag is the bag that you can see- they also can double as weapons"- Grams, on travel tips.
Ben: 
And we never ignore the Grams.
We drove over to the parking garage which took 20 minutes just to find out the specific one we were supposed to go to was closed so we hunted for another one that was close to the tower.
Becca:
 Everyone was mad that the nearest one was closed, it was a big surprise.
Ben: 
So we ended up at a greyhound and we had a good reason to be worried about the car. 
Because when we were looking out toward the clock tower, from parking lot, we turned found what looked like a carjacking had happened and a purse riffled through. 
So we promptly DOOT DOOT'ed our butts out of there in a hurry and hoped for the car to be there when we got done.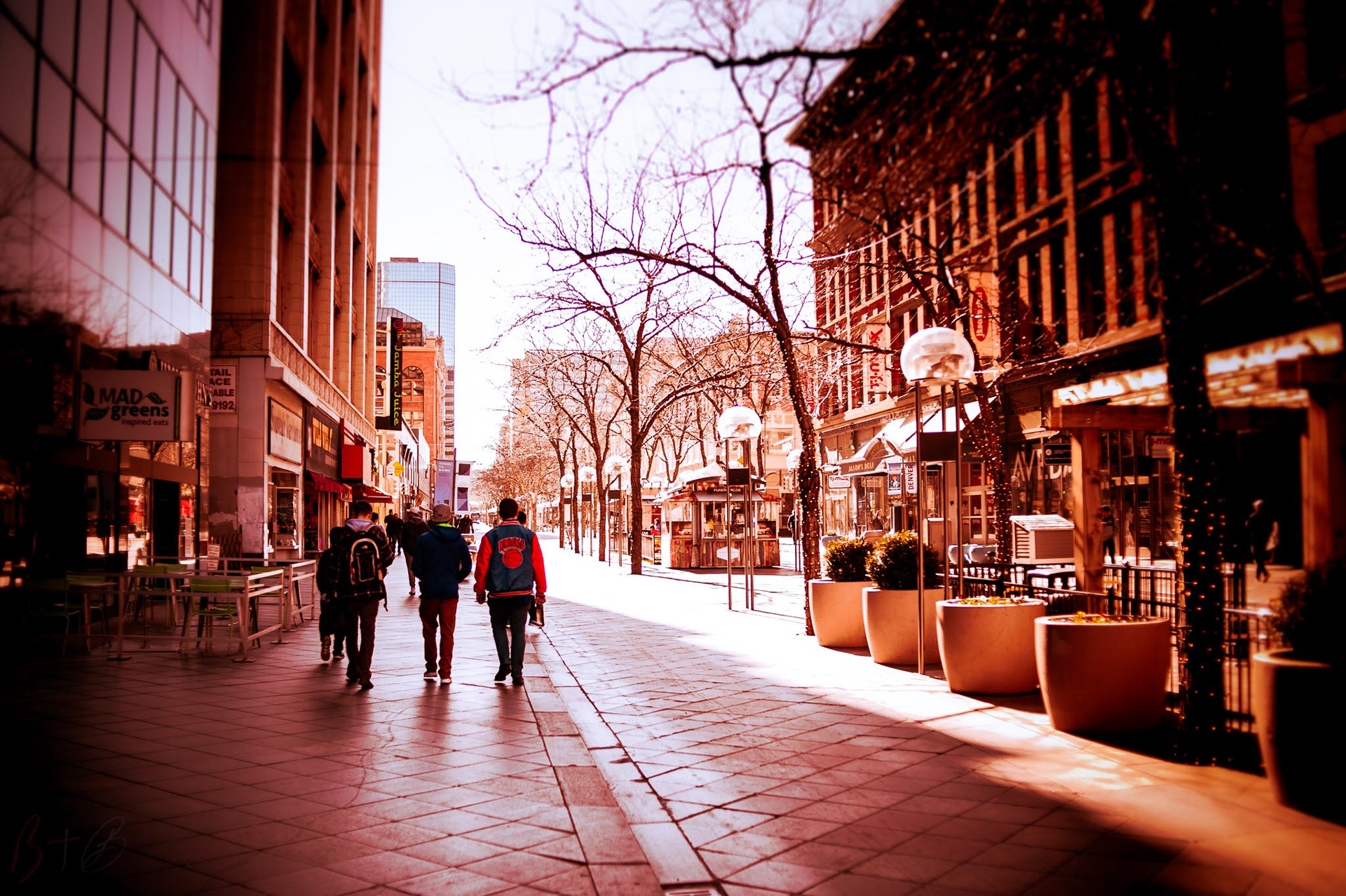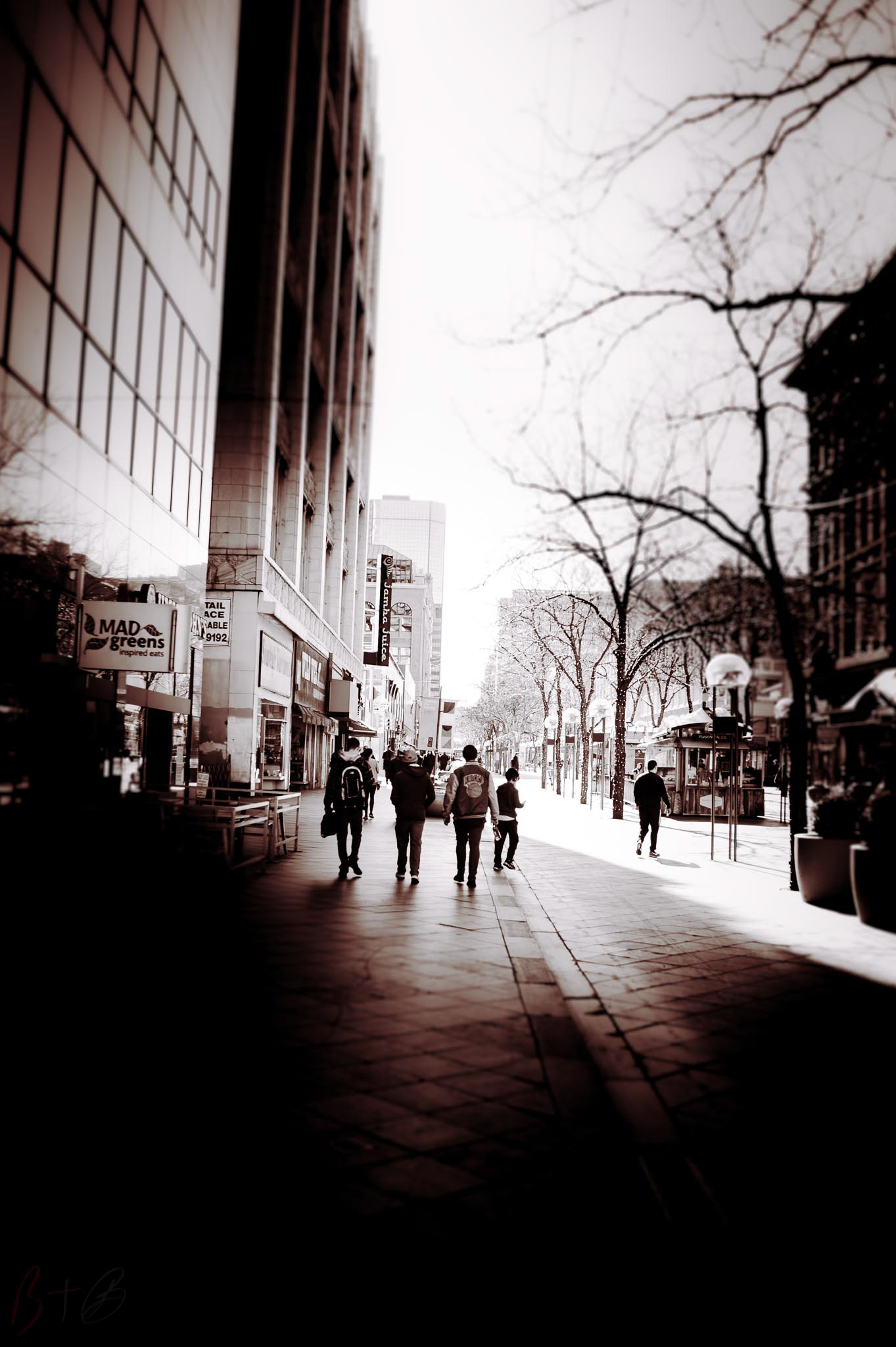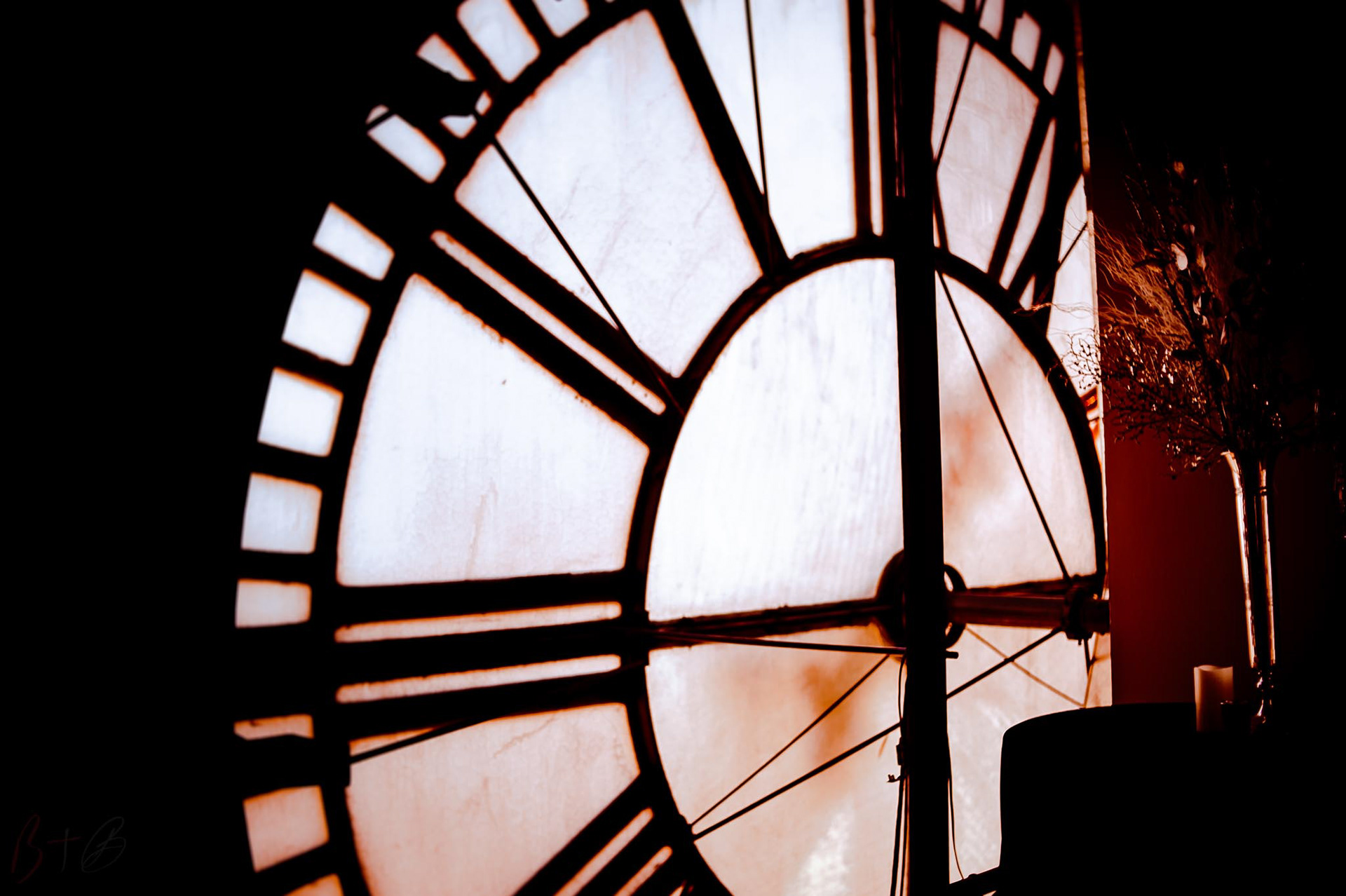 Becca:
To get back to the clock tower we ended up walking 4 blocks past several sketchy hobos.
 Believe Ben even got cat called, day made. 
As we walked to find the nearest breakfast place we ended up s
everal walking another 3 blocks for bruegger's bagels which turned out really tasty!
Ben: 
Once we finished devouring and taking photos of the food and the store, 
we walked back seeing as the shoot was about to start. I had never been in downtown Denver before but i wasn't too impressed with the smell.
Becca: 
There was human piles of poop emojis everywhere. 
We saw a guy literally pooping on the street. 
It stank worse than Nola.
  I felt safer in Nola, and that is saying something. 
Never again, Denver, unless we are shooting at the clocktower.
Ben: 
Waited for the building manager to open the door as she was late (car garage issues), I felt bad for the coordinator, Ashley. 
She was only allotted a certain amount of time to get all her props in, get everyone dress and into make up and then organize everyone to shoot the stylized session, when I heard what was going on with the doors and time crunch I decided it was time to help today as much as being a model for this coordinator that was already having a tough time.
Becca: 
Aka, I got to check out those guns in action, kapow. And that gluteus maximus.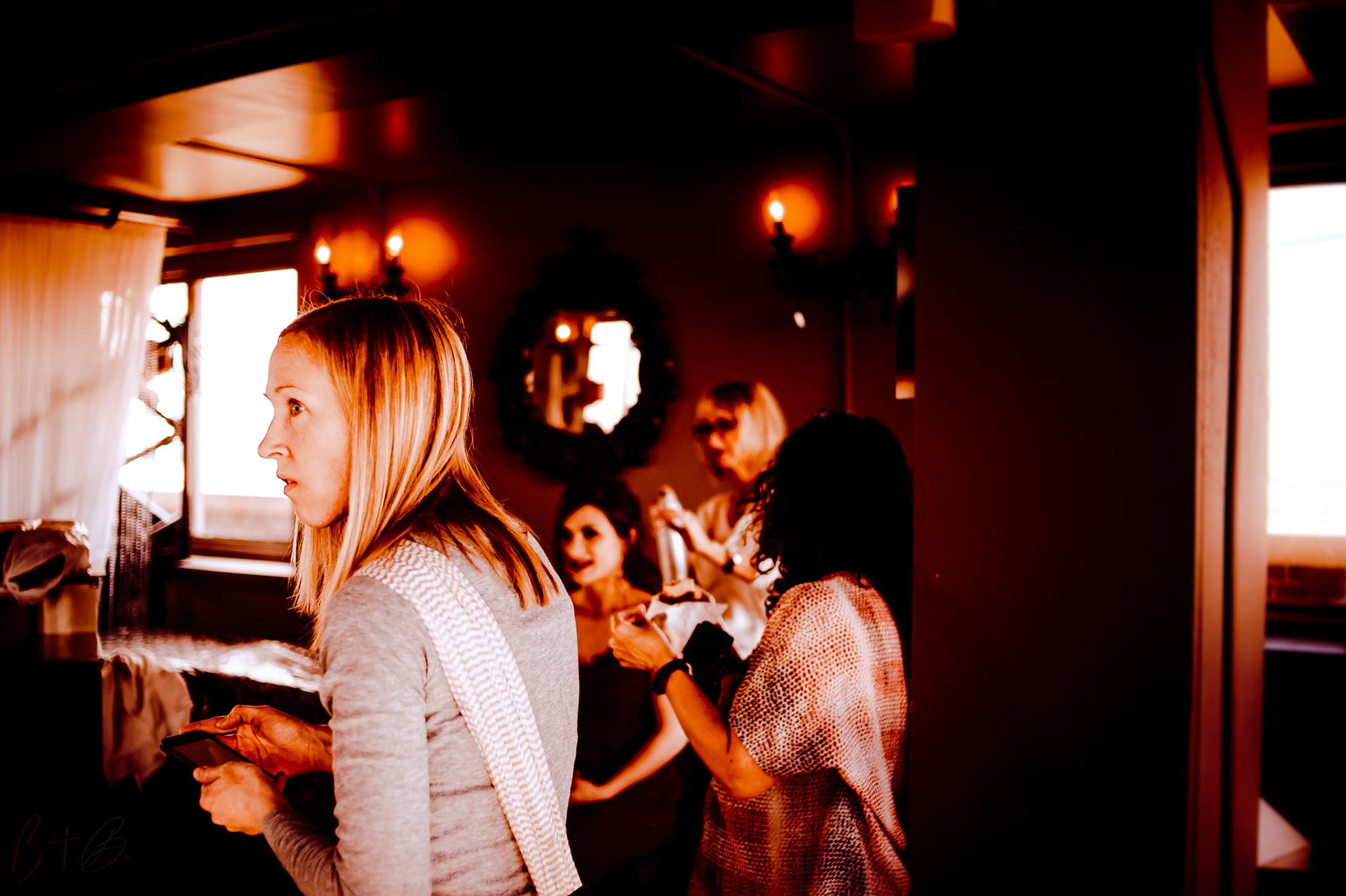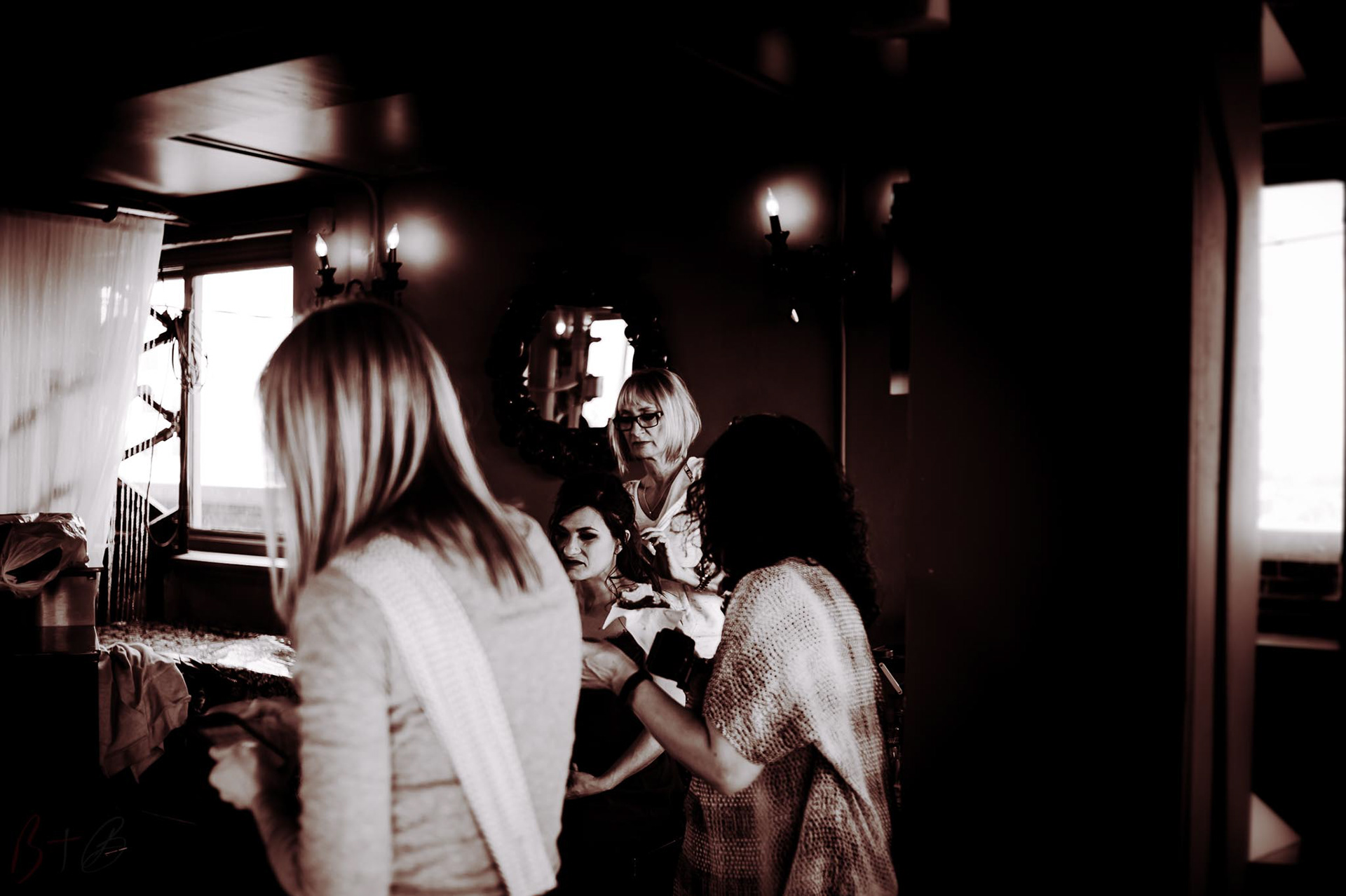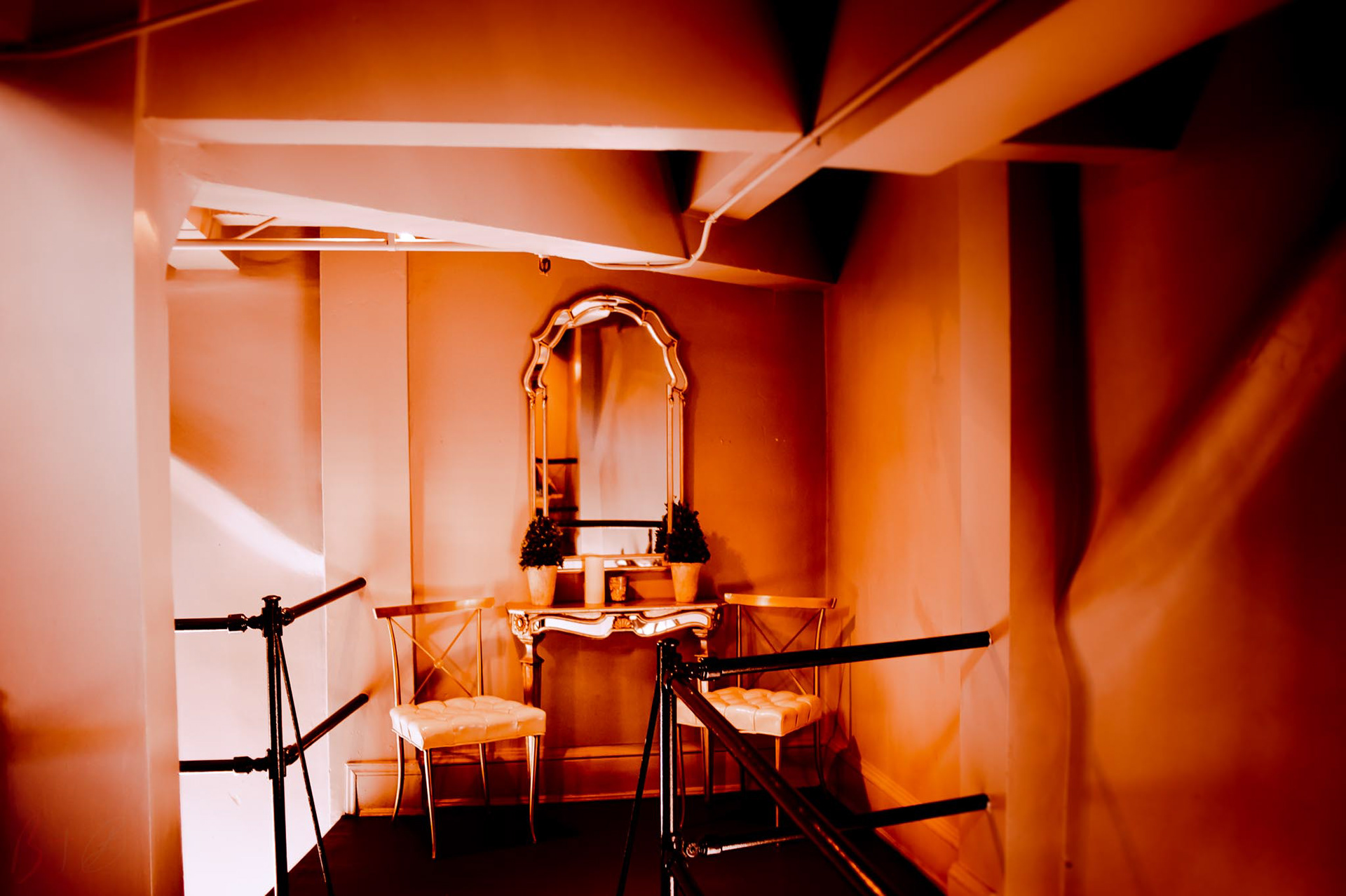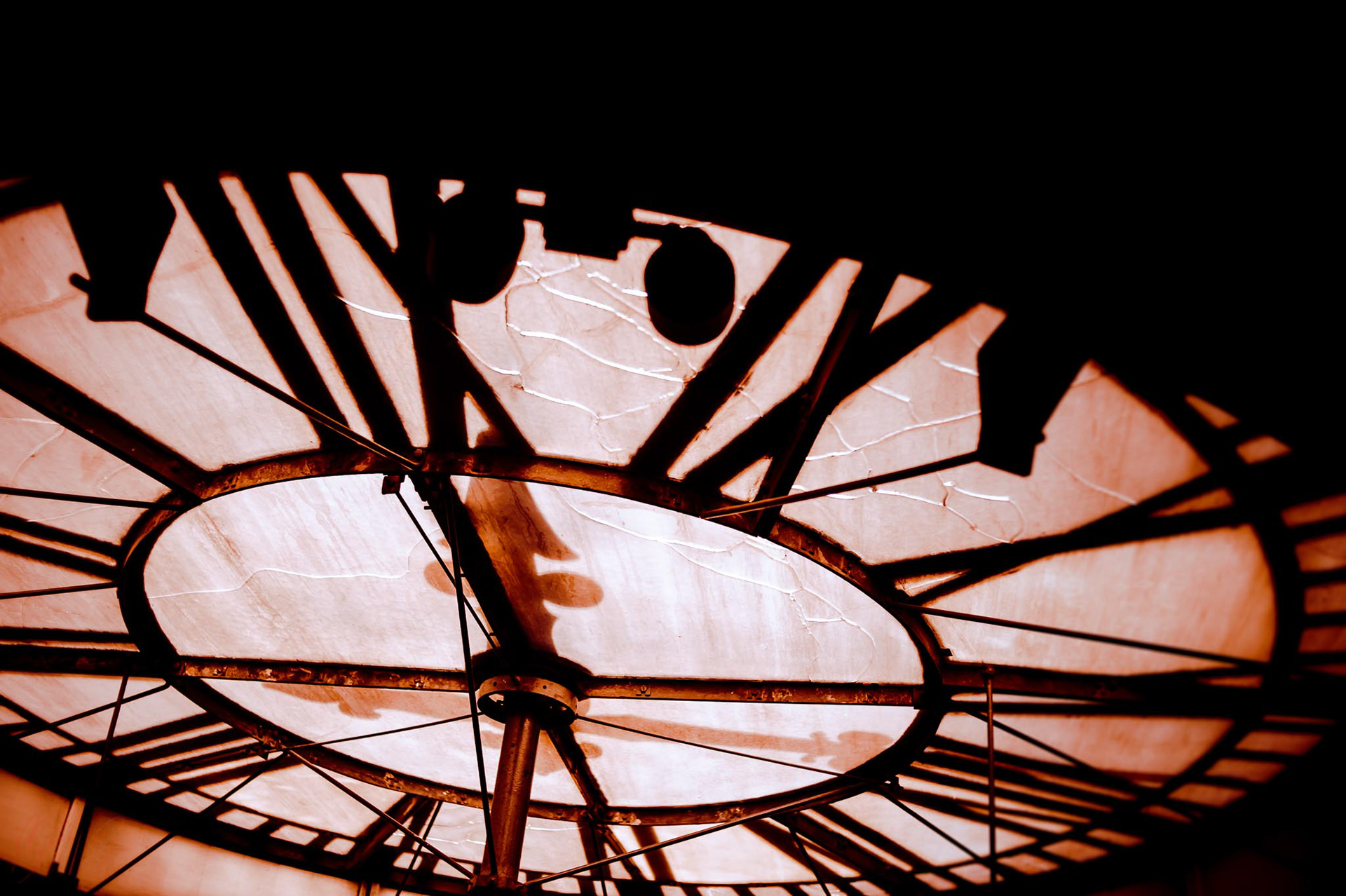 Ben: 
Okay, Okay, try not to get too distracted.
So while one of the other coordinators waited with the props and outfits we took a quick tour and enjoyed what this building was about, I had pulled out the gopro before going in to make sure I didn't miss a tremendous opportunity to get B-roll for vlog and show what stories this building had to tell.
Becca: 
And I followed behind, being a supportive rear follower. You know, a good supportive partner and all.
Ben:
 We took an elevator to the 17th floor,  where a small lobby was appointed the staging ground for flowers, outfits and direction. 
There were several floors from the 17th, you had to take stairs to get to, around the clock's inner tower.
 One area where Becca took charge, but I'll get back to her heroics (heroics to me) later further up. 
I believe the second to last floor was where you had access to a lookout where at that moment we had taken building shots and a couple poses of one another, as well as other photographers. 
We then promptly went to the final floor that had an amazing spiral staircase and chandeliers that matched the vintage tone we were trying to portray. 
How did you feel about the clock tower and how that first chain of events?
Becca: 
OKAY ONCE WE GOT INTO THE TOWER, I IMMEDIATELY FELL IN LOVE WITH THE VENUE.
 LIKE OMG, BEAUTY AND BEAST LOVER HERE AND THIS WAS BEYOND PERFECT VENUE. 
I loved grabbing photos the other models getting ready, and posing, and ugh #dreamlocation.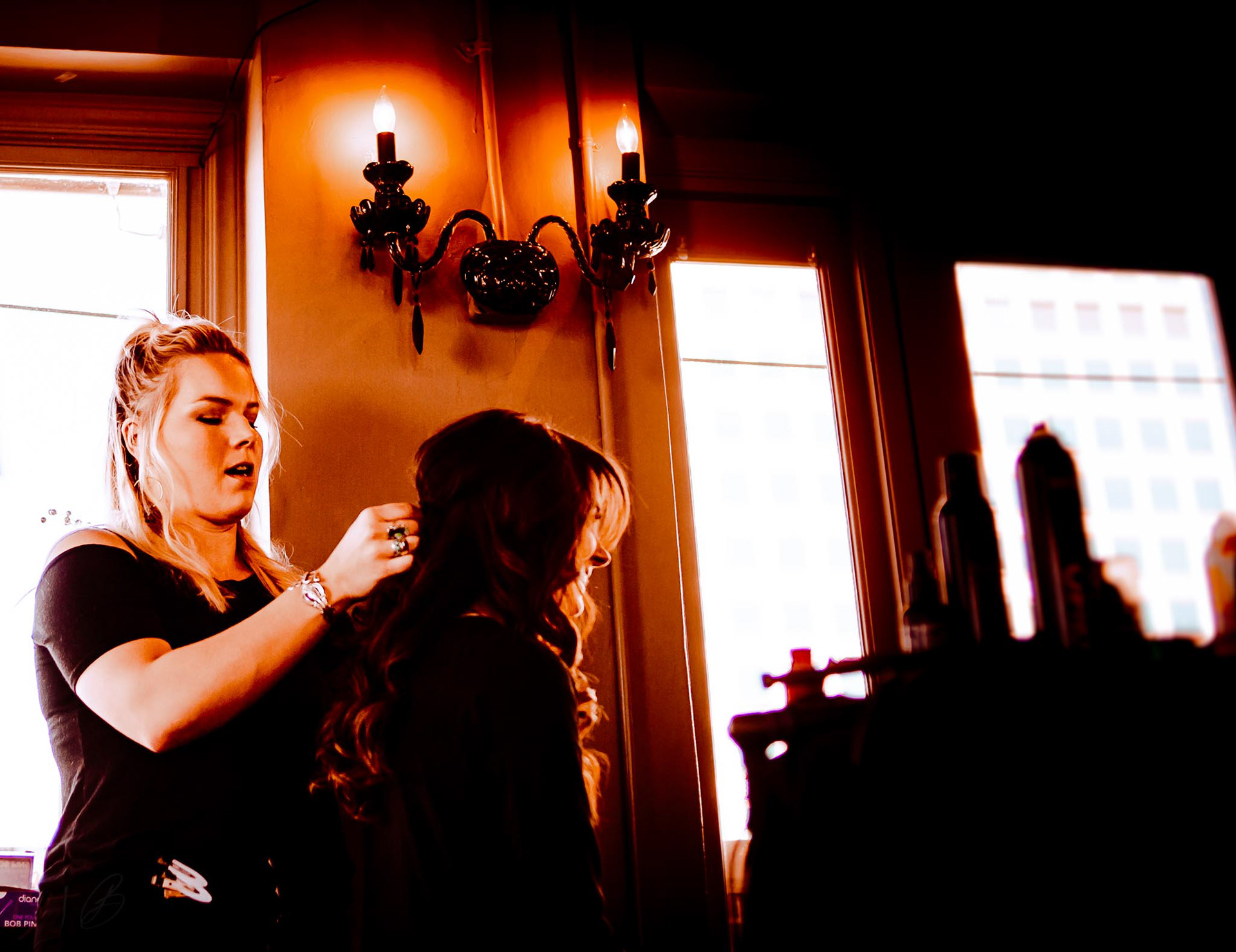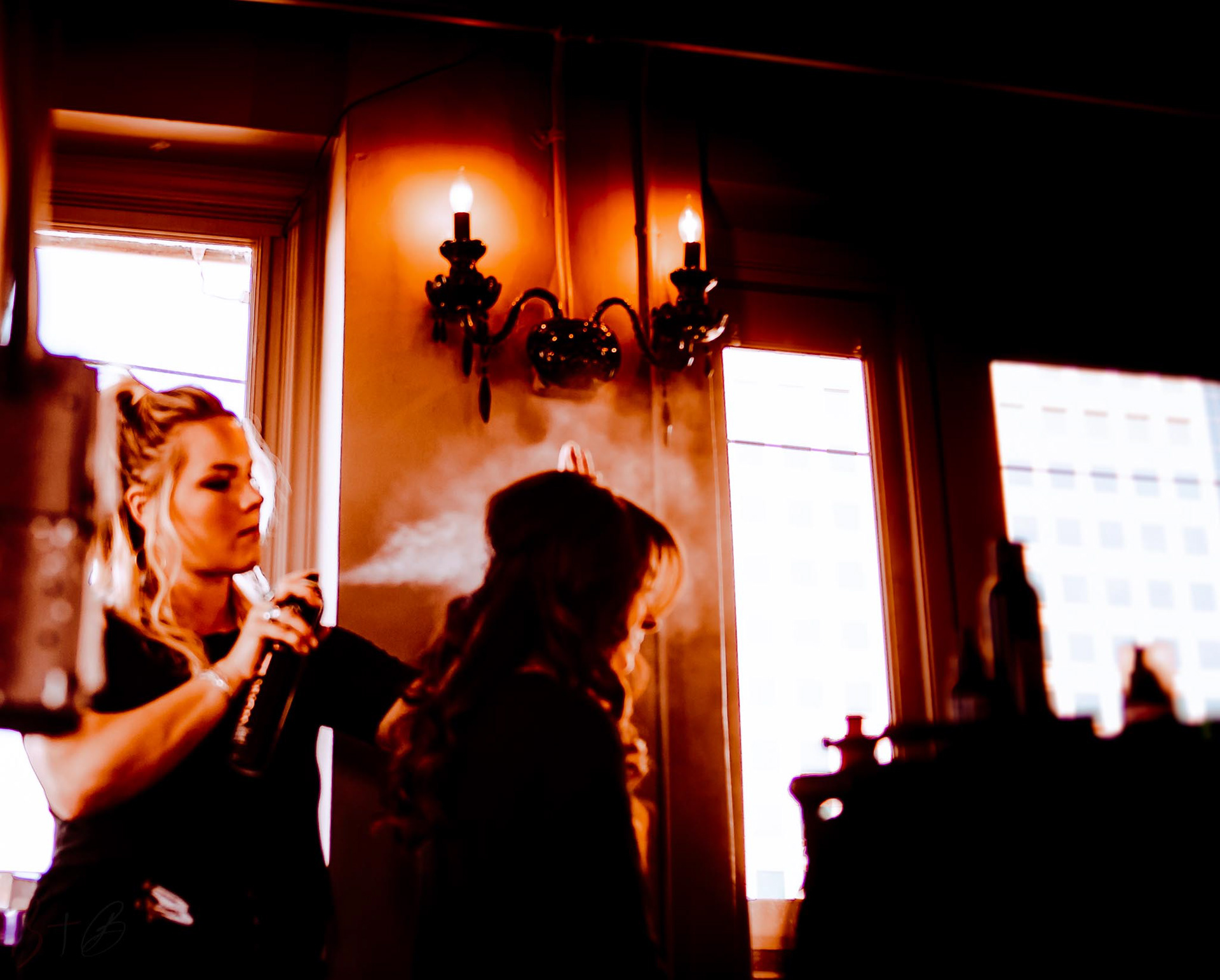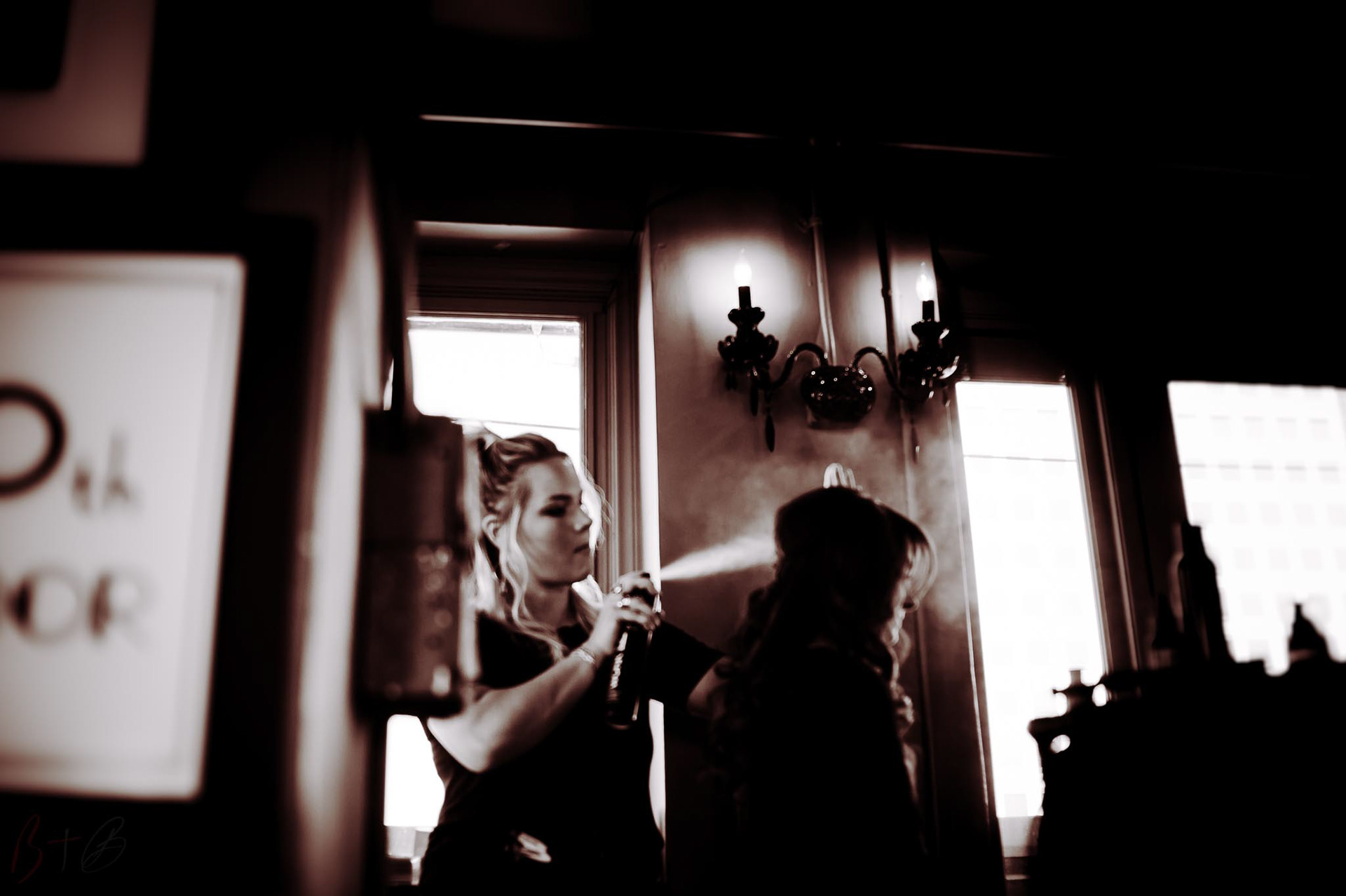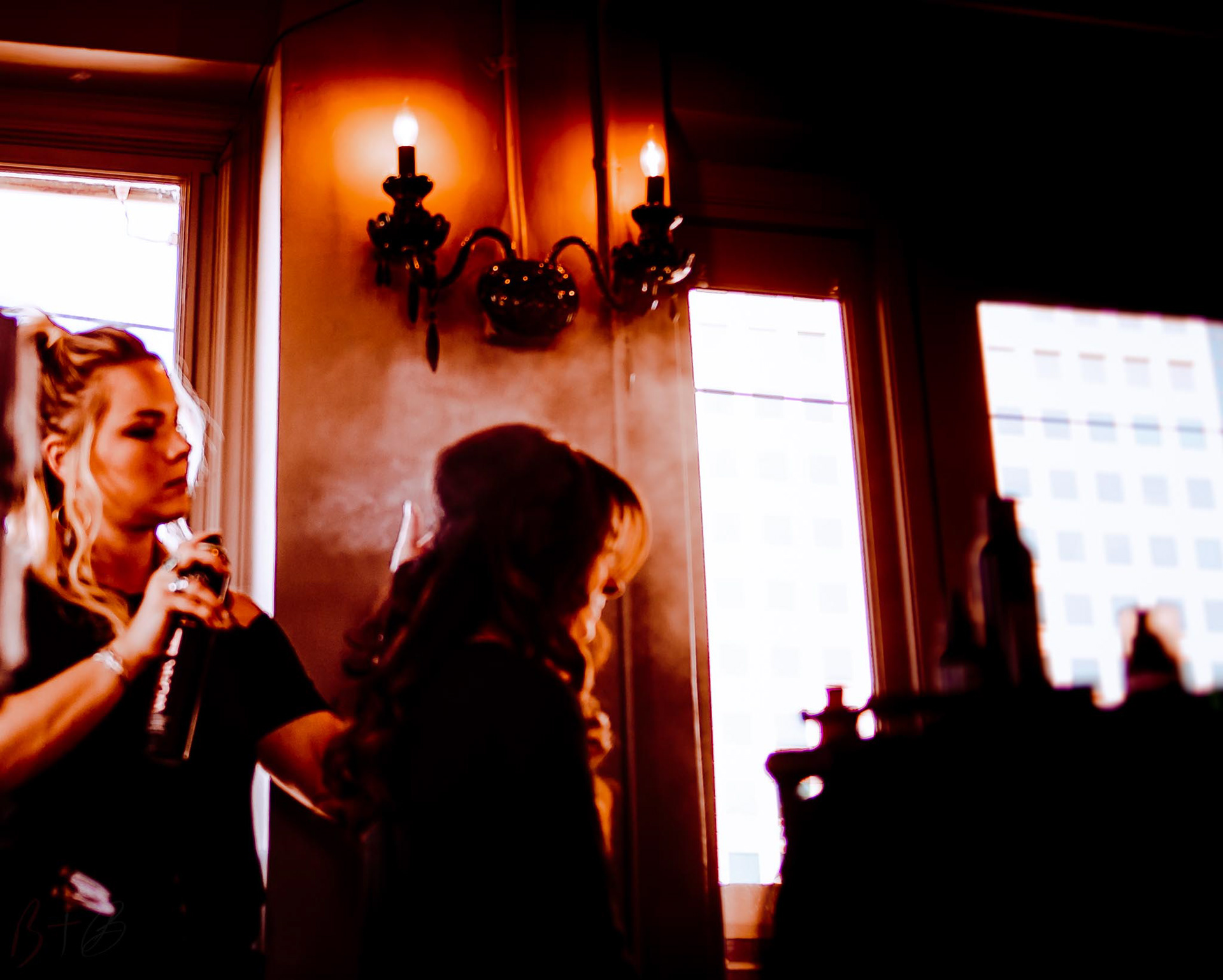 Ben: 
As Becca and I were hurrying to finish helping get props and Items into the building everyone had already begun to get dressed. 
We ended up being the last ones to get ready. 
Becca hopped into the lower bathroom to get changed while the coordinator asked the owner if there were anymore restrooms as the faux Groom and I didn't have a place to get ready. 
We took the elevator to the 5th floor, we had not been to that floor yet.
 It was setup for meetings and had a pretty ritzy class to it too. 
I should have grabbed some broll in there, but in haste, forgot.
Becca: 
Okay, so Ben had thankfully already curled my hair this morning, 
or else my 15 min make up job, and quick change would have been 2 hours. 
Long hair problems. 
I remember getting done, 
realizing I had left my phone with the cameras, and thinking I was screwed if I needed to report in. 
So I quickly step out, and didn't recognize the husband standing right in front of me.
 The whole quote "A well fitted suit is to women like lingerie is to men" is a real deal. 
Ben:
The groom and I left the meeting floor and I went looking for Becca,
 she happened to just get done when I got to the restroom she was in. 
I complimented Becca as she was looking smokin in a rose gold dress just as soon a I said "hot damn"
 she had chimed "you don't look half bad yourself." 
Turning around to wink.
Becca:
We made our way up to an in between floor that had a mirror!
Ben:
Where I got one of my all time favorite shots!
 It was Becca standing in front of the mirror 
I was able to catch a moment of appreciation in her eye and the beauty of all of her.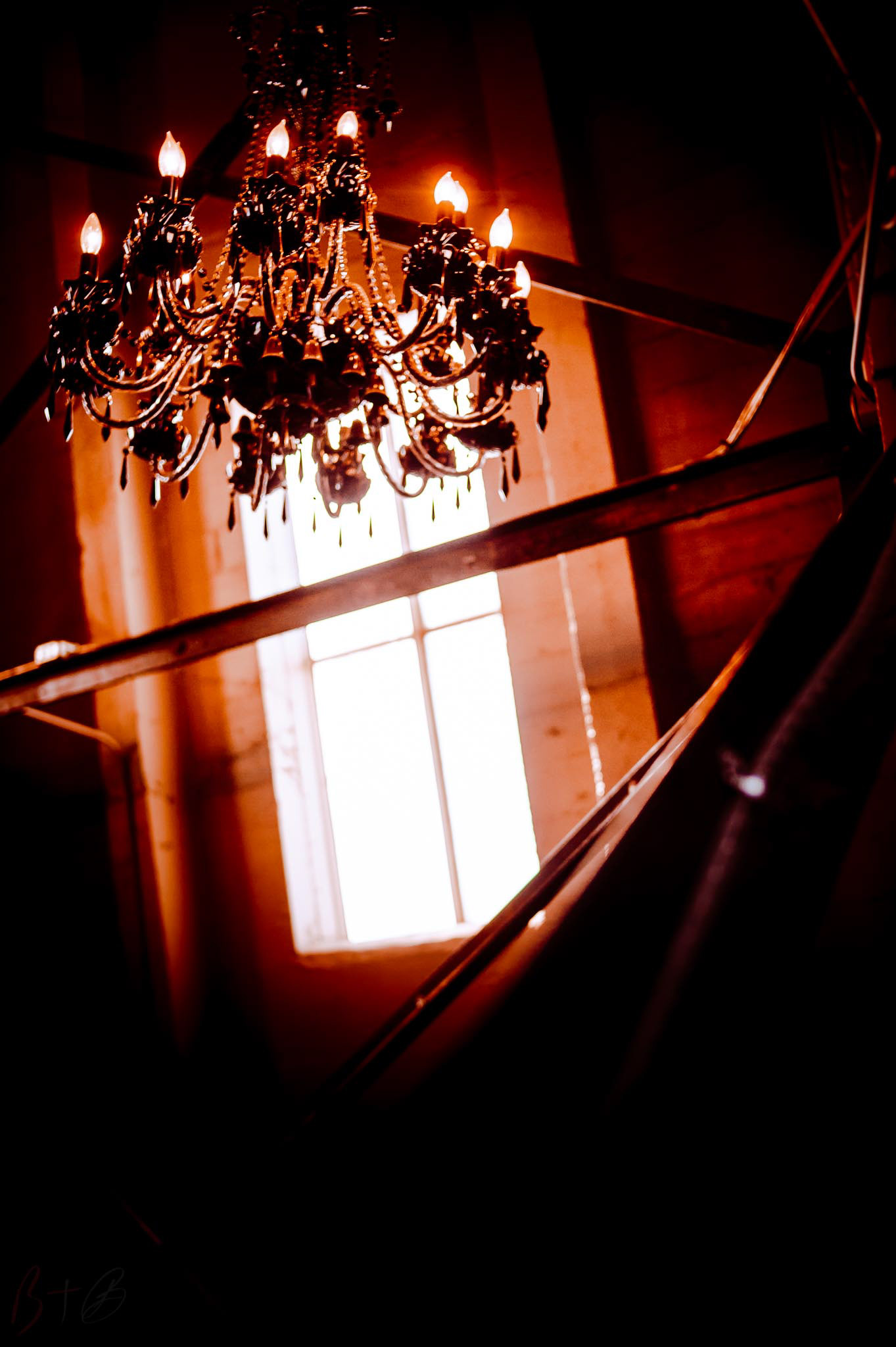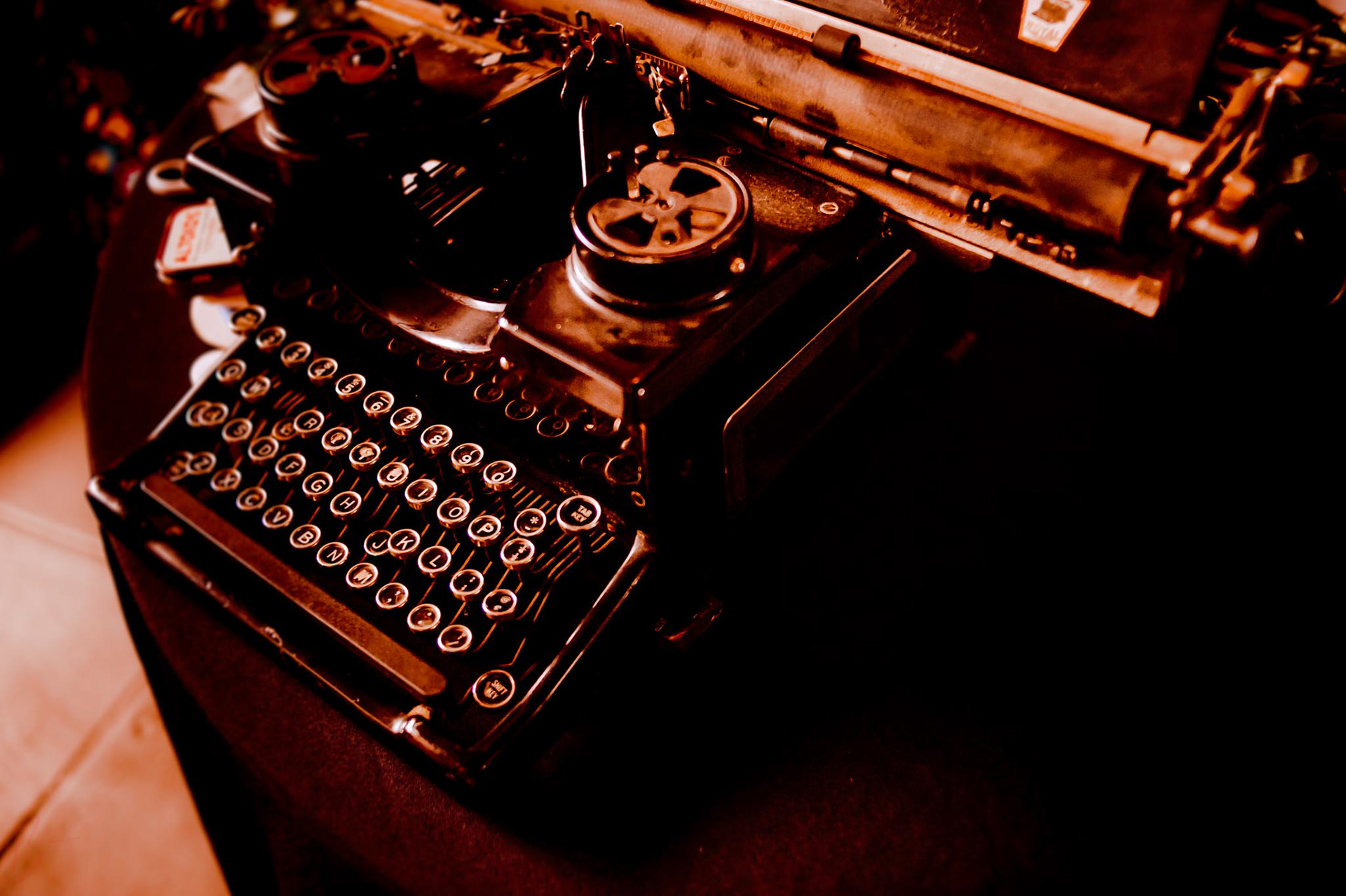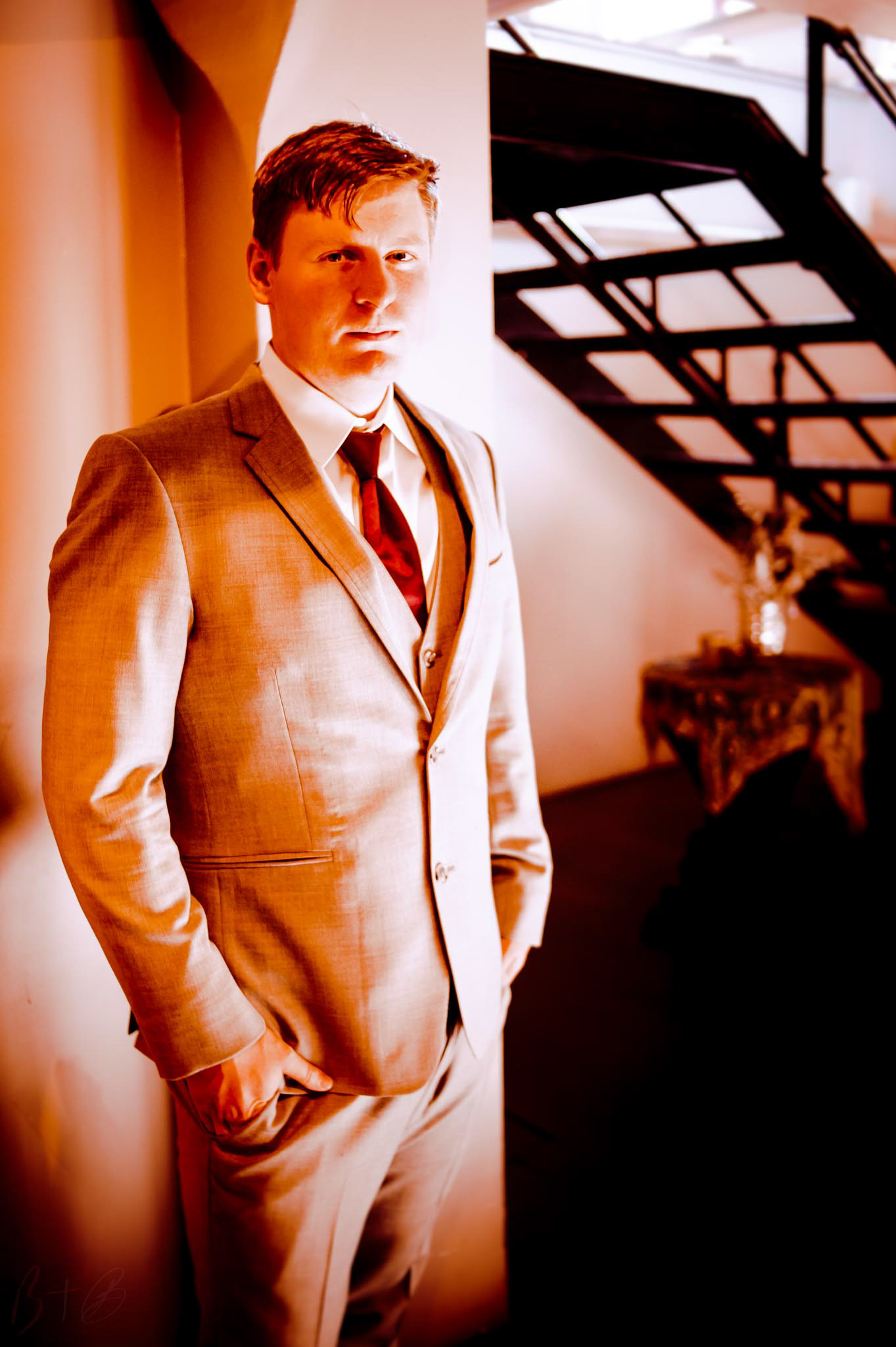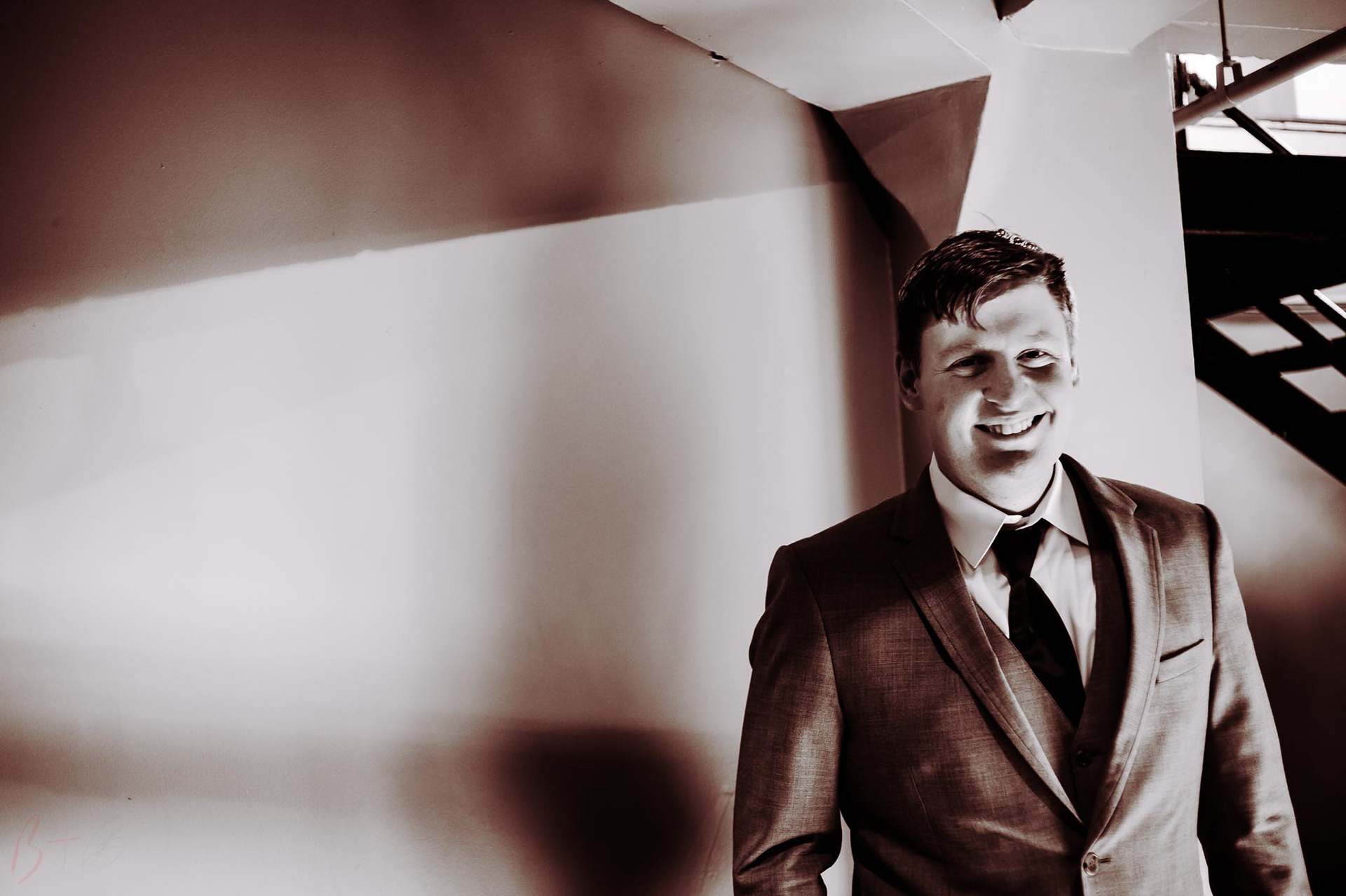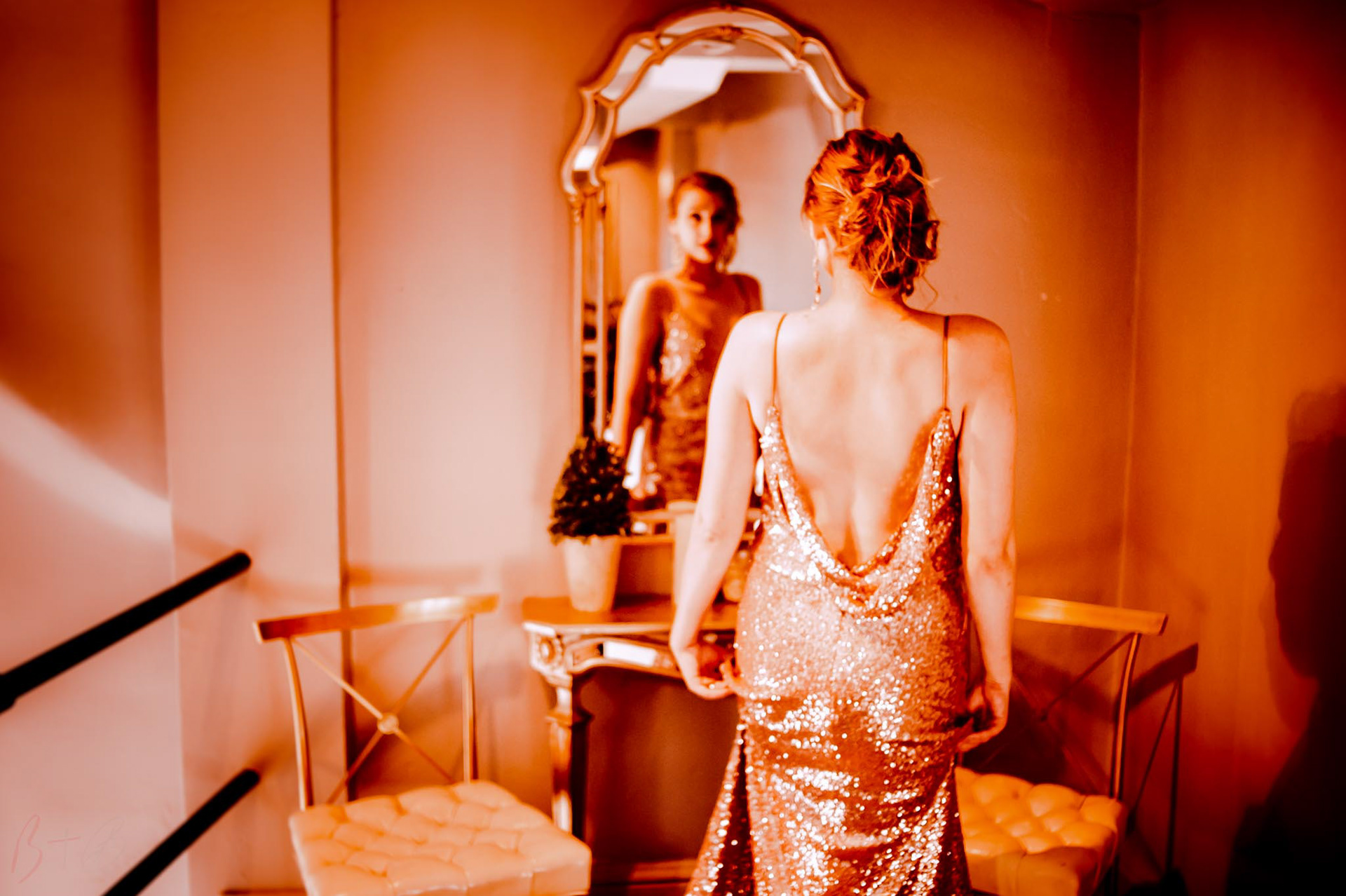 Becca: 
You love those back shots!
I love the the smouldering serious ben shots 
and the shadows that danced on you, total 1920's vibe in the black and whites. 
Such a stark contrast, to your vibrant silly jokester self!
Ben: 
We resumed our duties and found the coordinator up on a  "reception floor" 
where we got in front of the camera's as our first time modeling. 
Becca: 
Working with Ben prior had thawed some of my frost to having photos taken.
 Not all the way. But some.
Ben:
 To be upfront and I don't know about Becca 
but I was totally not ready for the comments and methods
 at which the photographers were getting us to smile. 
The first one to really get me was sniff her shoulder,
 it really is hard to try and keep a straight face while someone 
has you sniff your partner's shoulder. 
Becca: 
"Sniff it like a line of crack" came to mind, 
and I seriously could not keep that joke to myself.
 And then I started to panic, what if I wasn't modeling correctly, 
should I be more serious…
Ben: 
Then came the weirdest one yet, whisper in her ear cereals in a sexy voice, 
quietly soft and smooth I told her Captain Crunch…….
 Both DEAD! 
I could also tell she was getting anxious, nervous, and ready to run grab her camera 
as if was a shield! 
But to ease her out of fight or flight response 
I brought her back by talking to her about
 how if she just looked at me it would just be like we were back at home
 dancing in the kitchen and at that point I dipped her.
 The photographers went mad and we had to dip a couple more times as some of them weren't ready for it.  Took a few more requests then..
Becca: 
After the dancing in the kitchen comment, and we literally started to dance and dip… oh my. I am 100% postive that is where most of the day was spent.

Ben: 
Because not too long after that, we heard
 "You two are done, grab photos if you want them for your blog! 
You guys drove 5 hours and yall deserve a few!" 
Becca: 
MAGIC TO MY EARS. GET OUT THE WAY. My time to shine.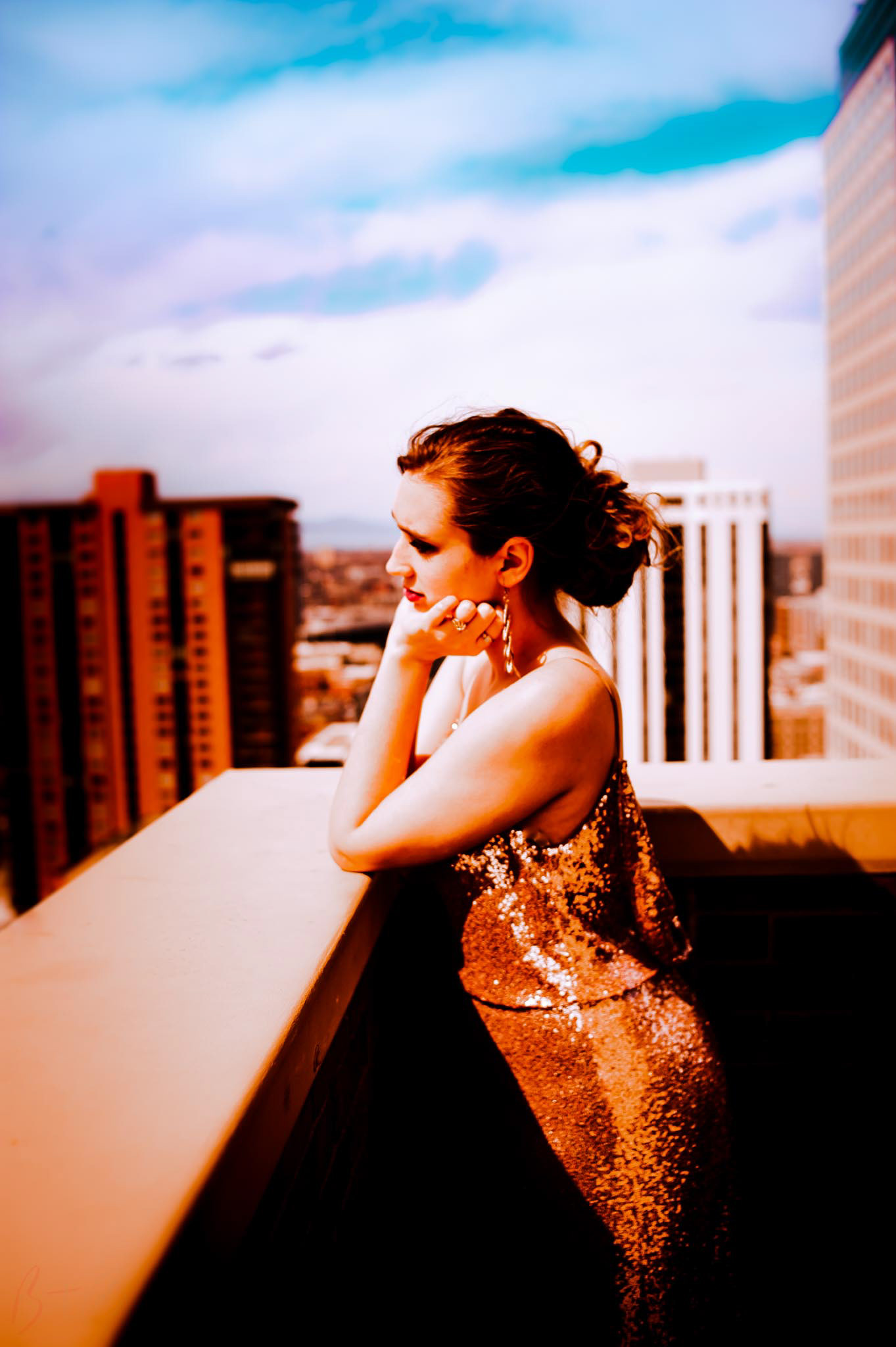 Ben: And like magic,moment for the coordinator to shout over us, that we could start getting shots of the wedding party. I was struck with awe as my wife grabbed a camera with the lens that was perfect for the compact size of the room, dutifully she started taking shots in the far corner of the tower, to the other side, then as there was a time limit to each group with not a moment later and she took control of the show, squatting down in front of the bridal parties flower girl and ring bearer. Telling them to look at the sparkly dress achieving the look of the entire wedding party at the same time. 
Then without a beat as the sun started to creep farther out of the sky, she  backed up to get a better view of the entire party but because of the size of the wedding party and the size of the room Becca made a snap decision and popped up onto the couch that everyone was backed up against. The brilliant golden light that flooded in was made for her and that dress, I was shocked. At the same time drawn to her in this period where I knew she had everything I would ever want in a woman. 
She was brazen enough to do what no one else was and all the rest of the photographers just stared for a second knowing that they should have thought of it first and unfortunately no one including me got a shot of her on the couch because they were worried about the time crunch and I was just like did that just happen! I personally was stunned with my mouth open, wanting to grab a camera to get the priceless shot with bokeh shining all around her as the dress highlighting her, intensifying the women I fell in love with. 
If our wedding day didn't tell me she was the one for me it was in that moment I knew that wherever she was, I wanted to be there too, forever and always. Making me further realize that I (maybe someday) would be as brazen as her, to get the shots that I wanted no matter of what people want or expect of me.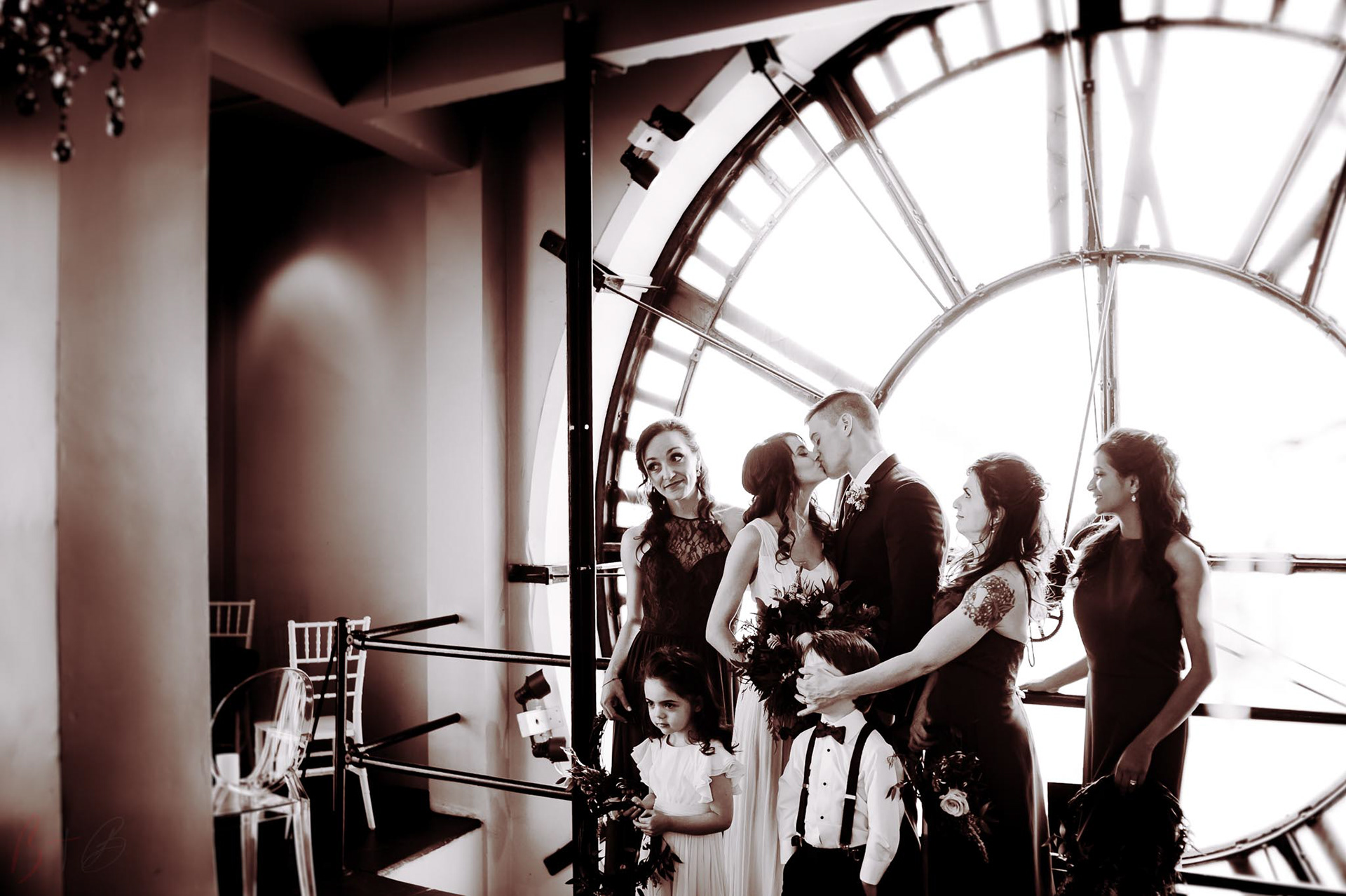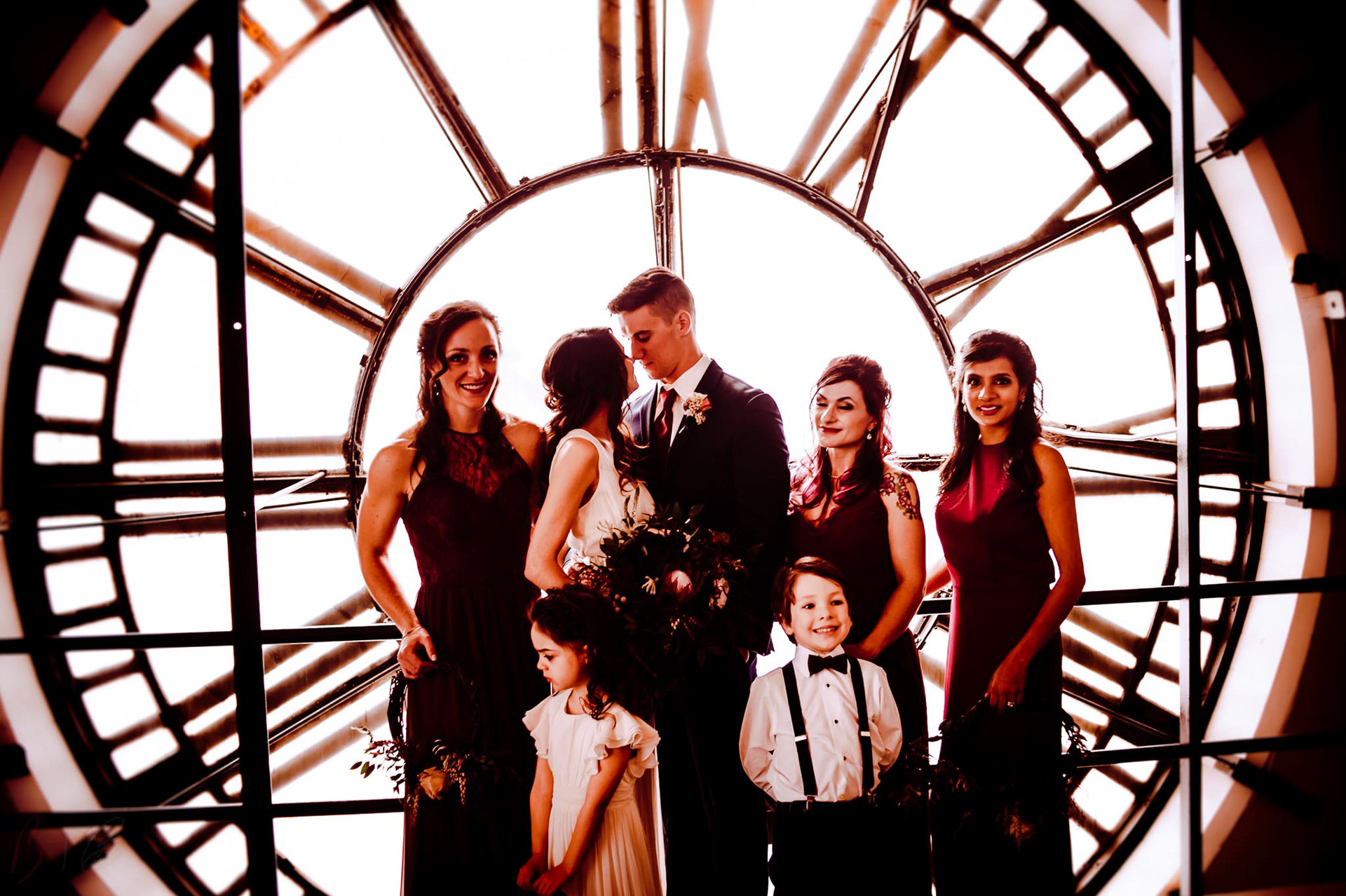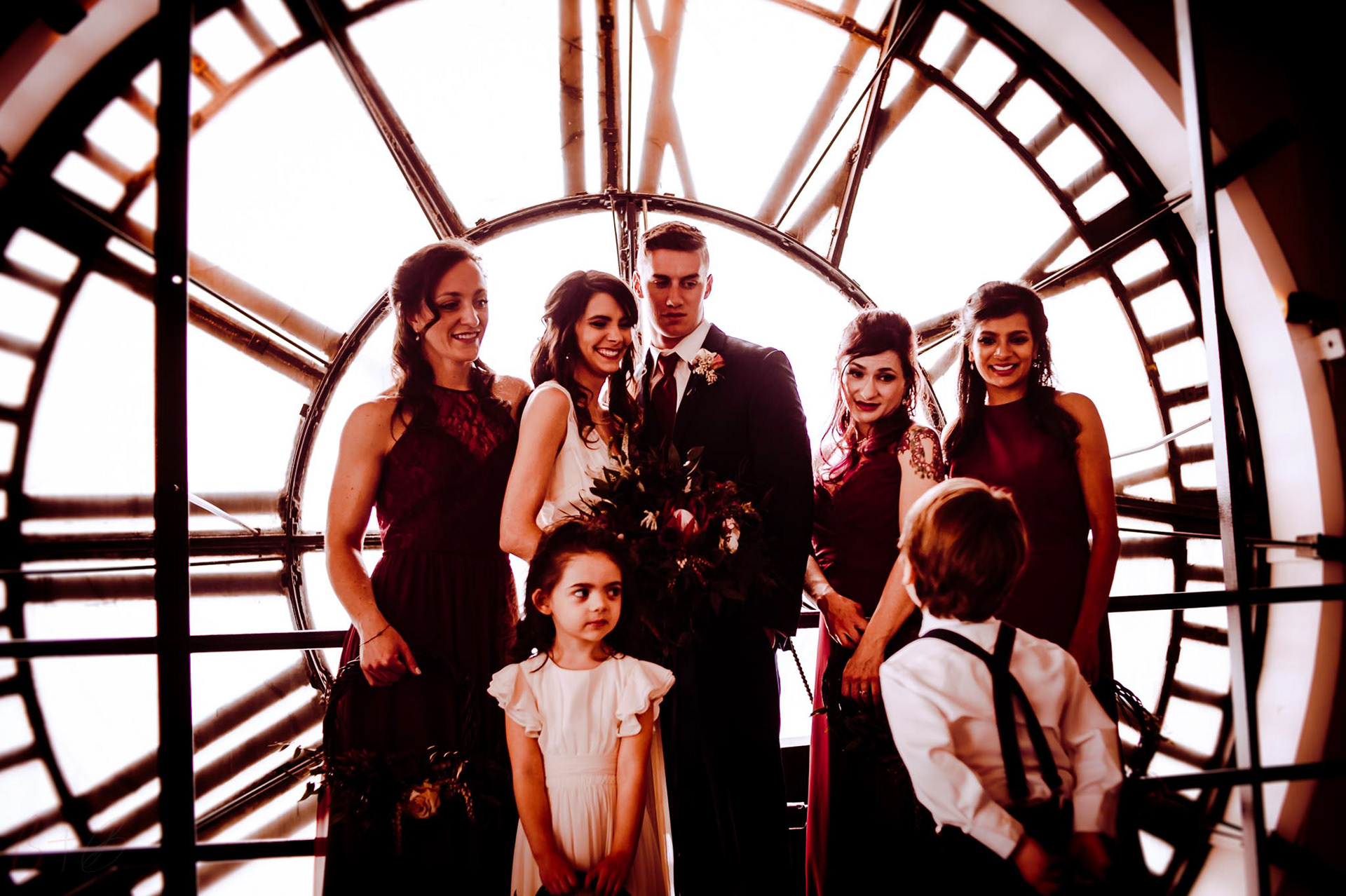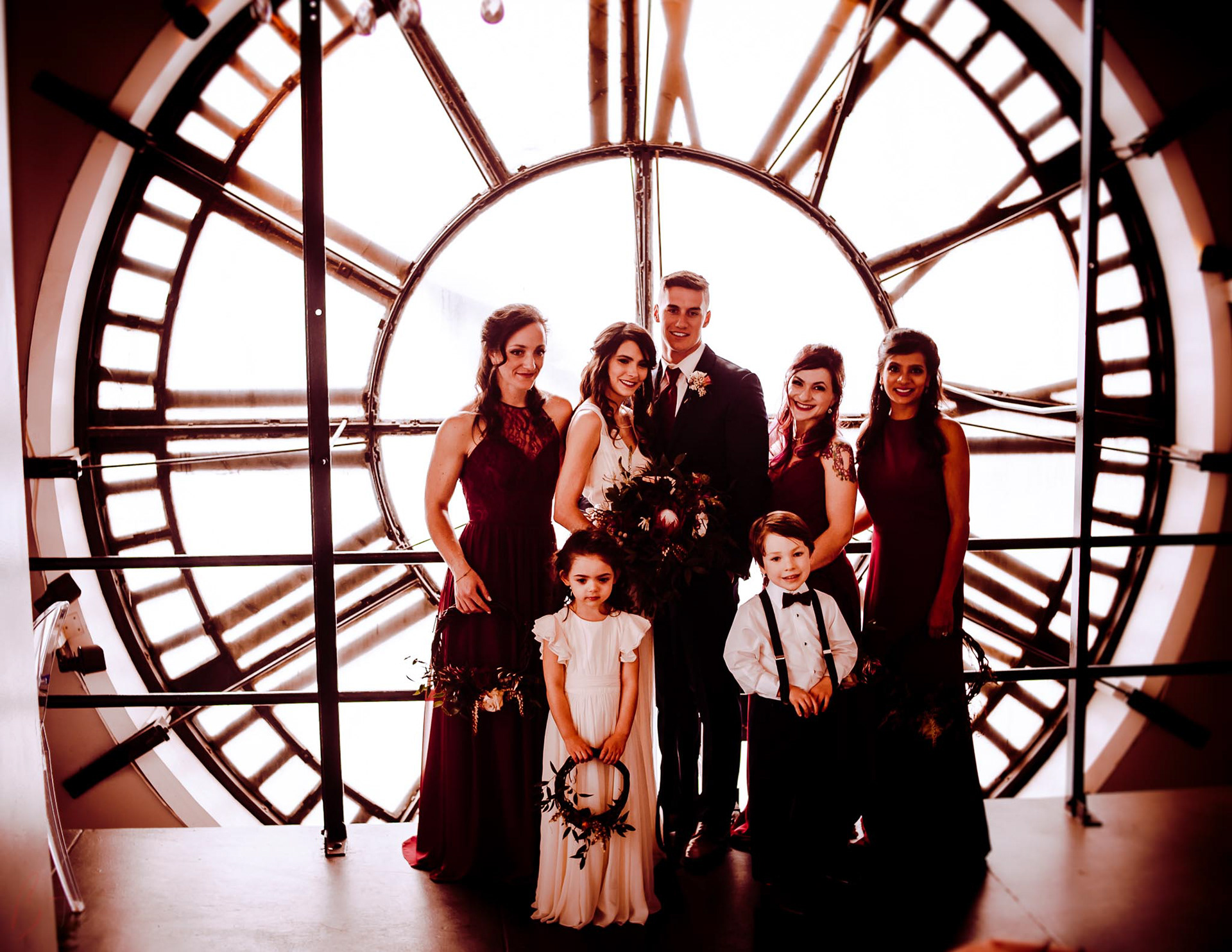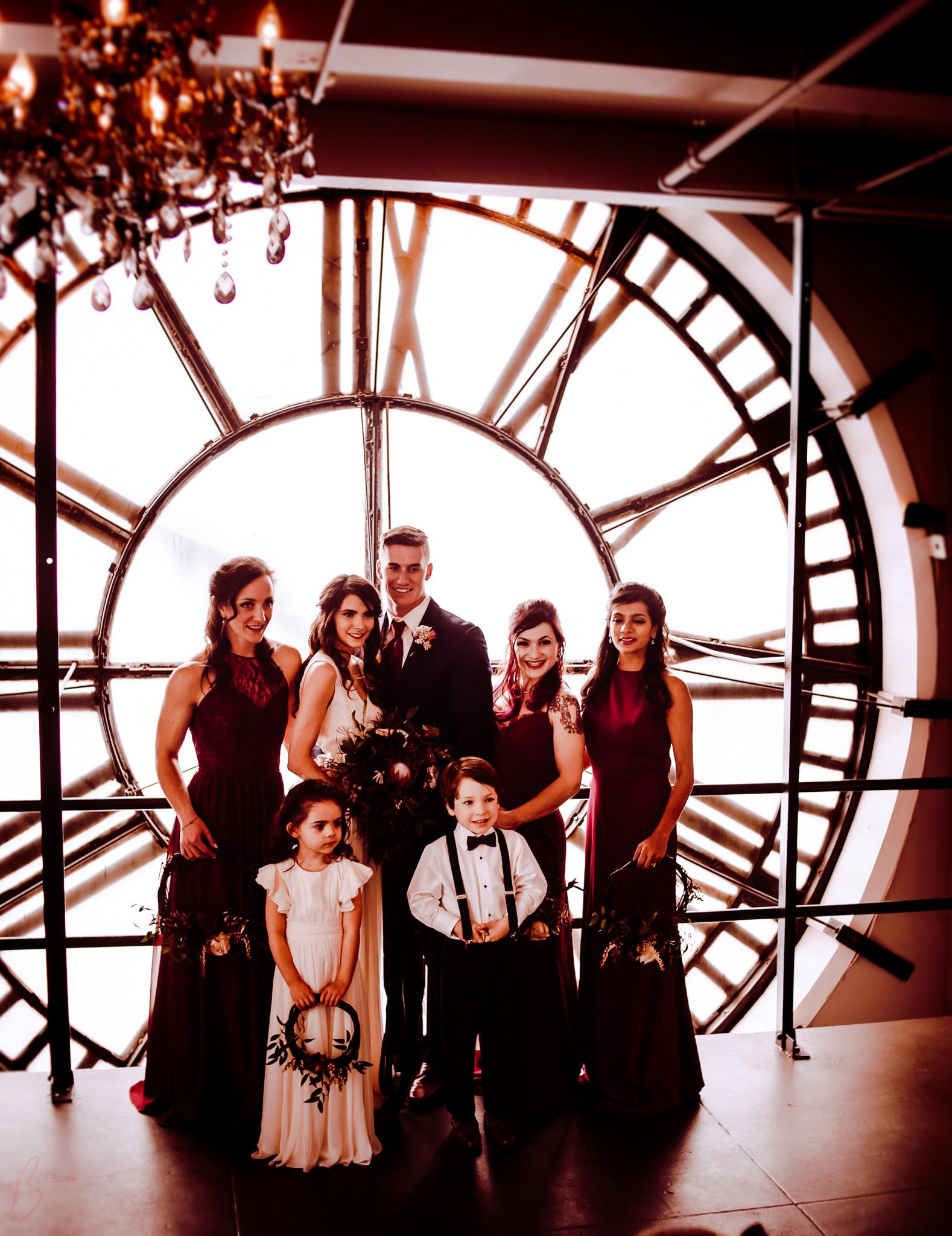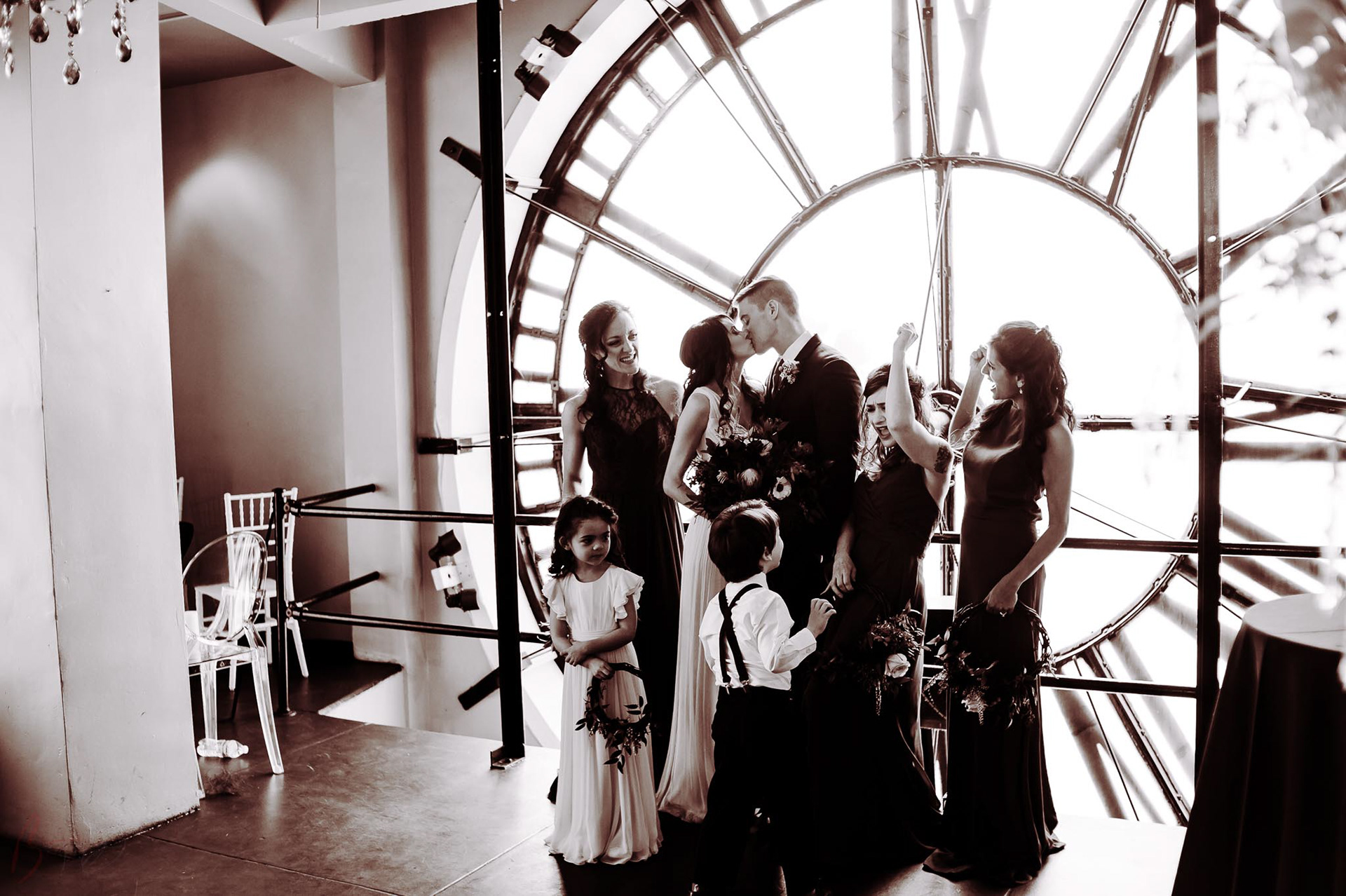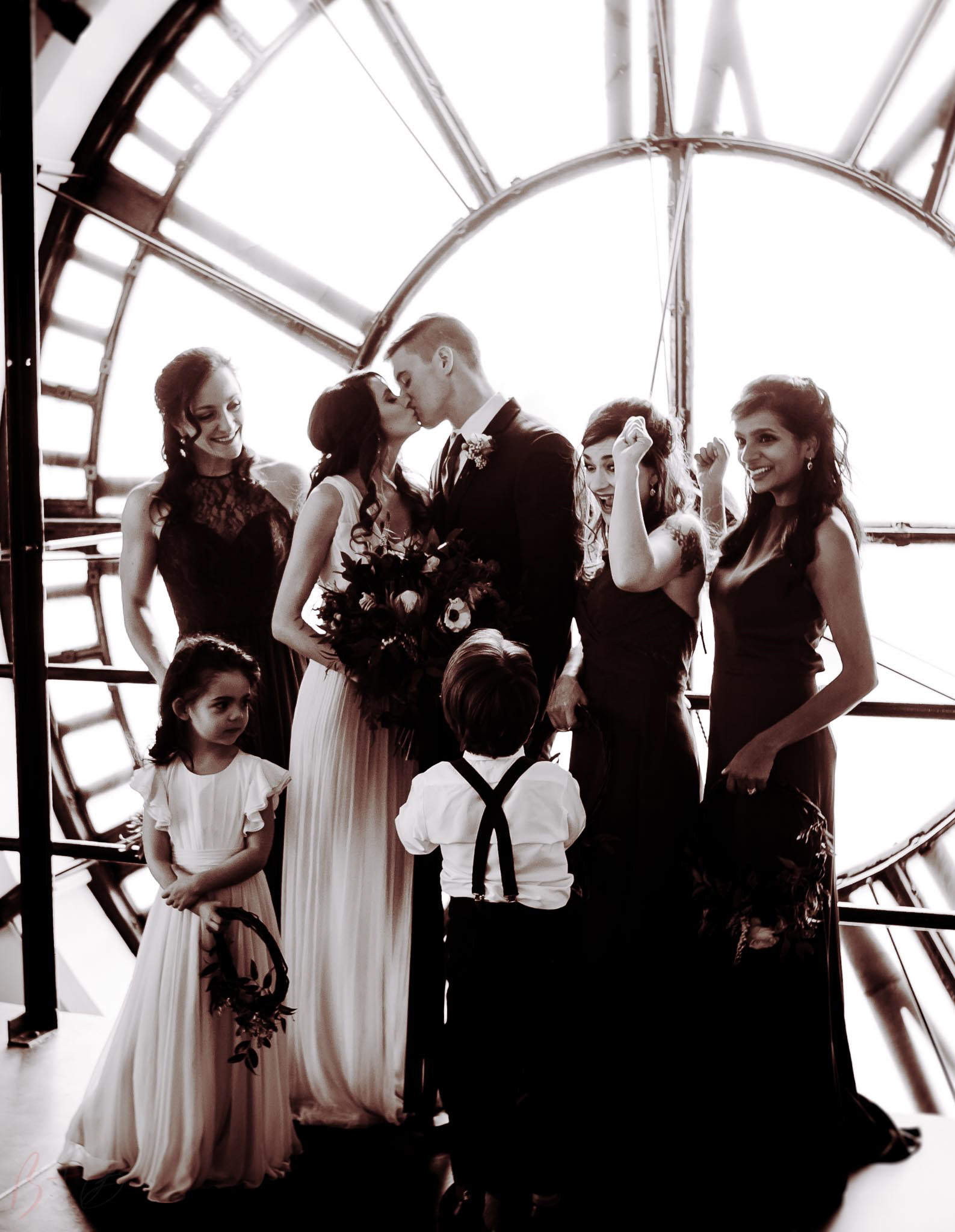 Becca: Awe, babe, that was beautiful. I typically get "YOU CRUSHED THAT SESSION, LIKE LOOK AT YOU!! MY LITTLE PROFESSIONAL!!!" That was sheer poetry. Goodness, well I am going to sound insane instead of romantic, apologies. 
"You can take a few", LIKE I HAVEN'T BEEN METERING THE ROOM ALL DAY WHILE MODELING, LITERALLY EVERYONE BARE WITH ME. Ekk, don't ruin the dress, squat, don't slide. 15 minutes. Go. "Hey look at me, sparkly dress okay, eyes on me, this is about to end." Don't block shots from other photographers, yes they had all day to get photos, but still be kind. Shrink– light coming higher, back of couch, full shot, you can crop later. Ballllaaaannceeeee. Balllaaaanceee, SCREW THIS COUCH CUSHION, WHY CAN'T IT BE CEMENT. Screw it, butt throw off point of balance, perch on wall. "Kids hey hey hey, sparkly dress lady here yasss look at youuuuuuuuuu", "hey couple kiss like you mean it, party cheer like it is the last photo of day", Hope these are not blurry, come on, why did I not wear shorts on under dress, ugh, RIP to the shots I am missing right now. 
"Time's up"
NOOOOOOOOO. 
"Uh, girl, you slayed" (fellow photographer.)
"WE all should have been taking photos of you doing all that."( a different fellow photographer.)
"Think I got a shot, but unsure."
"POOH. Pooh, that was magical to watch. I have never been so proud to call you mine. You are meant to be a photographer. You got the clear and you took off."
"Seriously, you dominated that, WHILE STILL DRESSED UP LIKE YOU OWNED THAT." (Another photographer).
… They are not mad that a model became tog for 15 mins? I did not block shots? Oh thank Jesus… "THANKS EVERYONE, SORRY IF I GOT IN WAY OR WAS RUDE, JUST WAS ON TIMER AND WANTED THESE FOR OUR BLOG."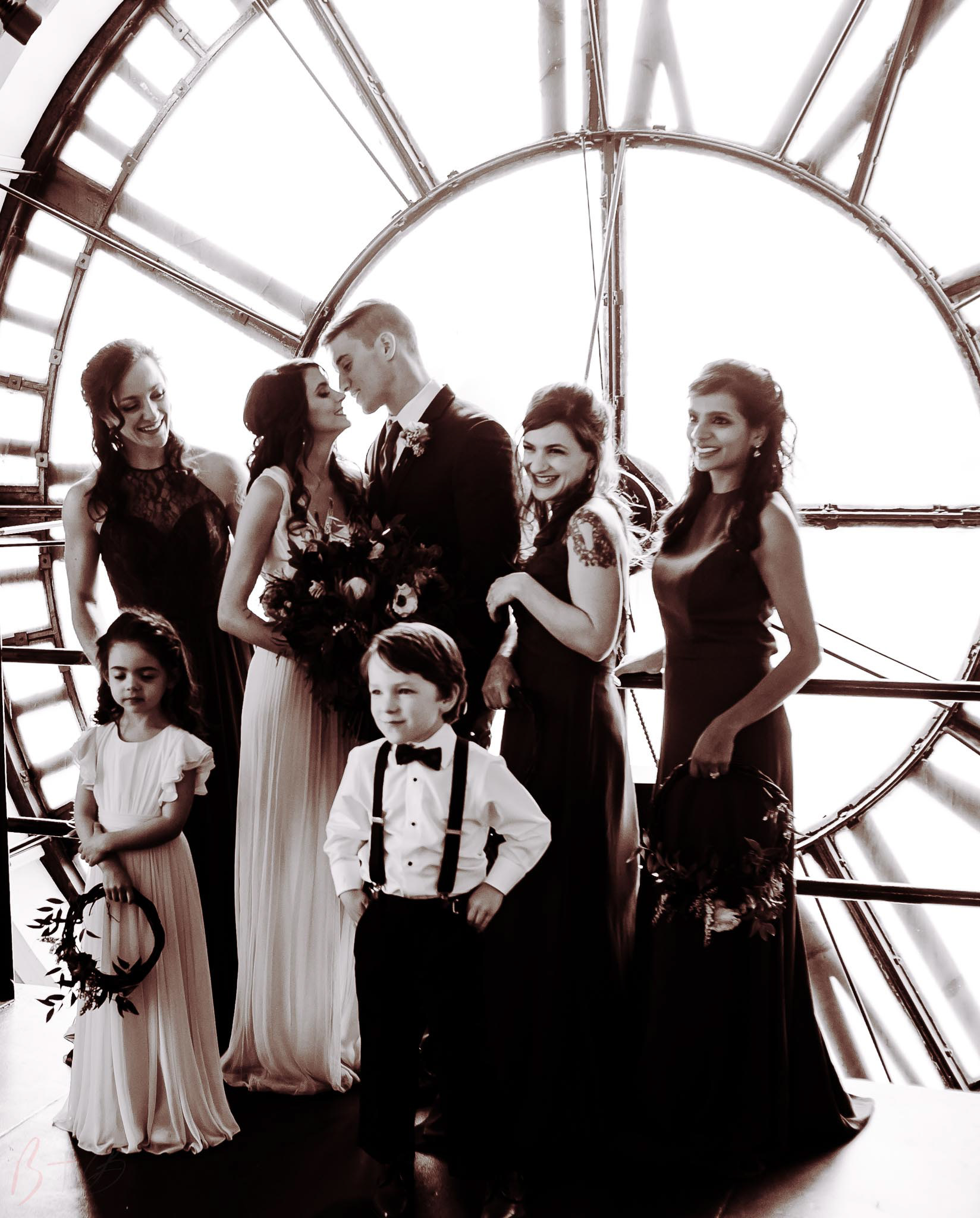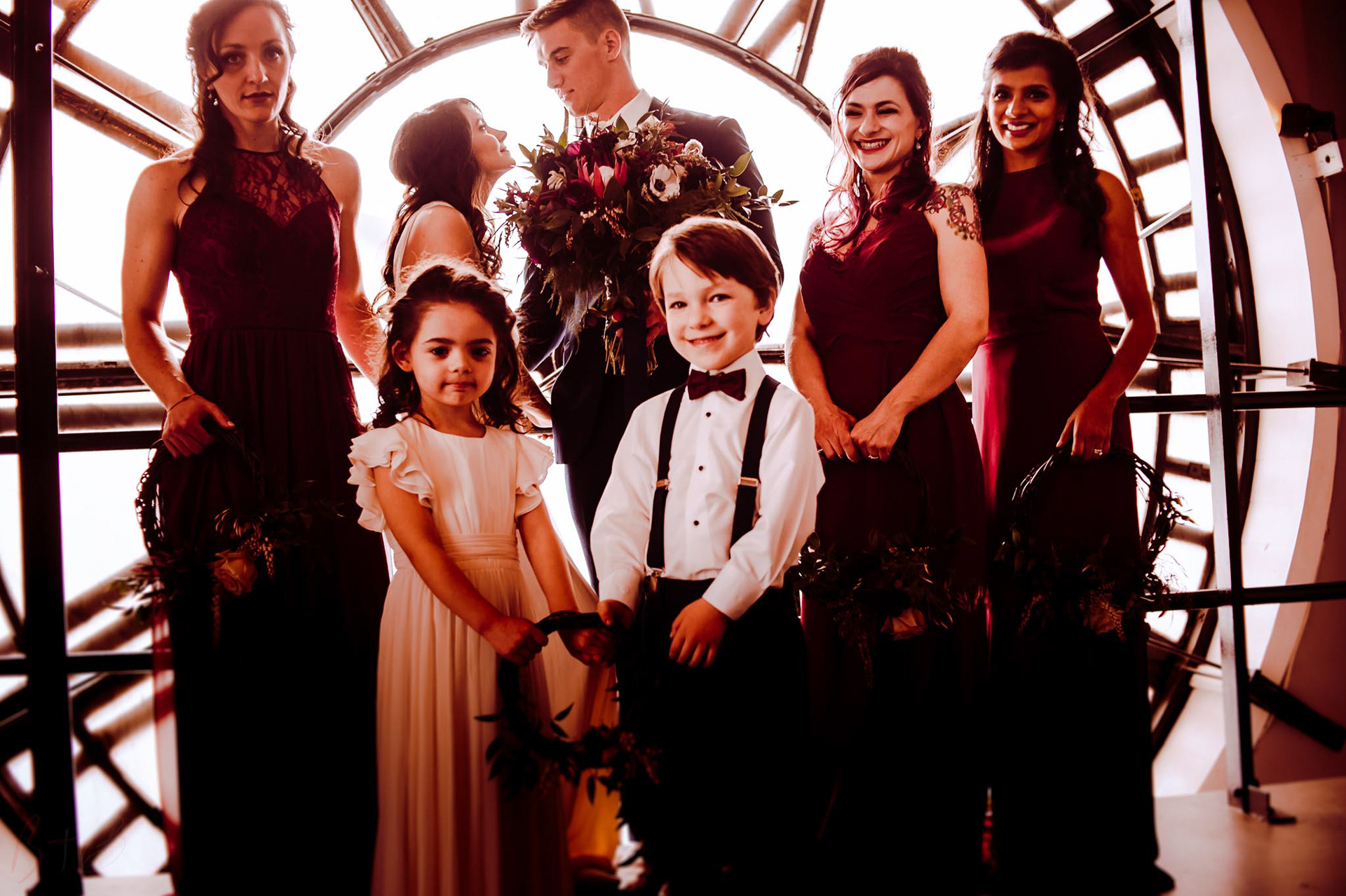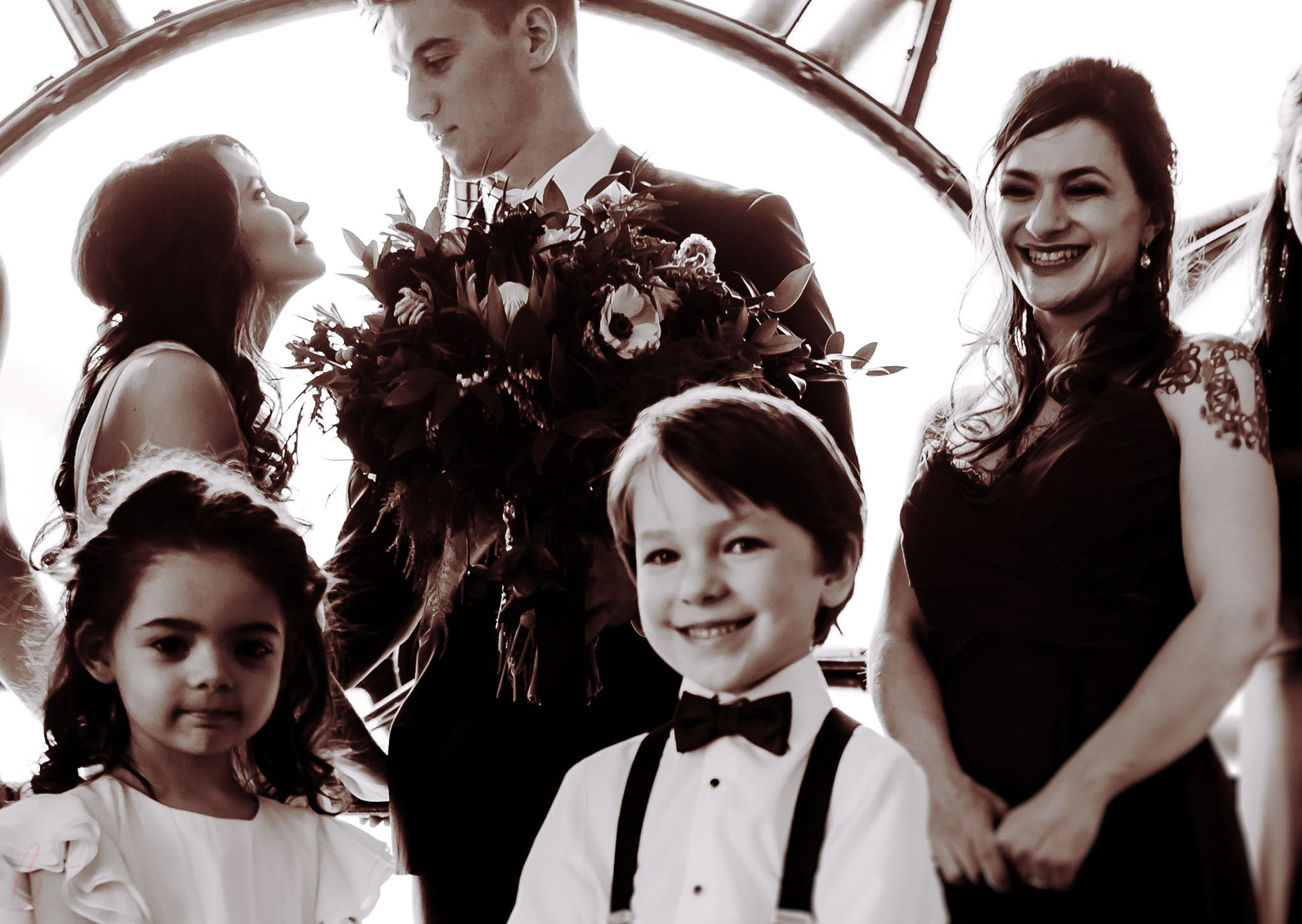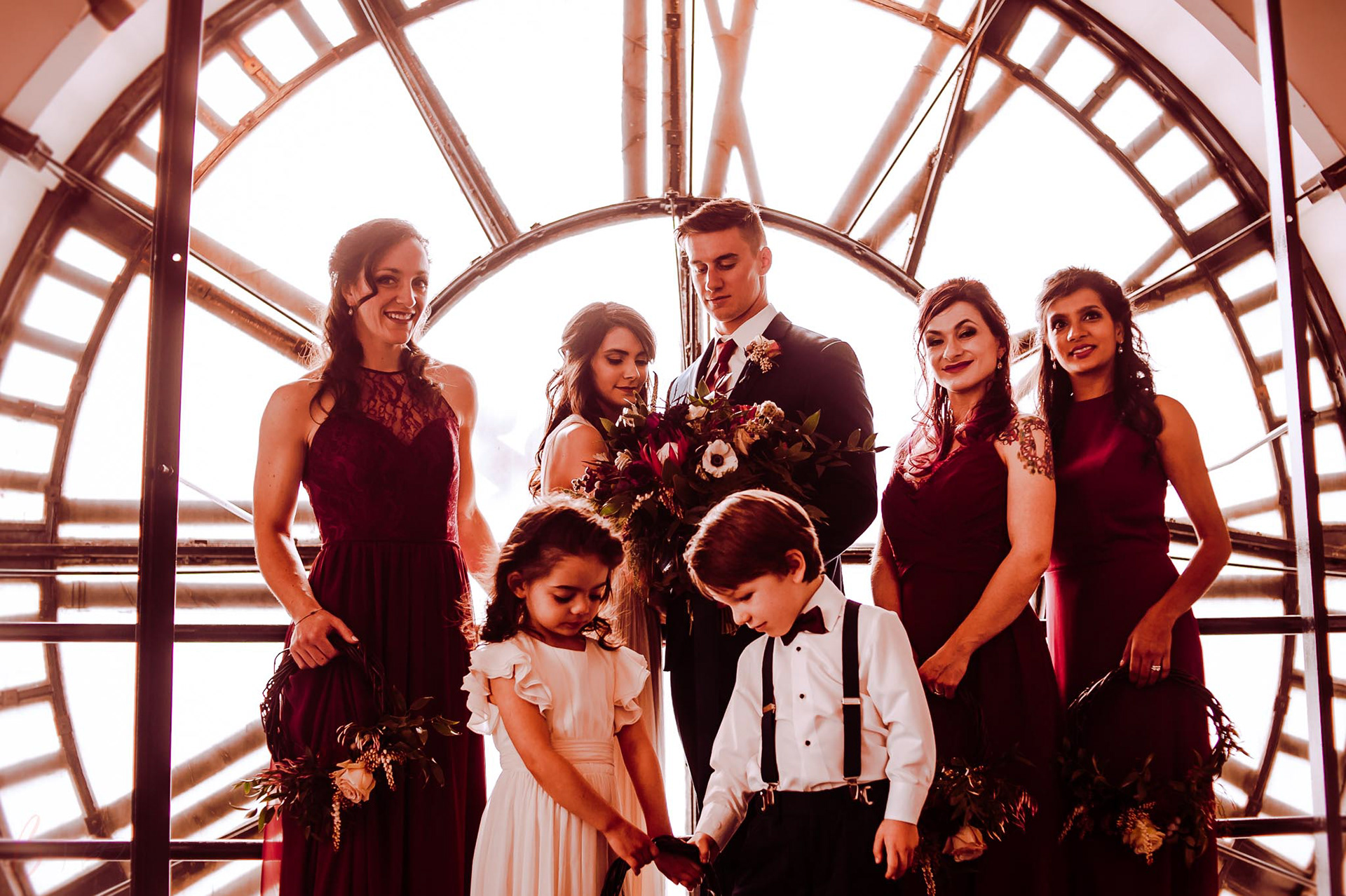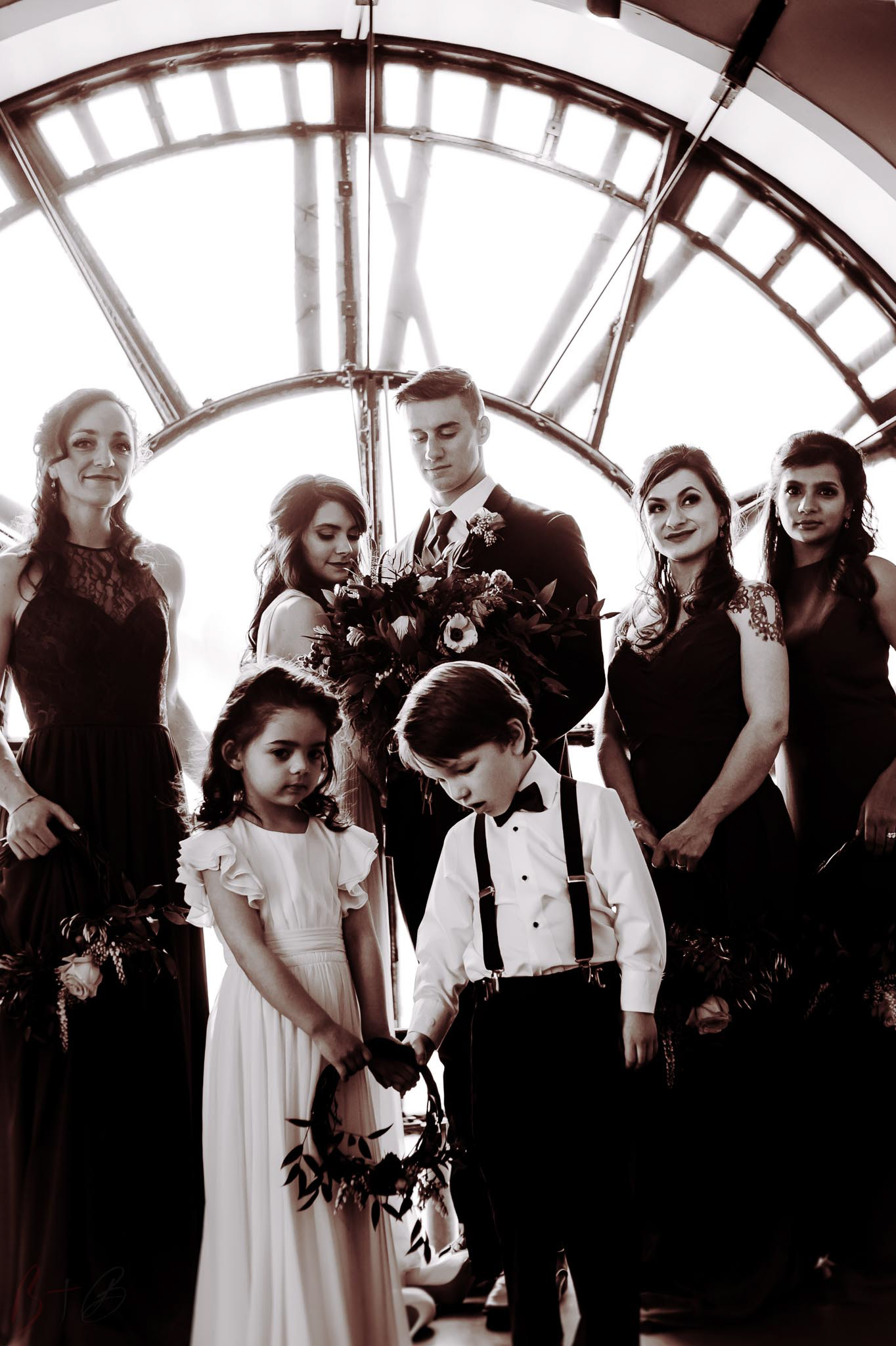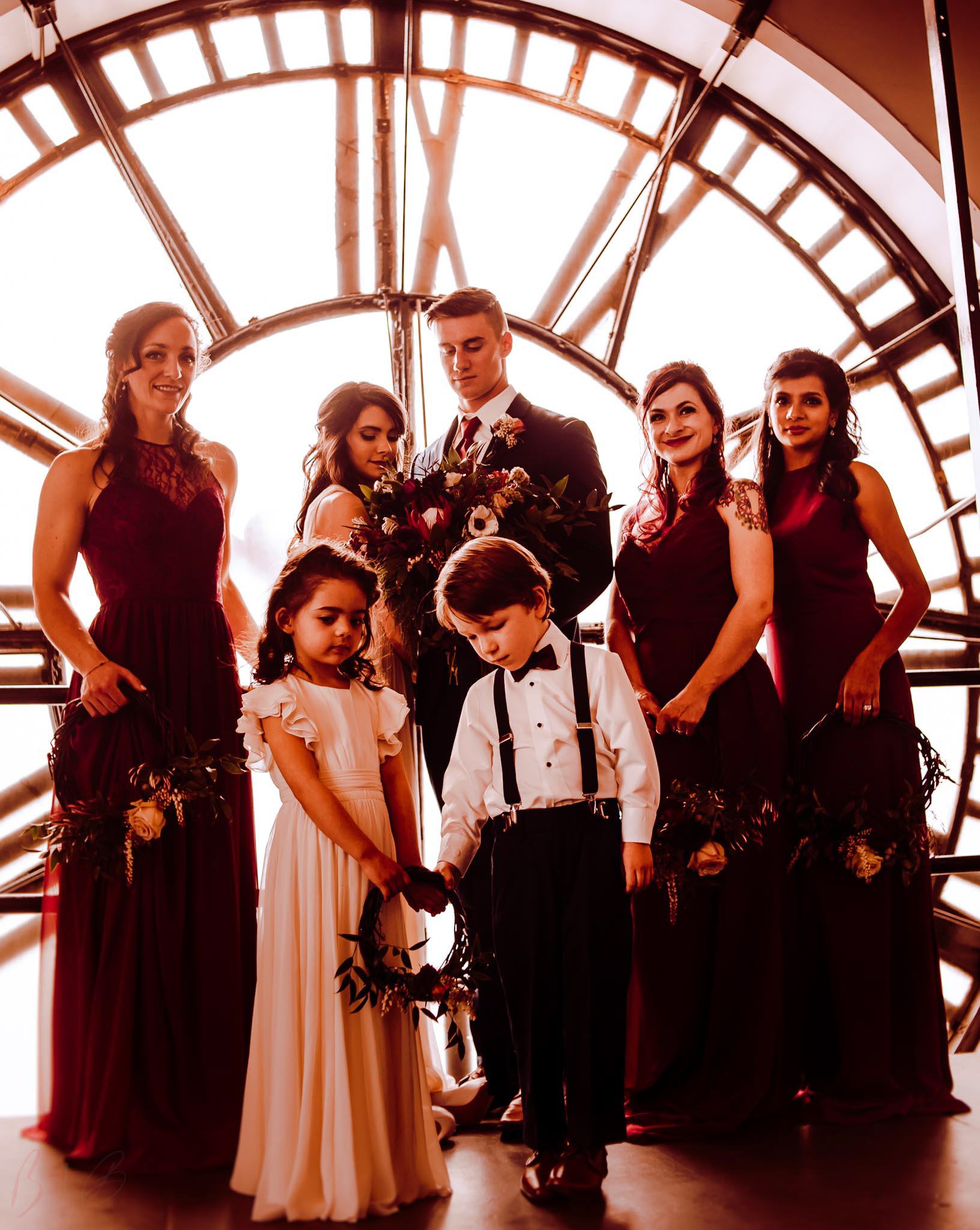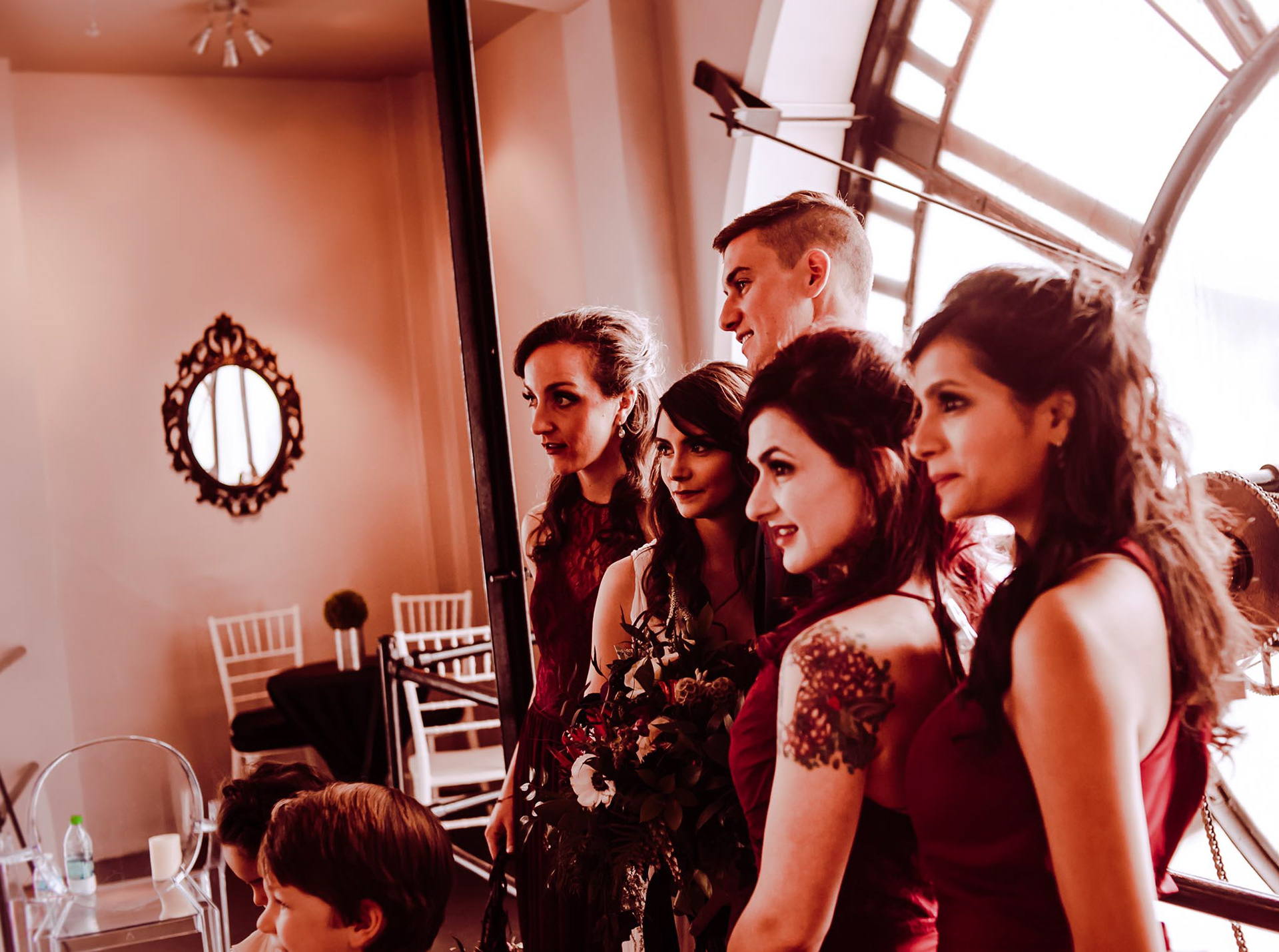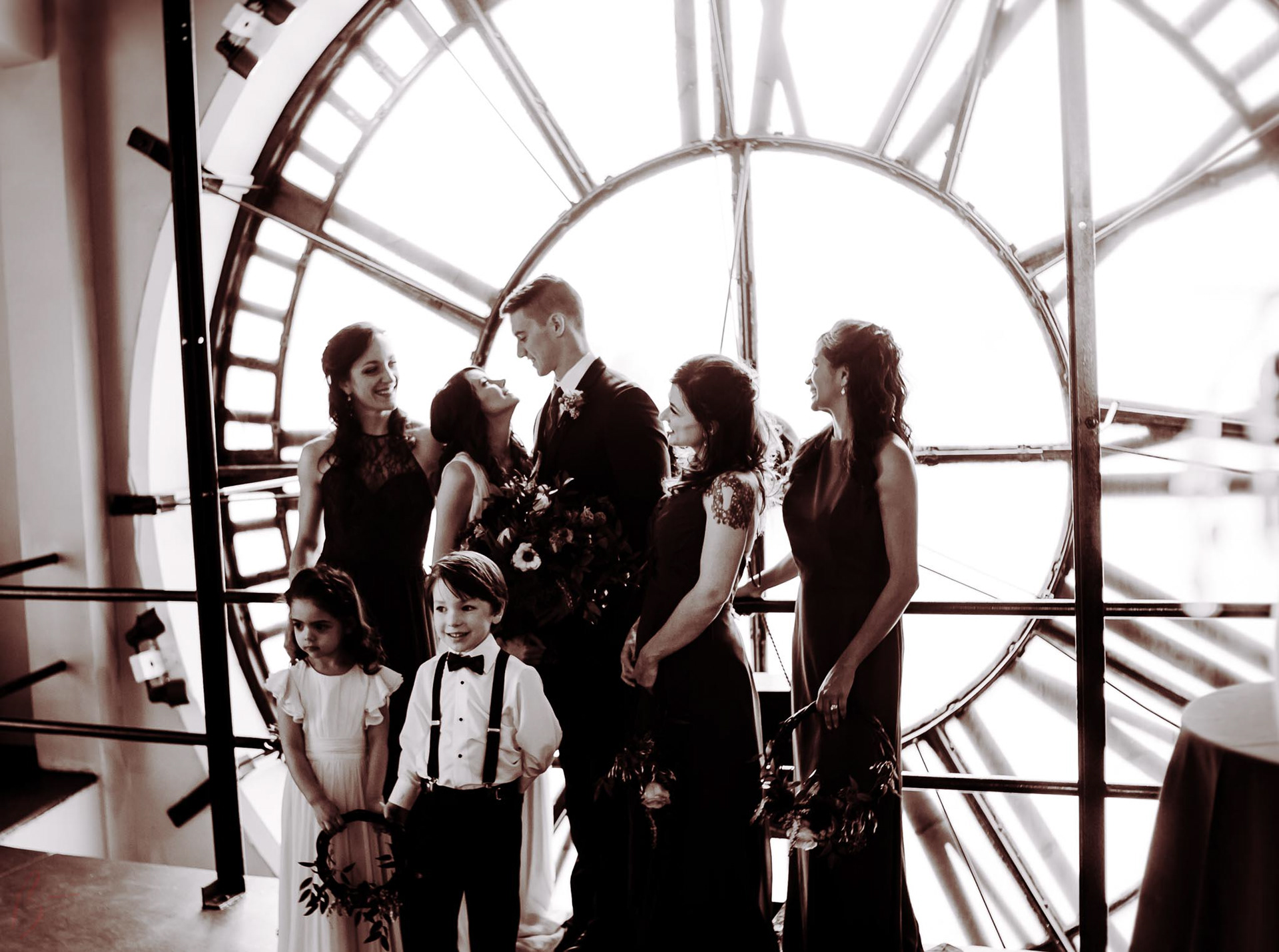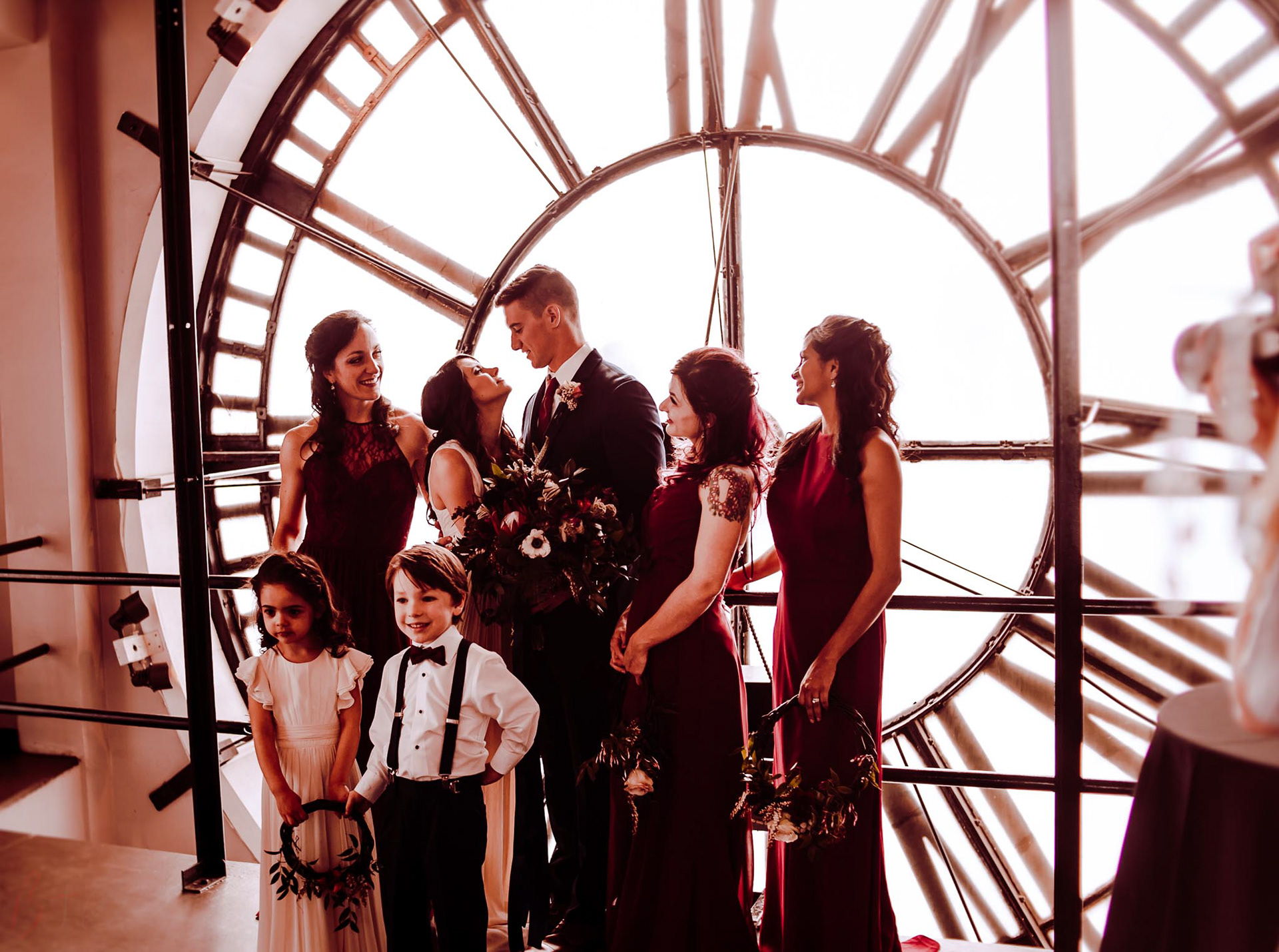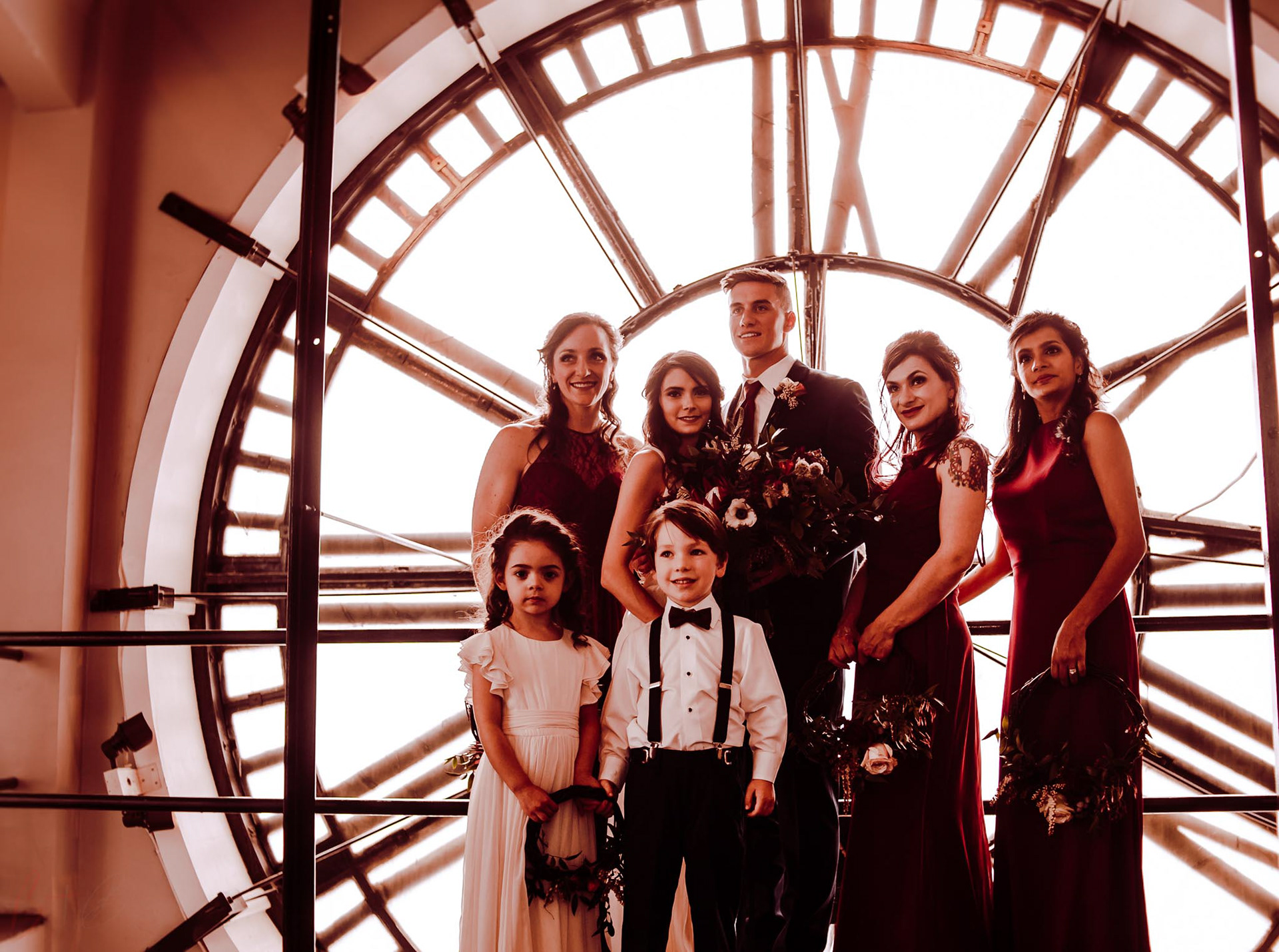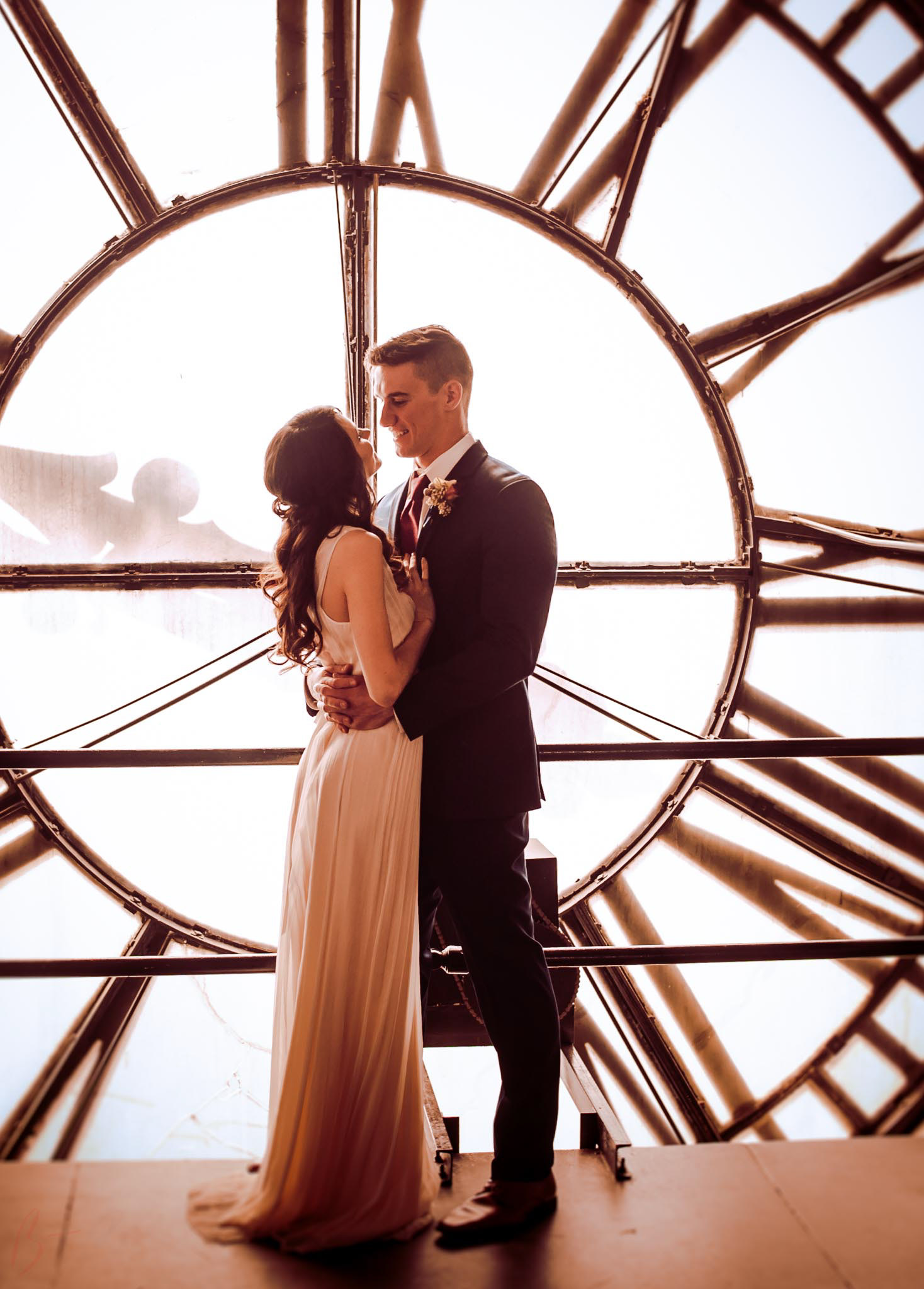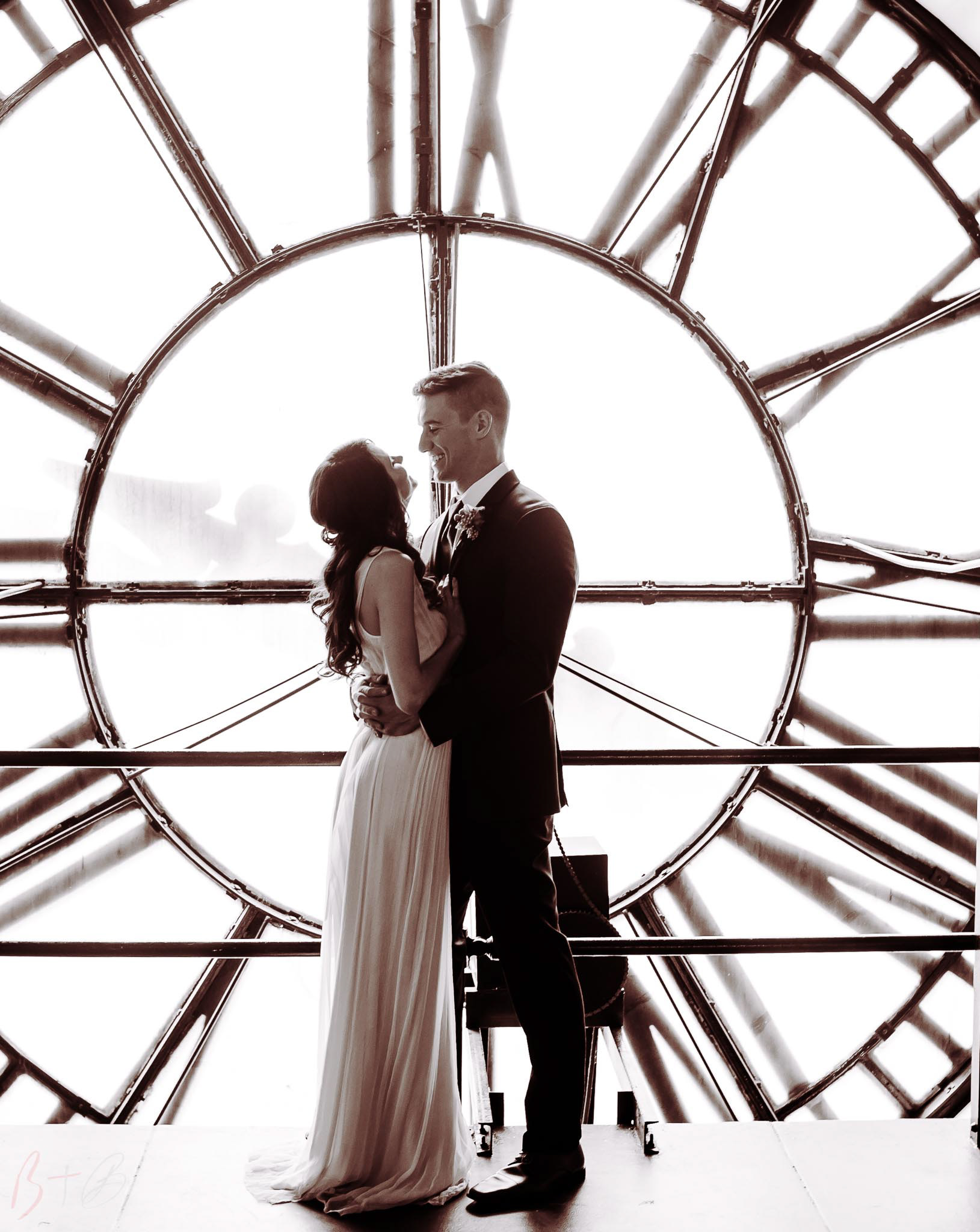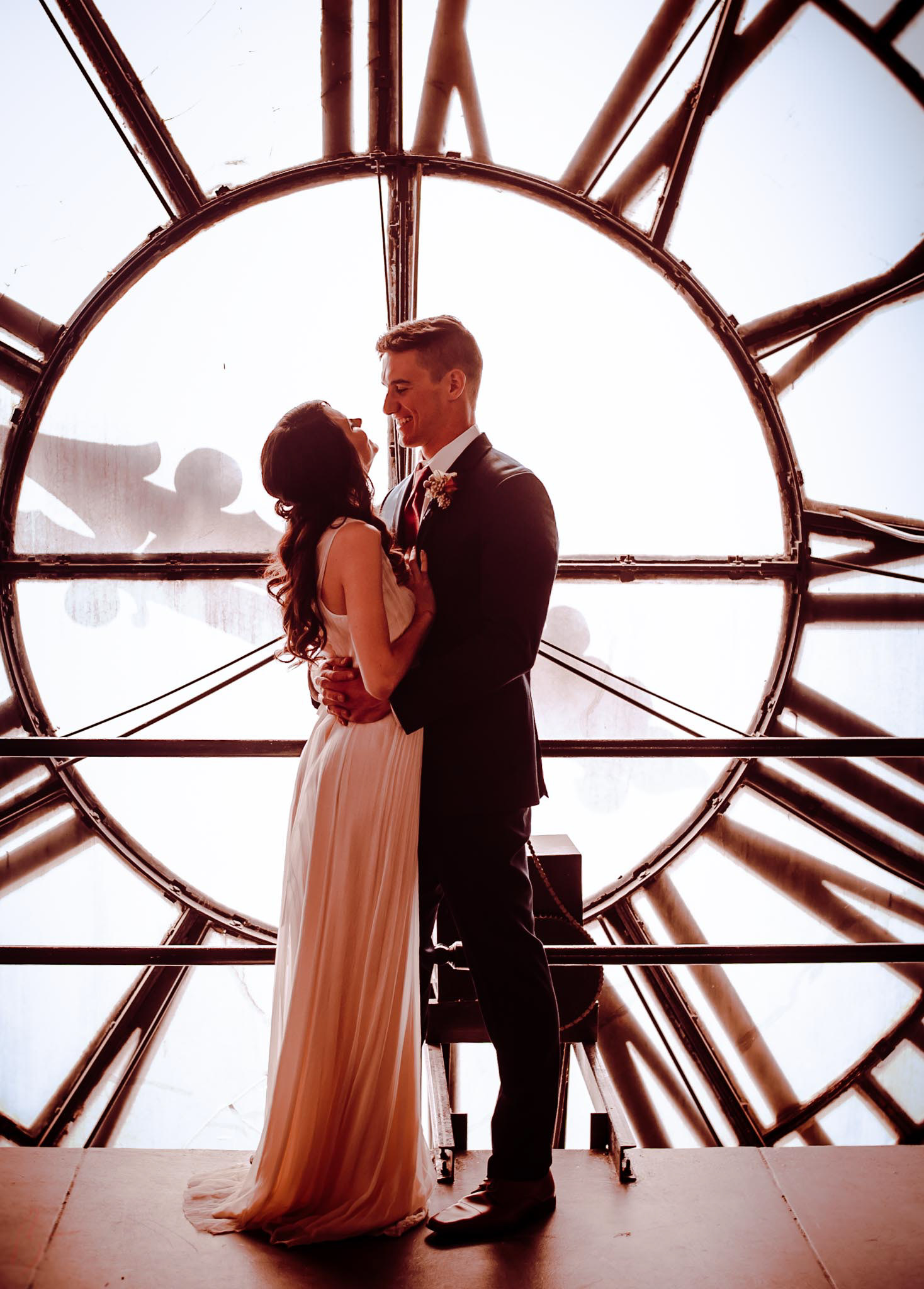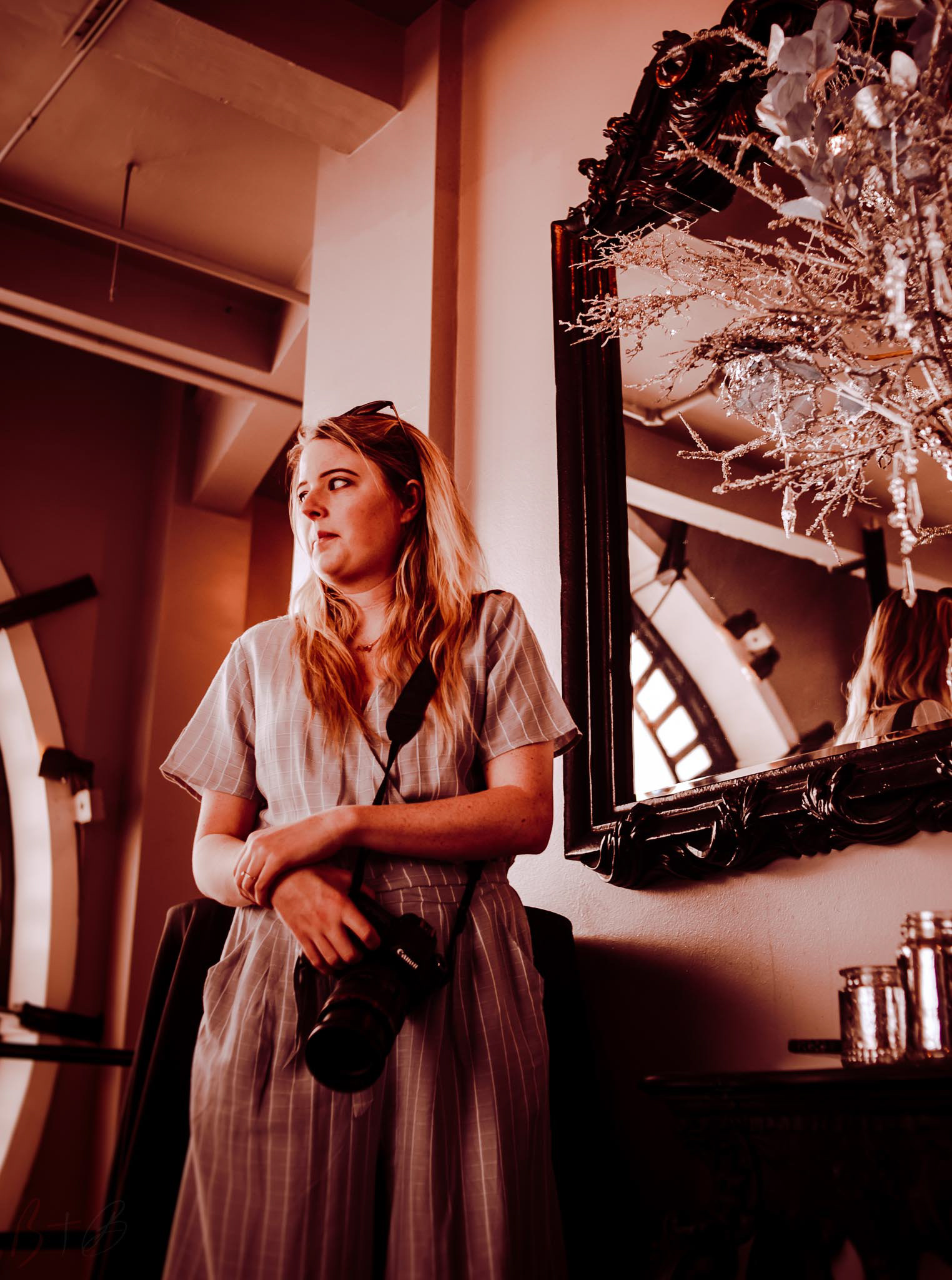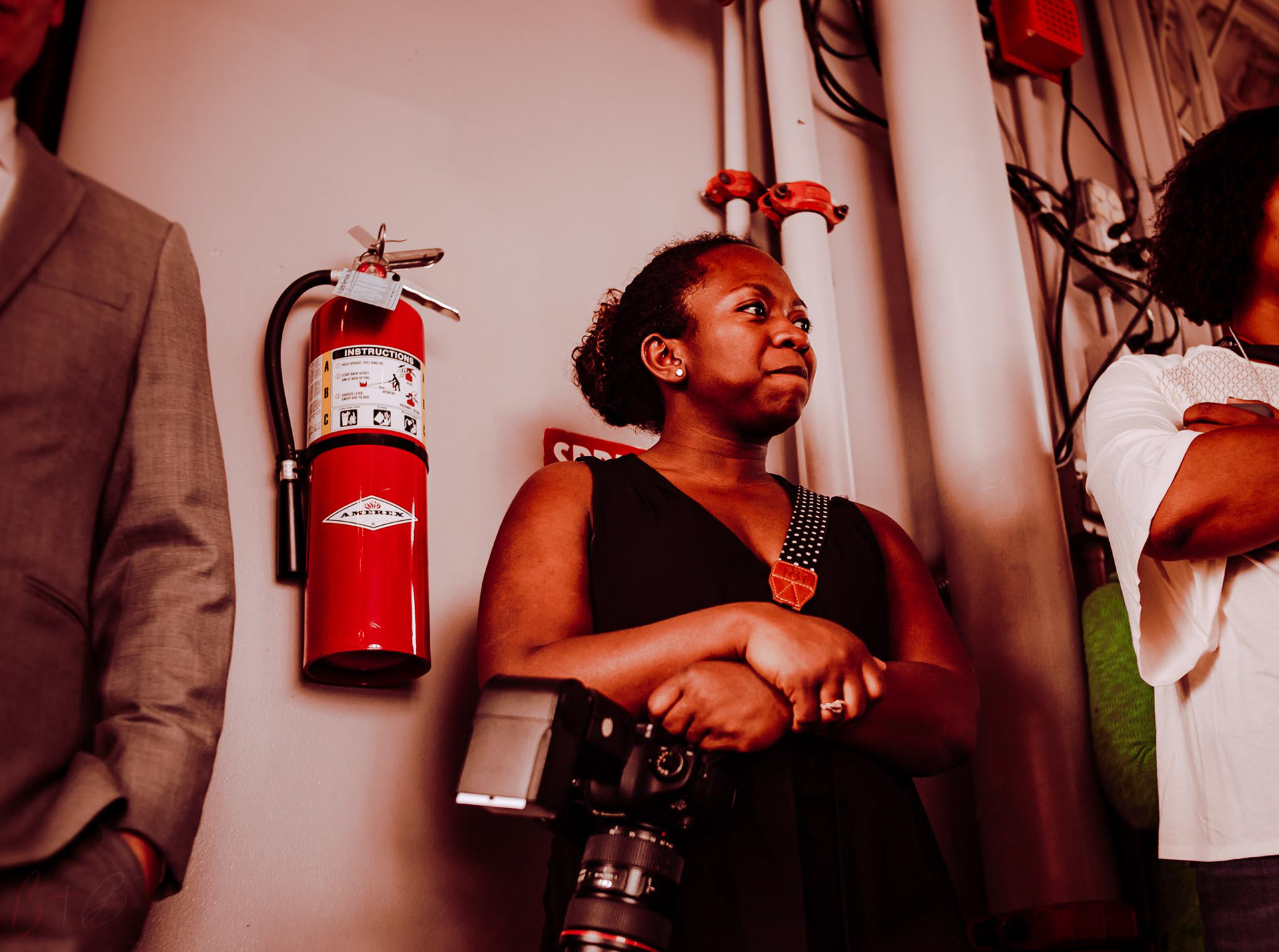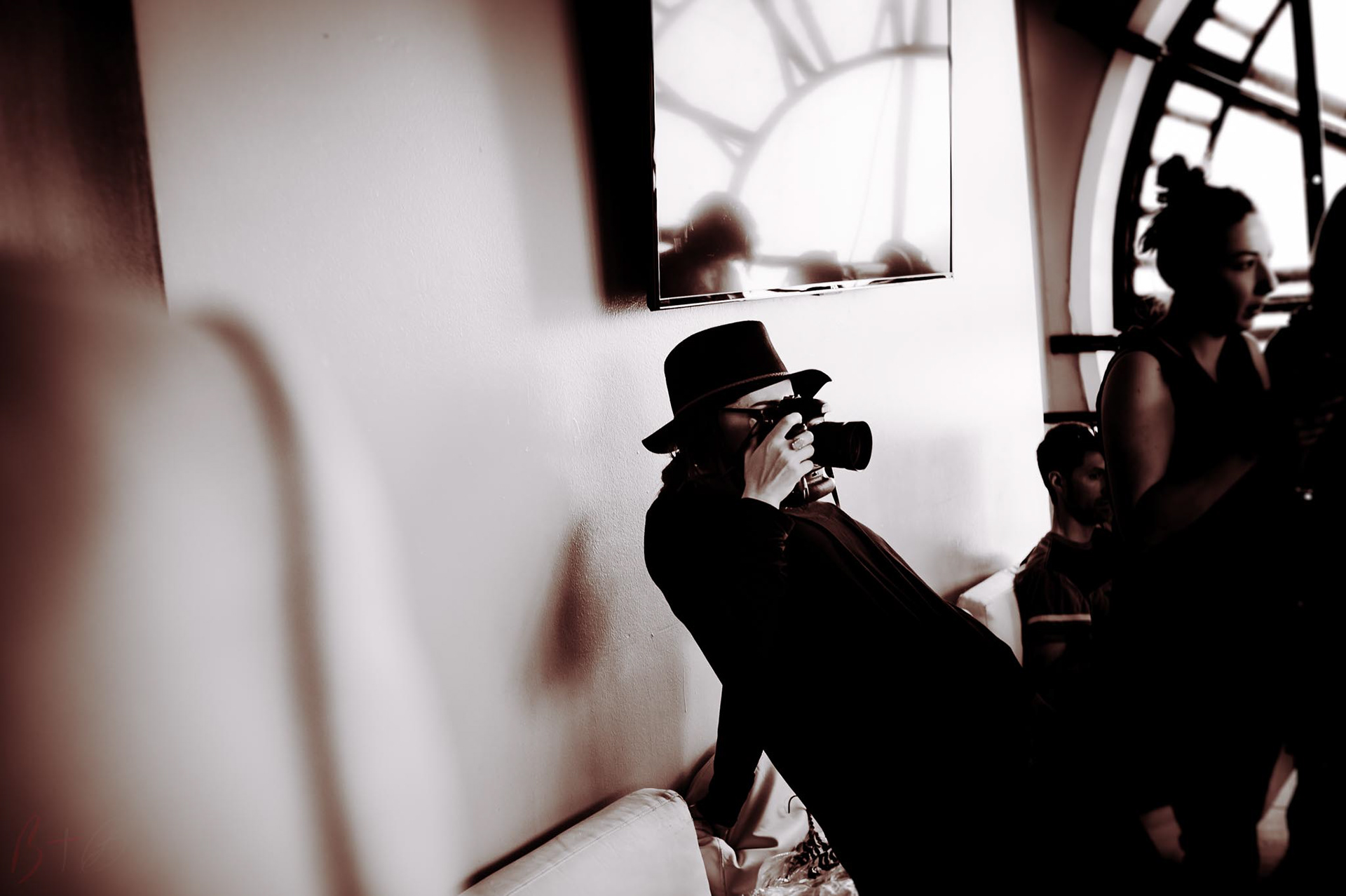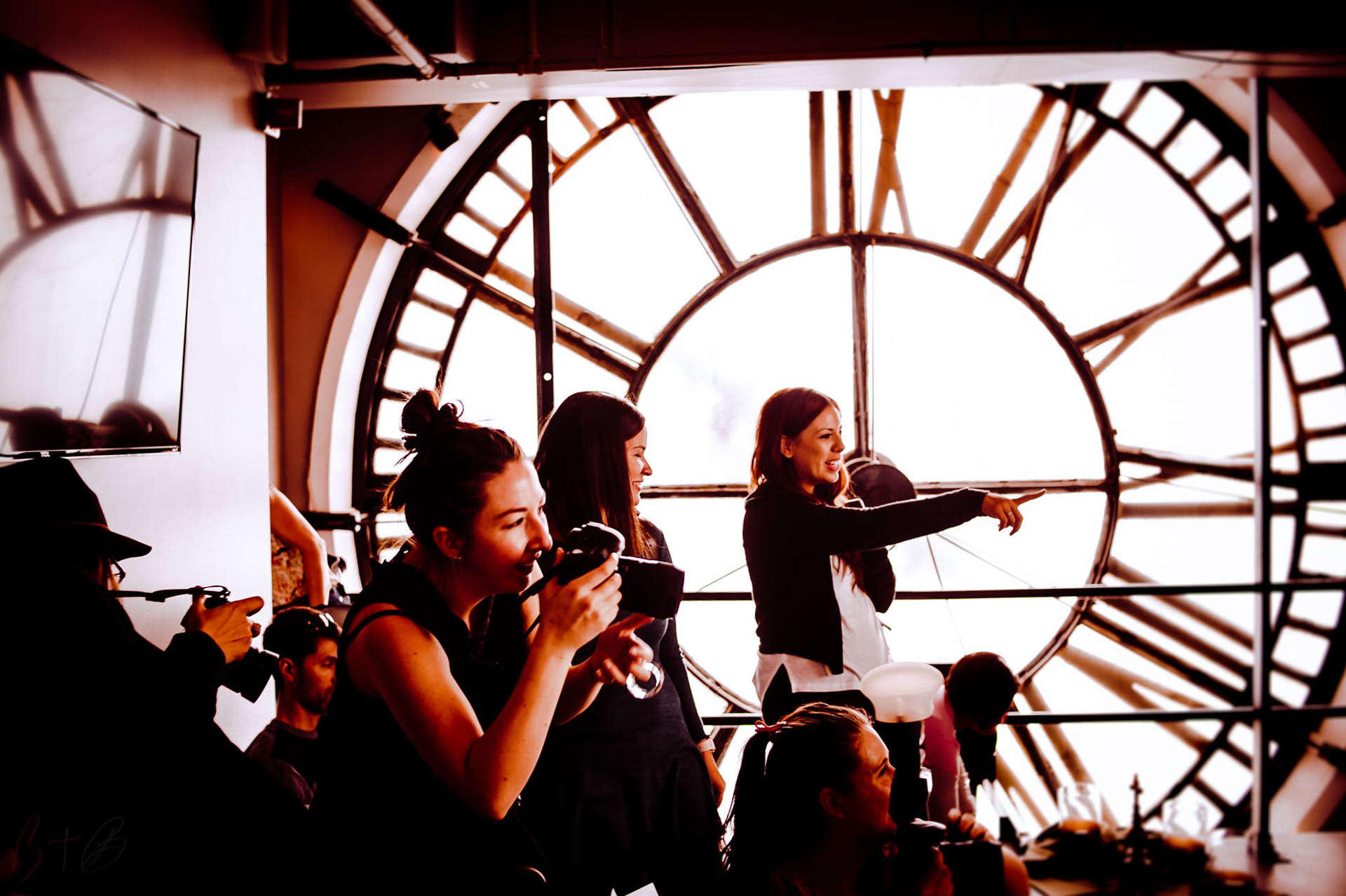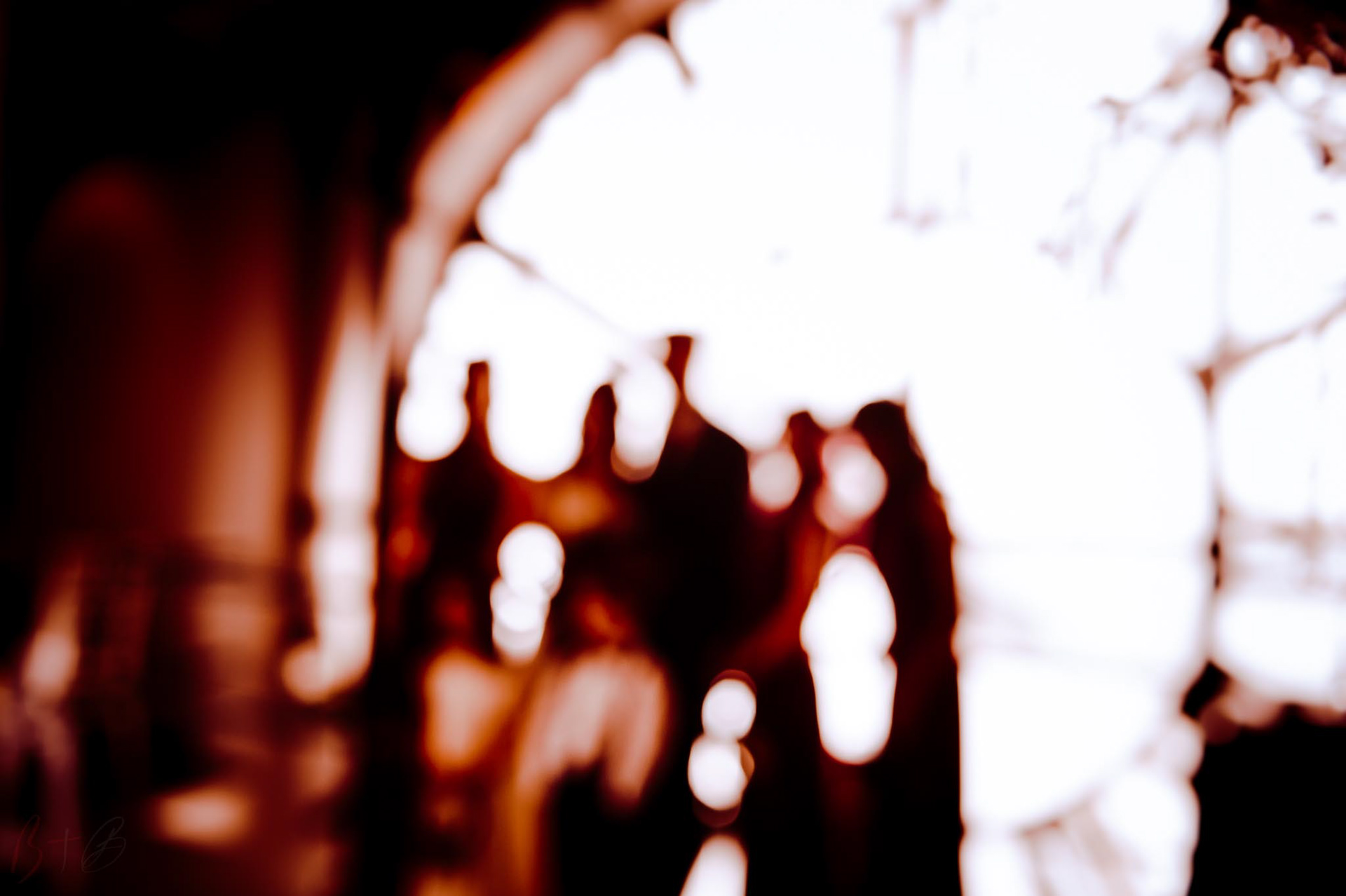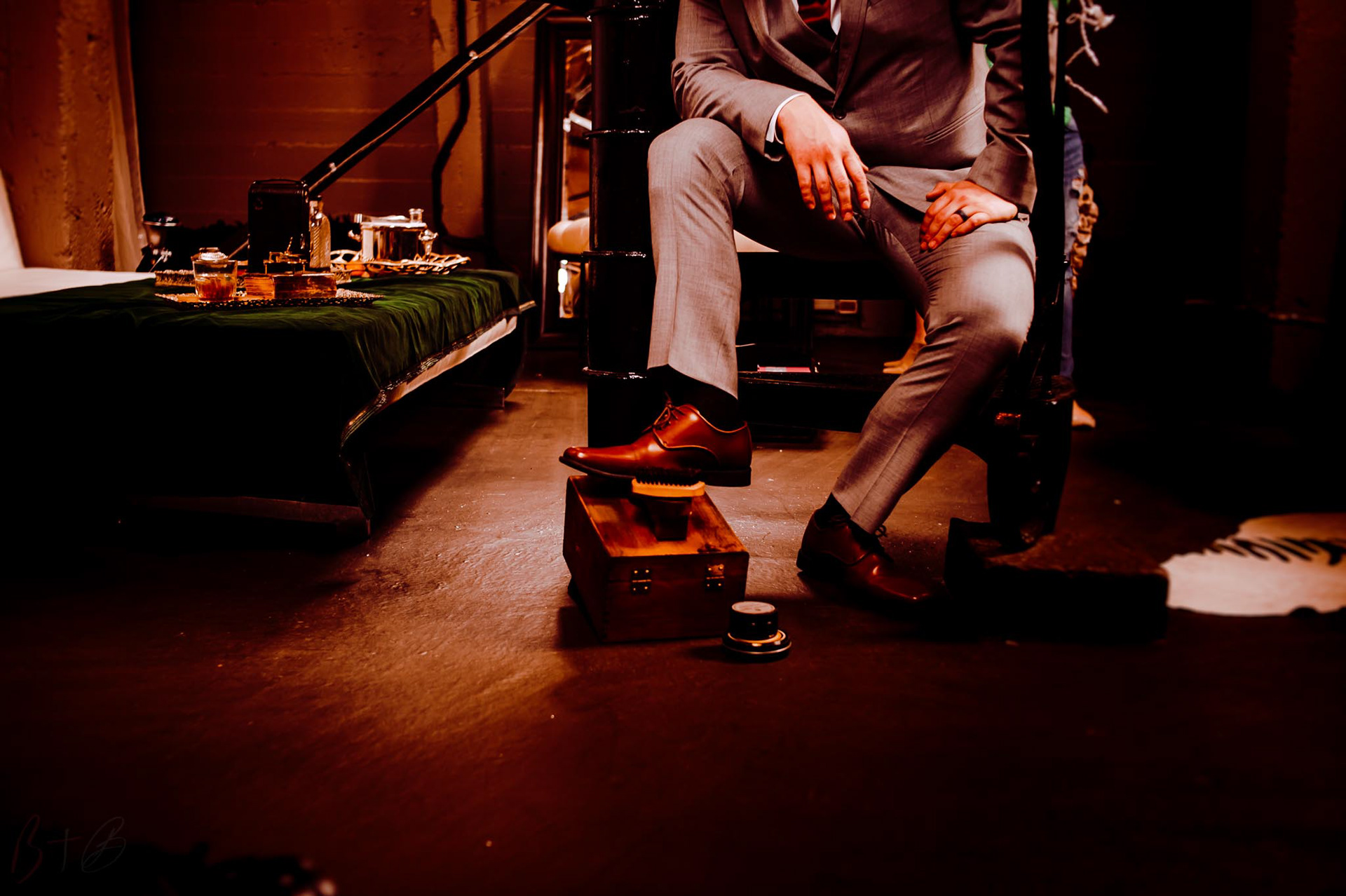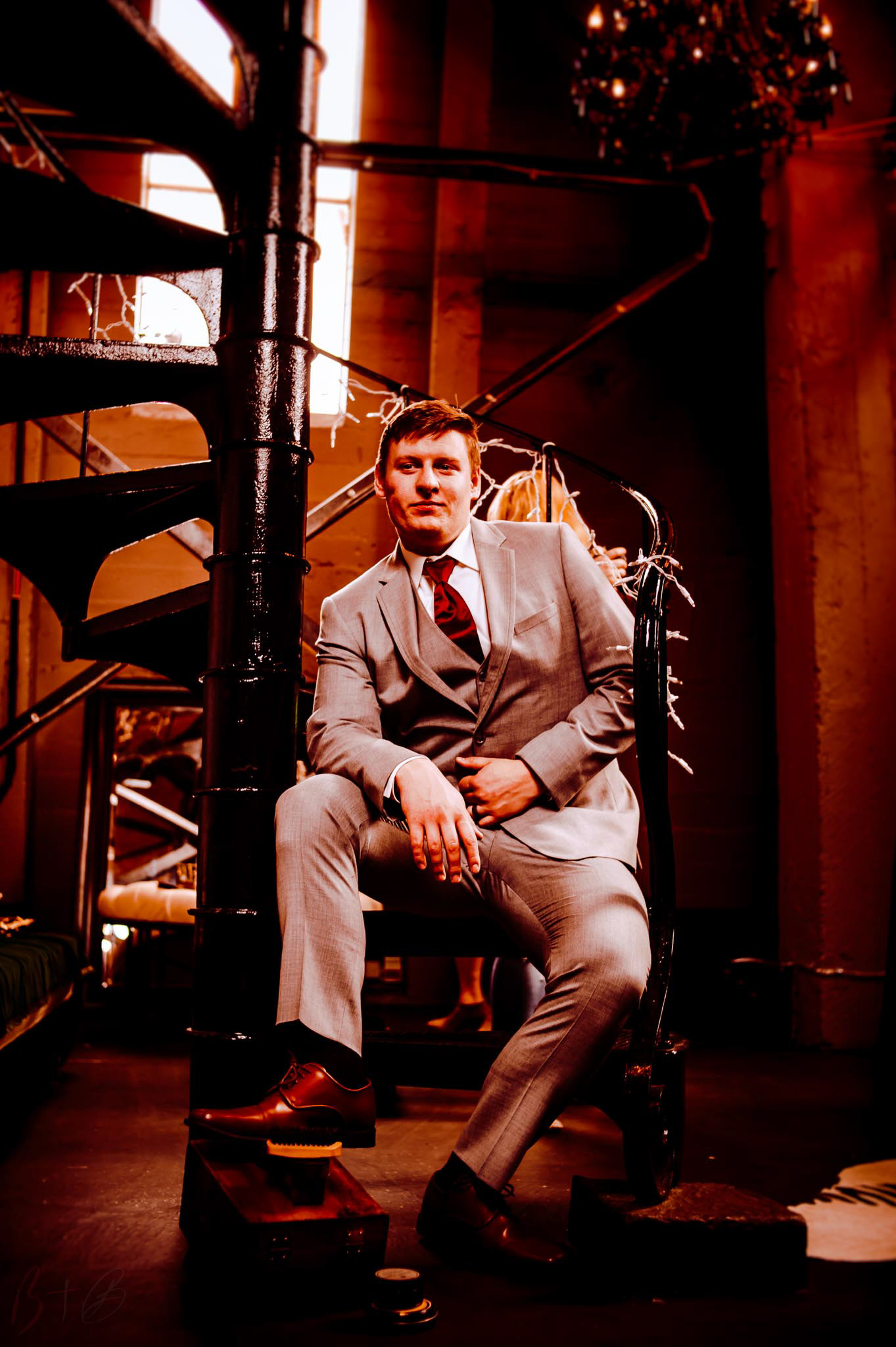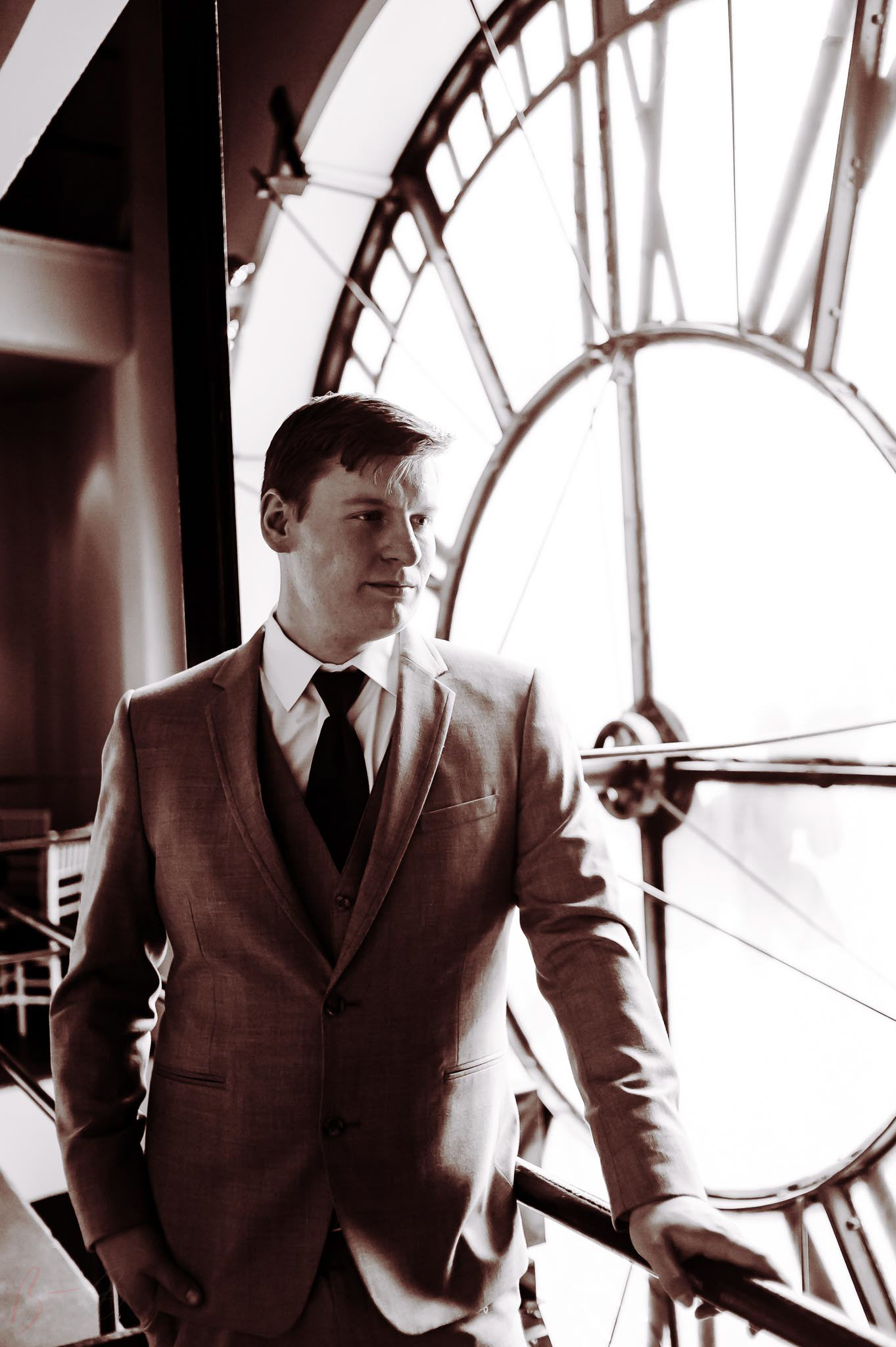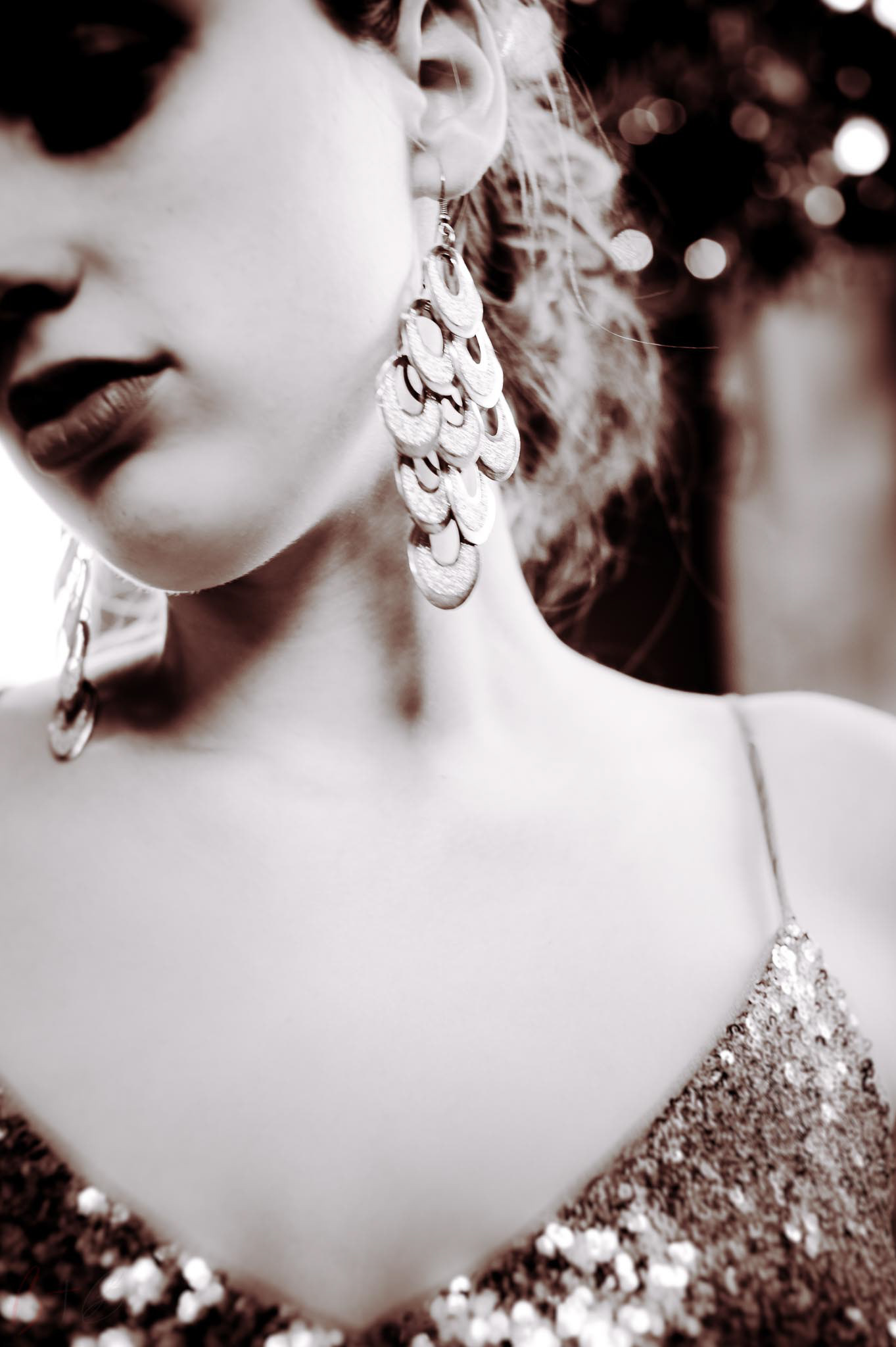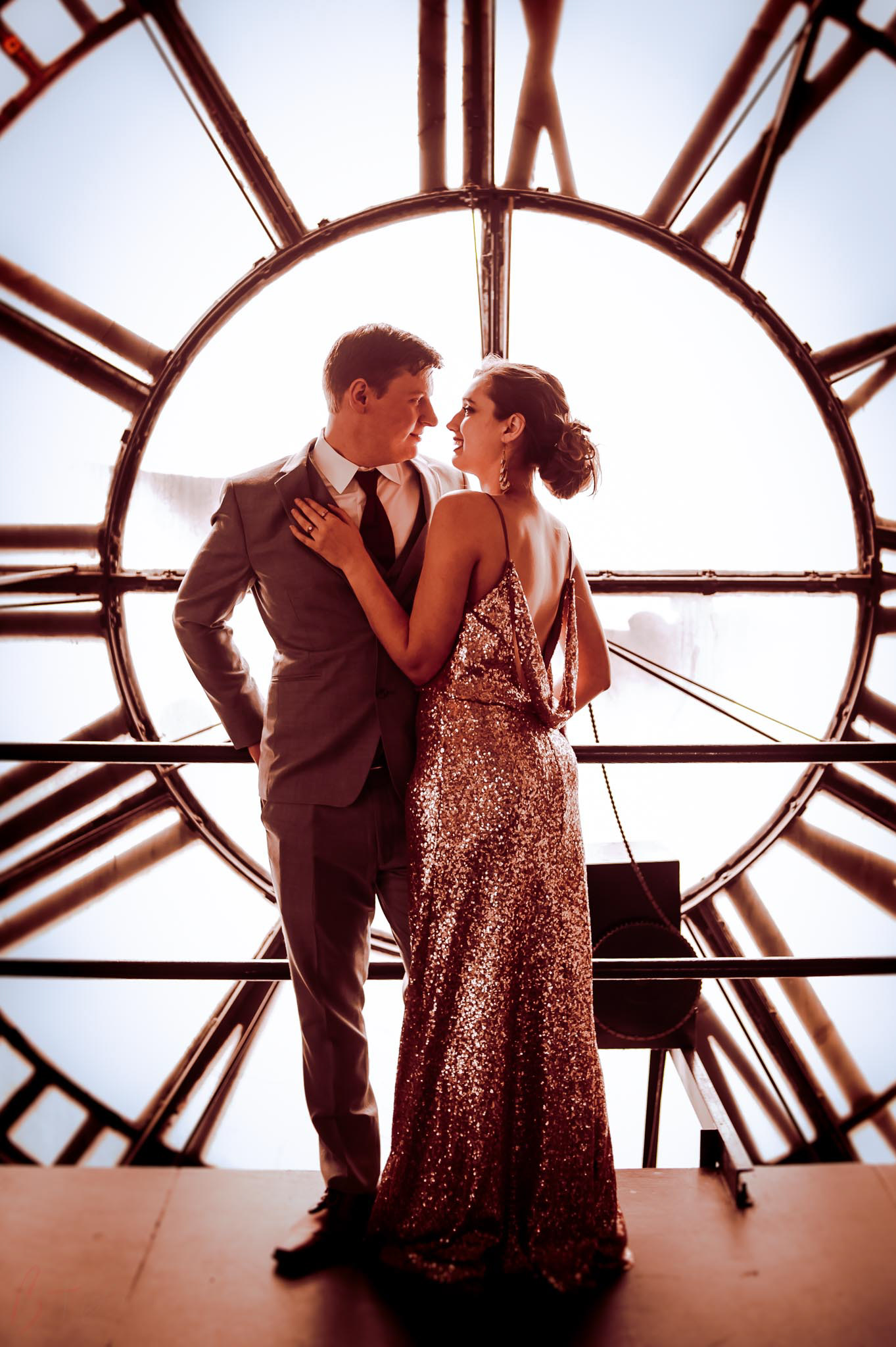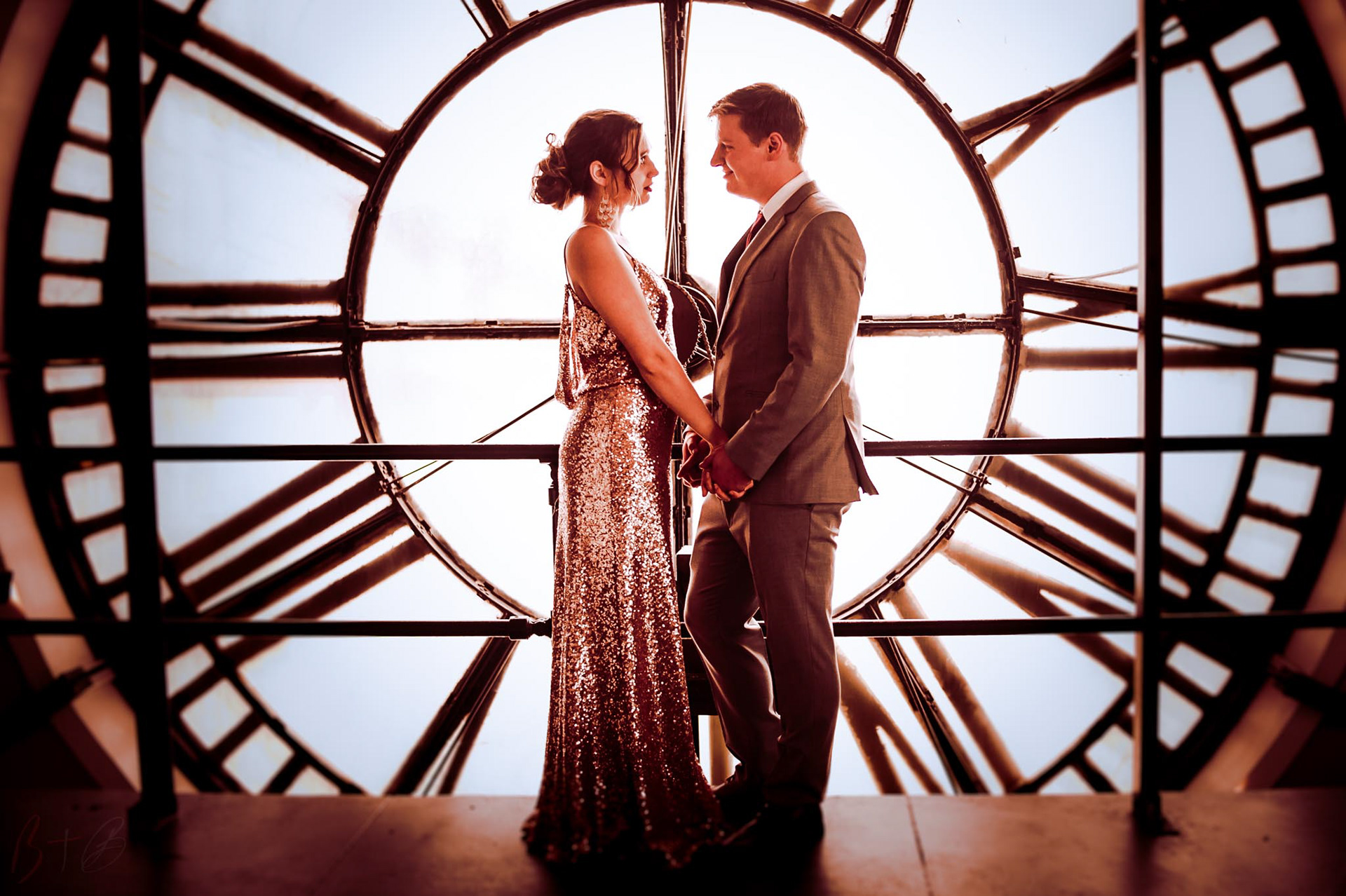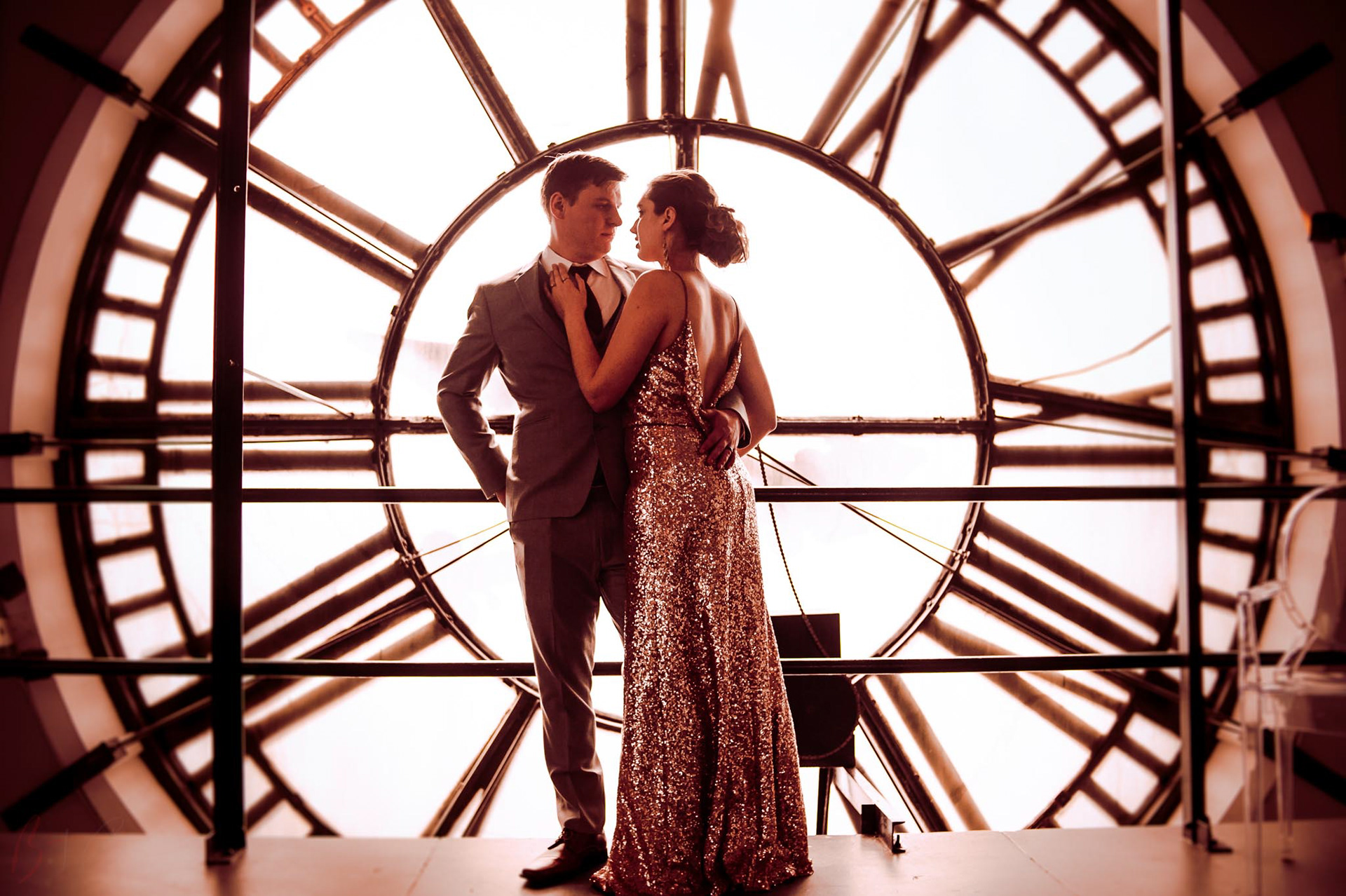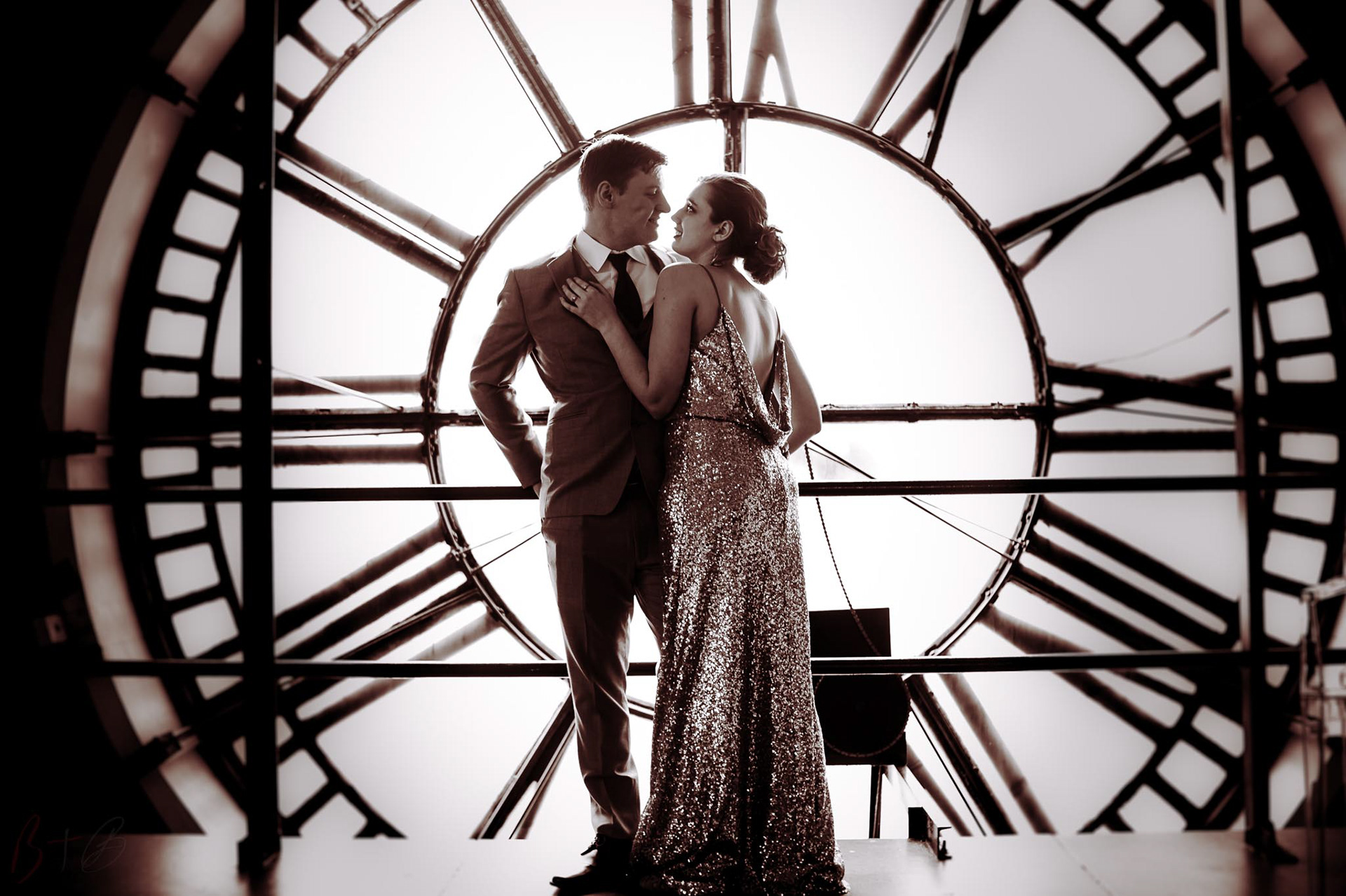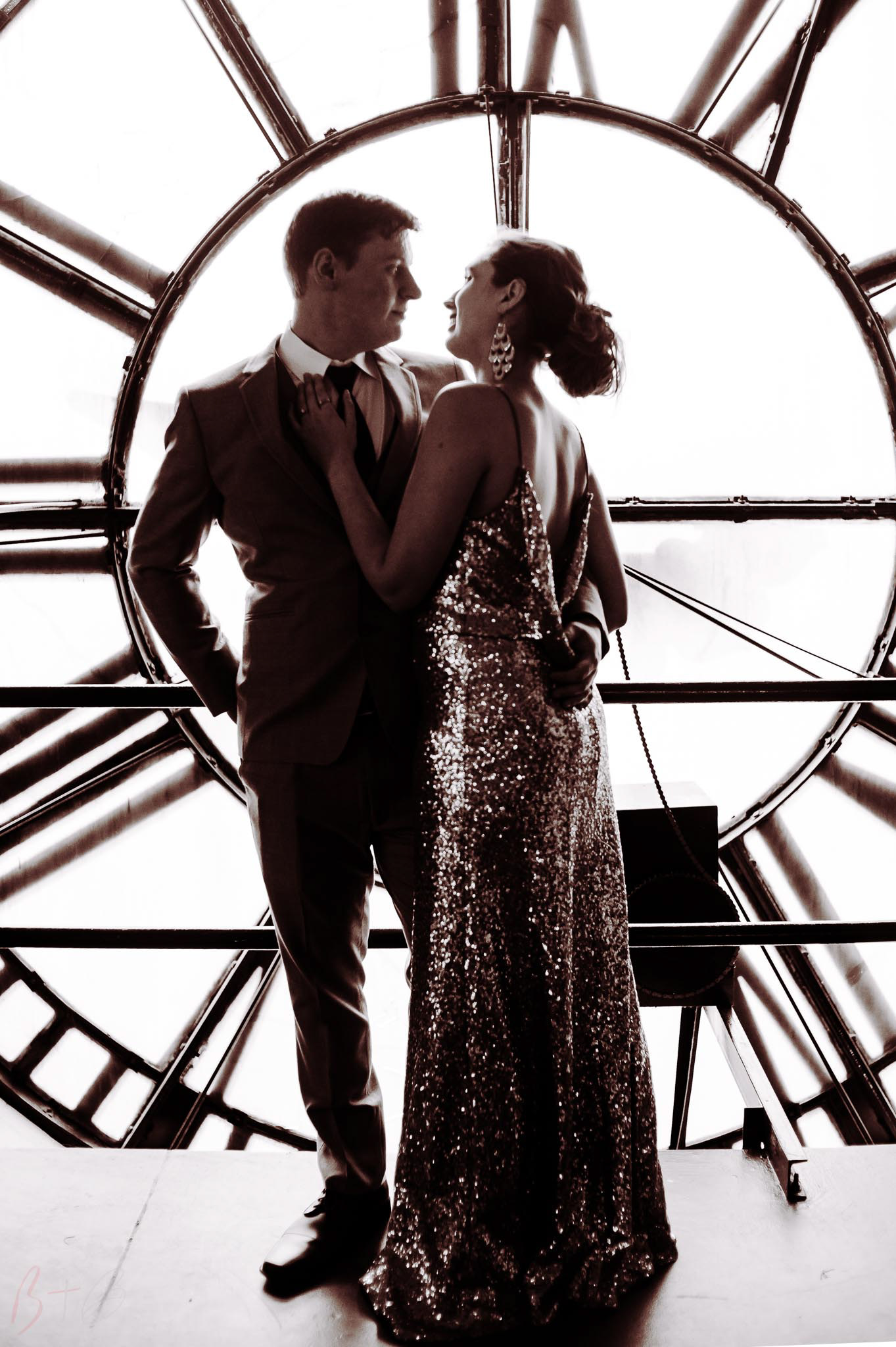 Ben: After that, they really didn't have a problem with us switching from model to photographer, because at our last we went up to the last floor with the spiral stairs. It was probably one of the most cramped for everyone since there was one point of view and 15 togs trying to get the times worth. 
Becca: 
They allowed ben and I to model separately and together.
 Allowing us to capture one another. 
Realizing we knew prompts that got one another to forget the cameras were there.
Ben: 
I think my favorite room was this one.
Becca: 
Soon they said time, and meeting time. 
Then we got caught taking selfies on our phone, and a fellow photographer 
Yarsis, caught it, and offered to take photos of us on our gear so we could edit them.
Ben: 
One last time in front of the camera for the day. 
Boy were we ready. Fighting dead eye syndrome, and the endorphins wearing off,
 I could tell I was not alone in wanting to just collapse and sleep for 14 hours, 
instead of drive five and what turned into 7 hours.
Becca: Aye. 
Ben: When Ashley, told us it was over time to get undressed and get stuff packed out the groom and I went back to the meeting floor and got changed while everyone figured out bathrooms to change in. Becca even came up after I was done so she could change. Then was the process of packing everything down the stairs and out to the main floor. Probably took around 30-40 minutes but we had more help this time so it went well. Ashley gave out thank you cards, we said thank you to everyone who helped setup for the stylized session and it actually ended up being an experience that we would probably do again if asked since it went pretty smoothly.
Becca: Agreed, would 100% be down to model with you again, in a stylized location. Especially if good modeling equals to a few minutes to be a photographer, and more reason to travel.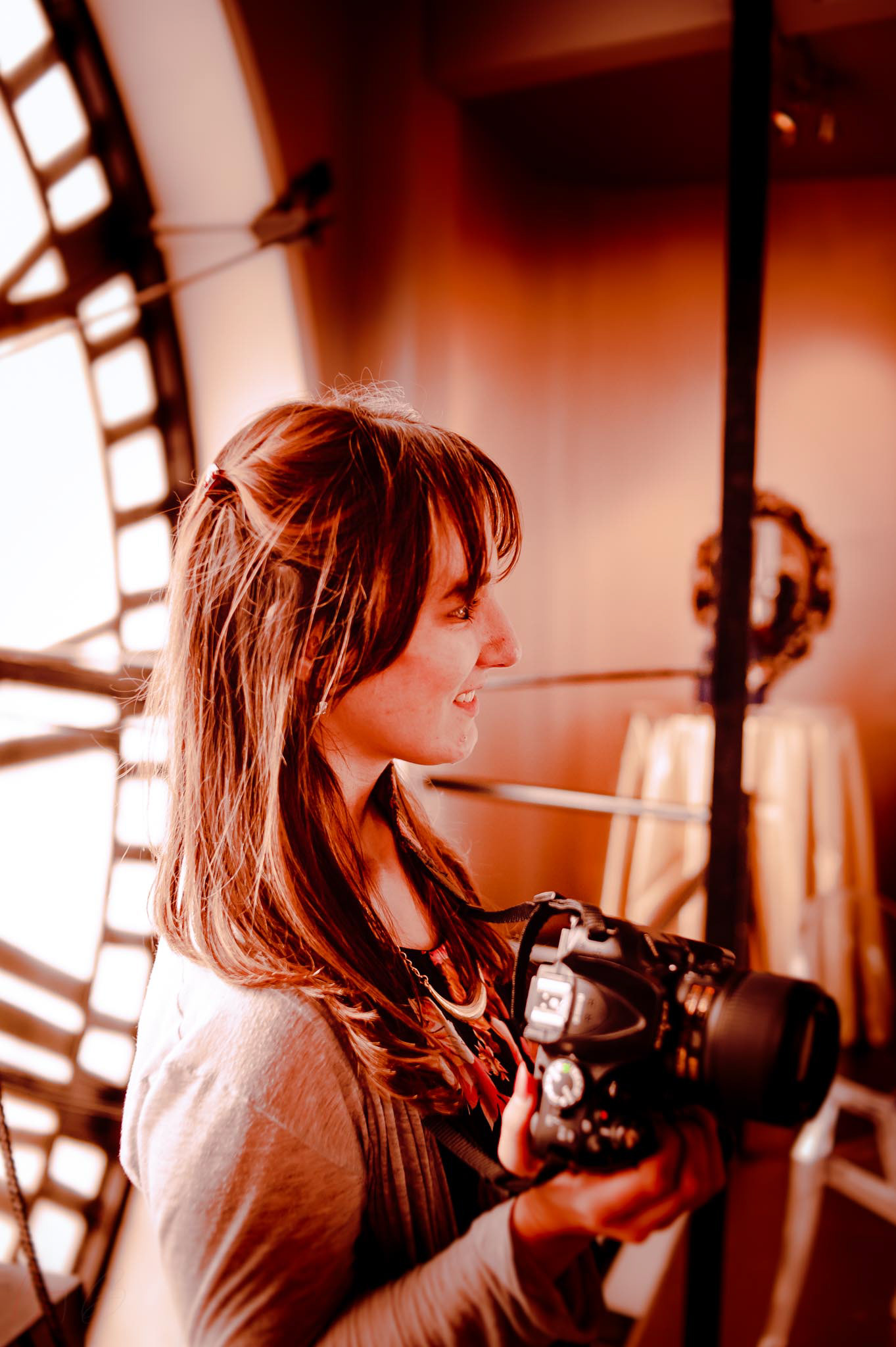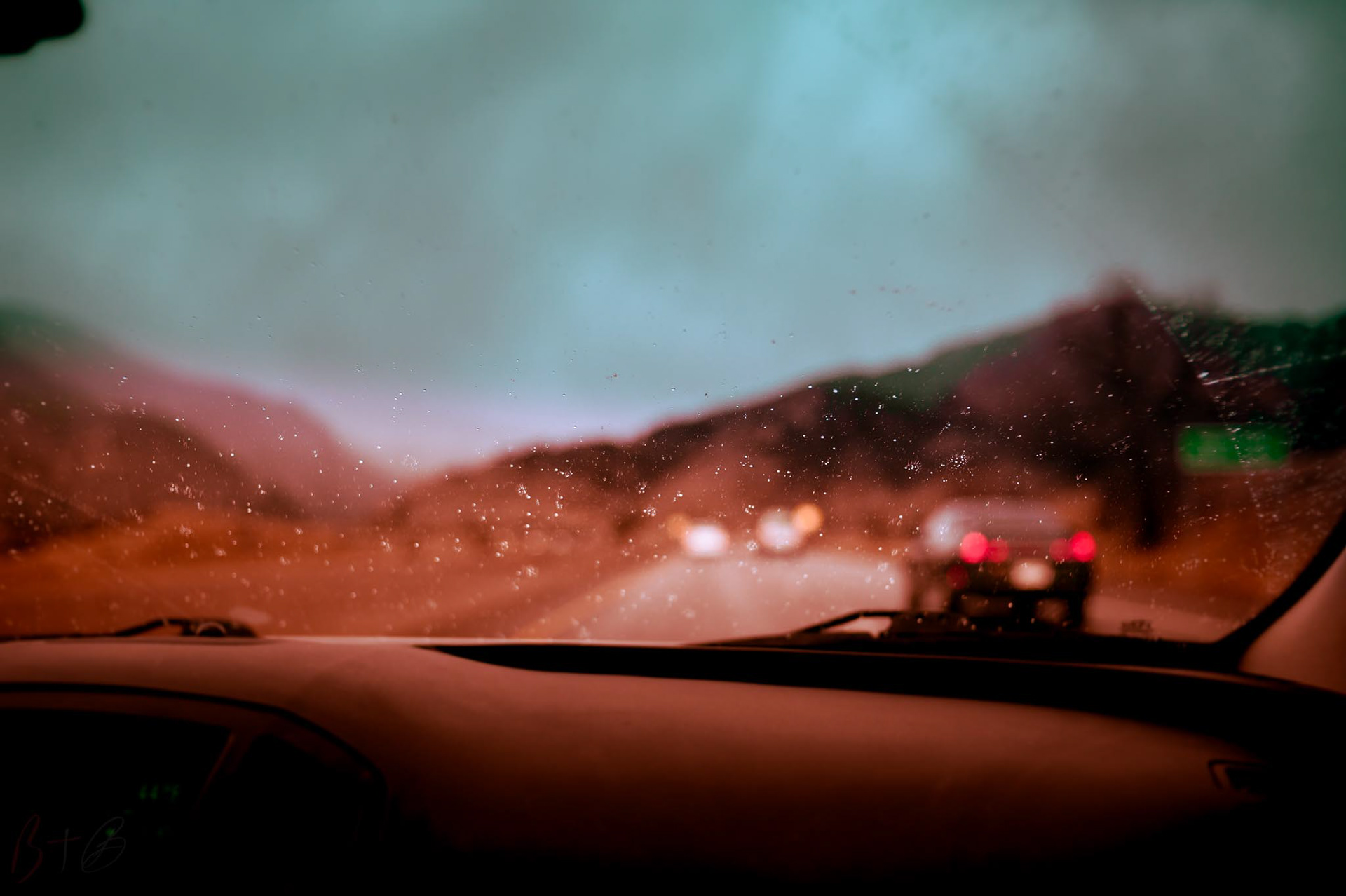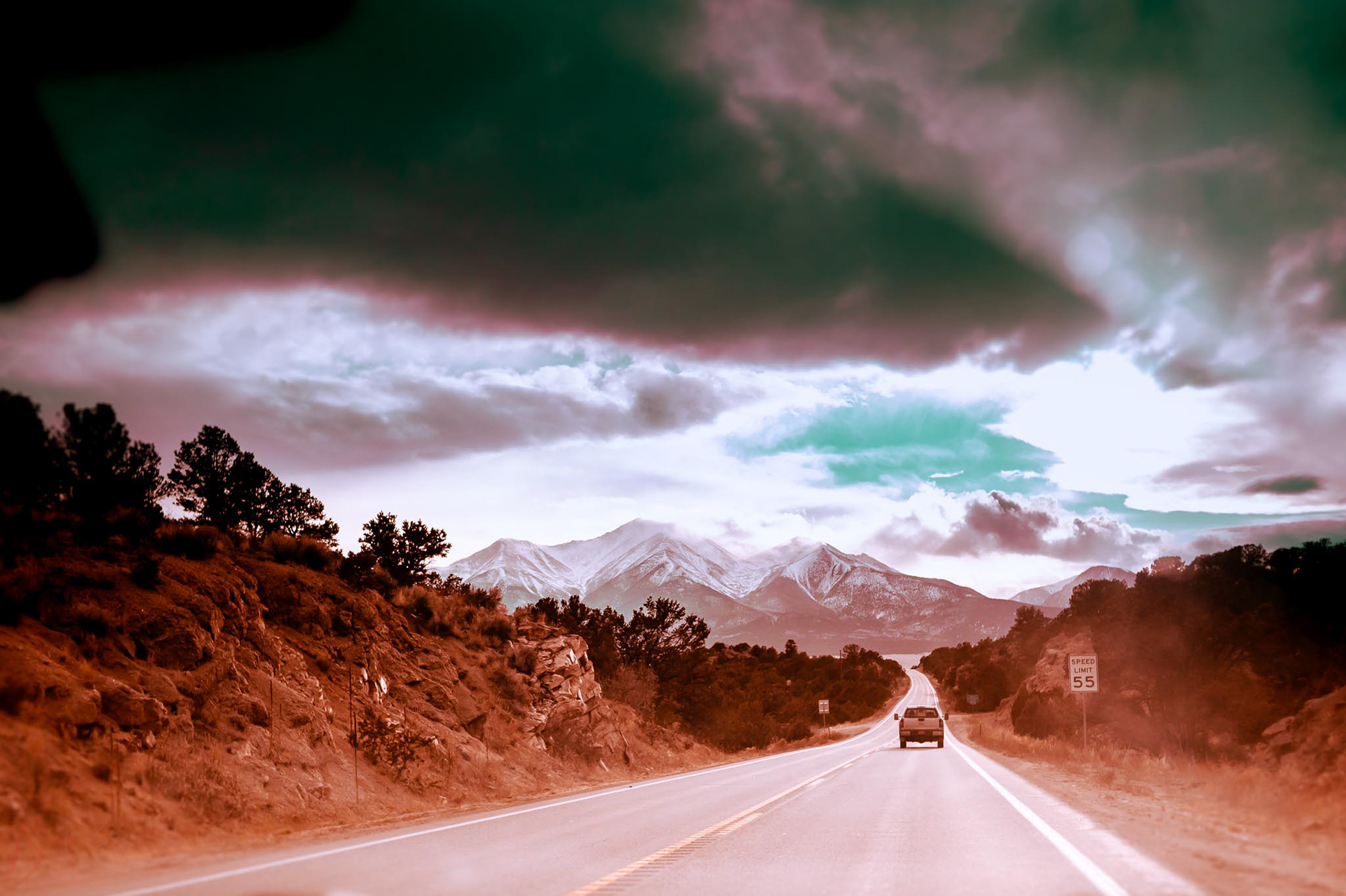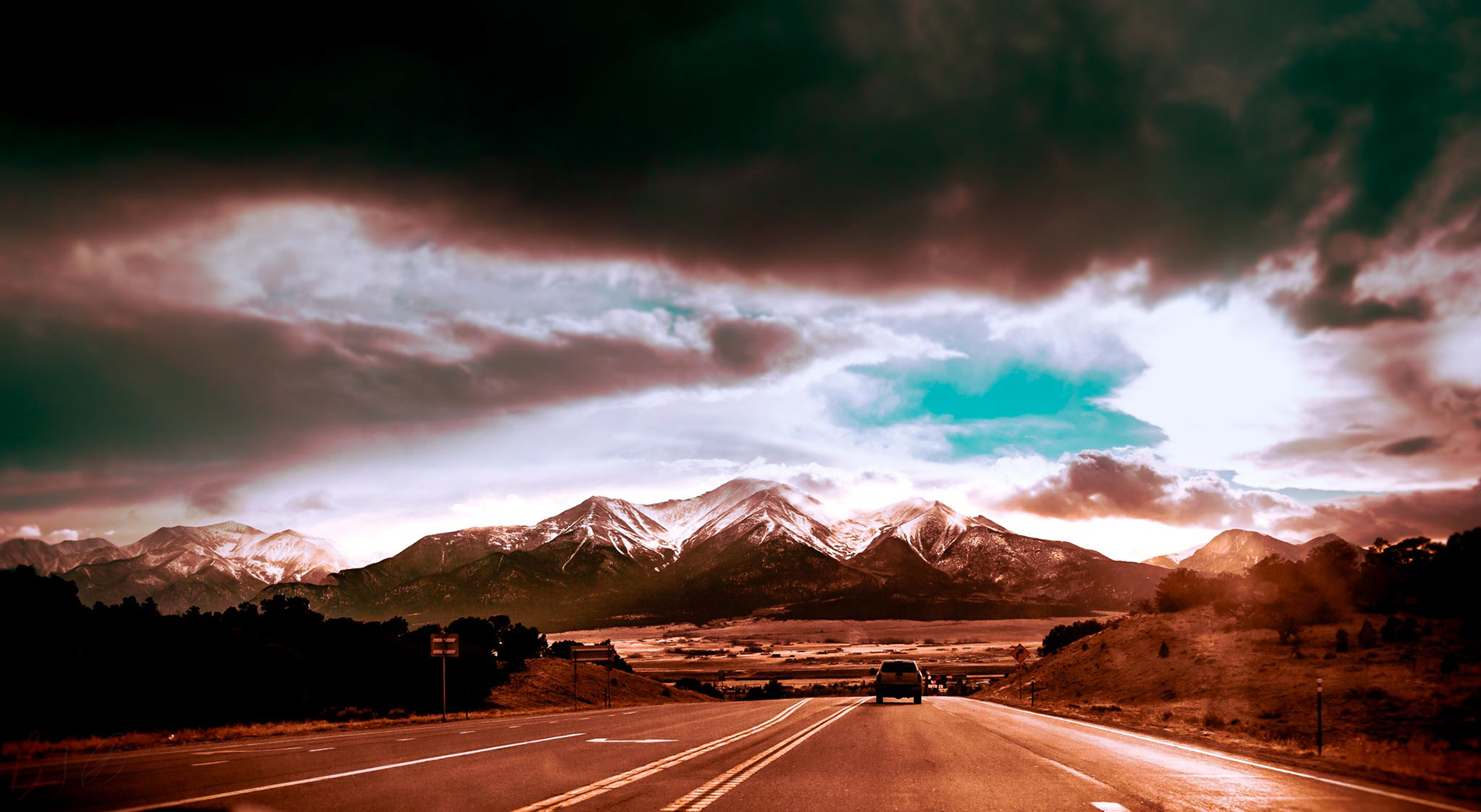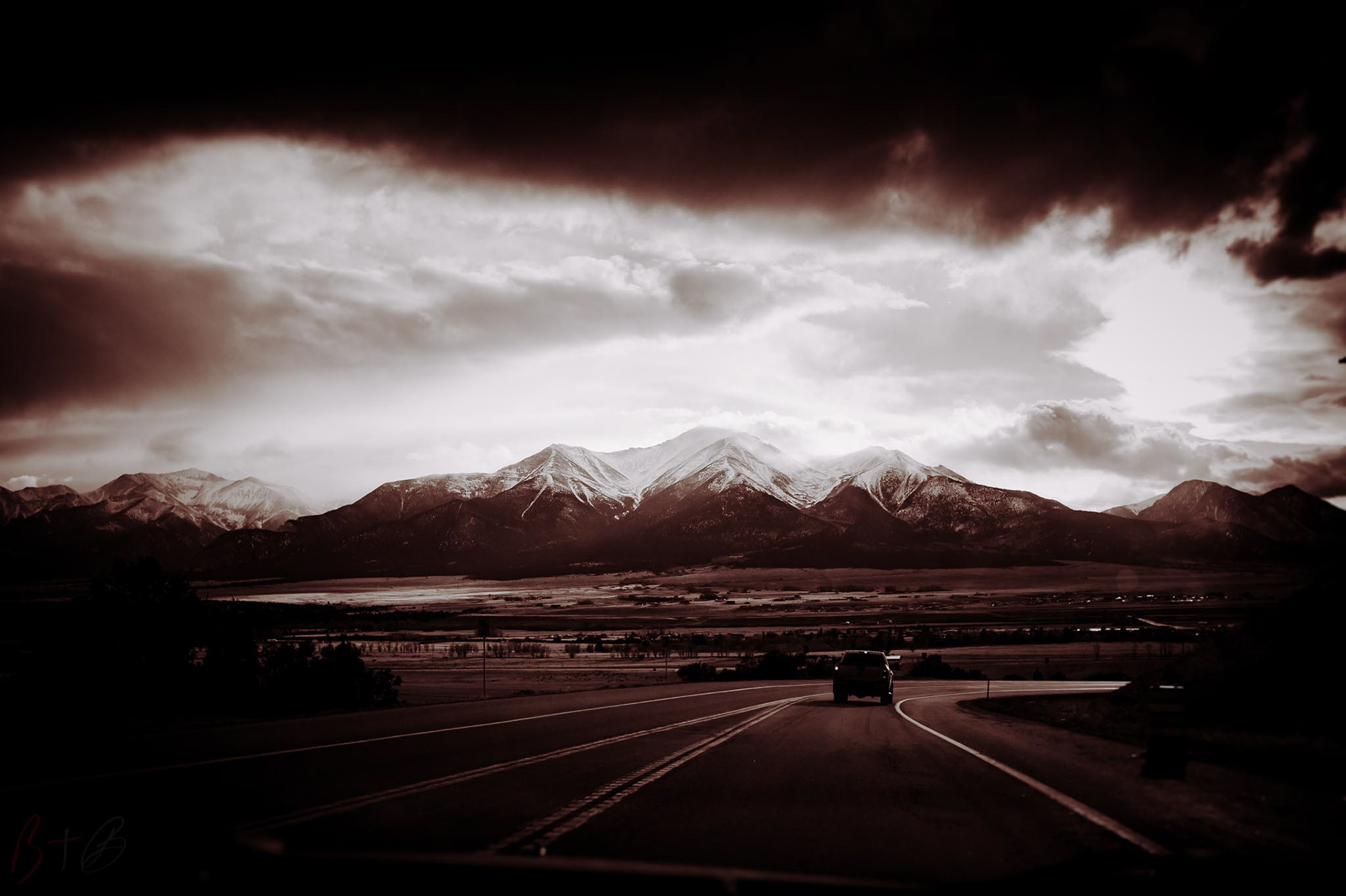 Ben: 
The journey back to our apt in Montrose to say the least was a thrilling but a beautiful snowy trip, we made it safely after 7 hours. 
 I don't know about Becca but I have never been greeted so well from a pair fur babies ever in my life!
 They made me feel overwhelmingly wanted home and knowing our neighbor had kept them safe 
and happy while we were gone just wrapped the trip up in a great big bow.
 If we get the opportunity to do this again with my wife I would surely take it.
Becca: 
The journey home although frightful over a snowy pass, 
felt like the ending to the chapter of where our lives were at that point. 
The crisp air of change, nipping at all the way home, biting on our heels, 
"it is time to close this chapter, and come back a different day." 
Honestly this whole trip was 2018 foreshadow: 
great in the beginning, 
and tiresome by the end, scary at times jolting you awake,
 and back to your senses. 
Endorphins gotta love them,
 funny how they stayed with us from getting ready for this trip (closing this chapter) ,
all the way through it. 
Then all the way with us in 2018. Leaving your comfort box, sure does start a chain reaction.
But I would definitely do it all over again, the modeling with my amazing husband, 
and having yet another reason to travel.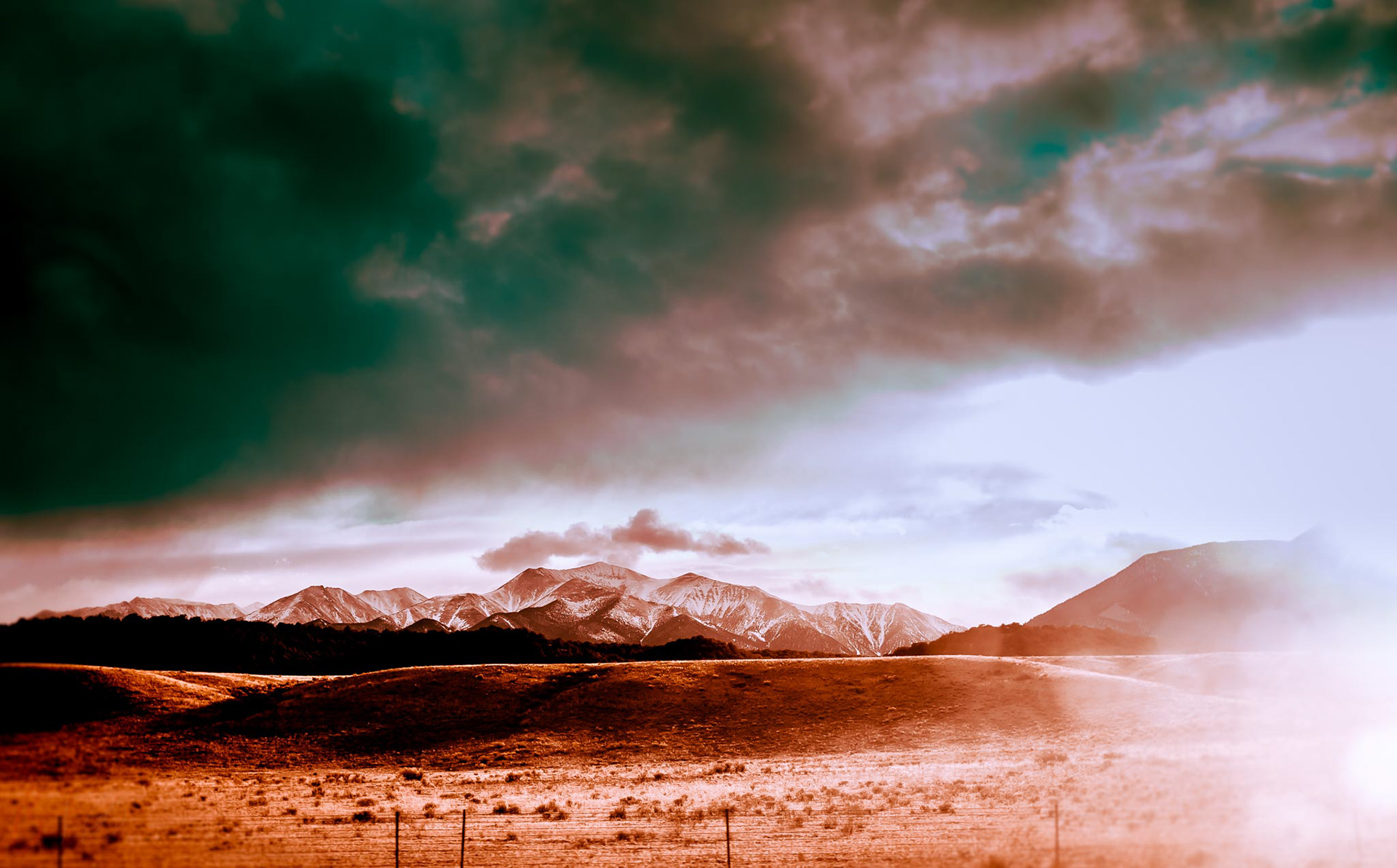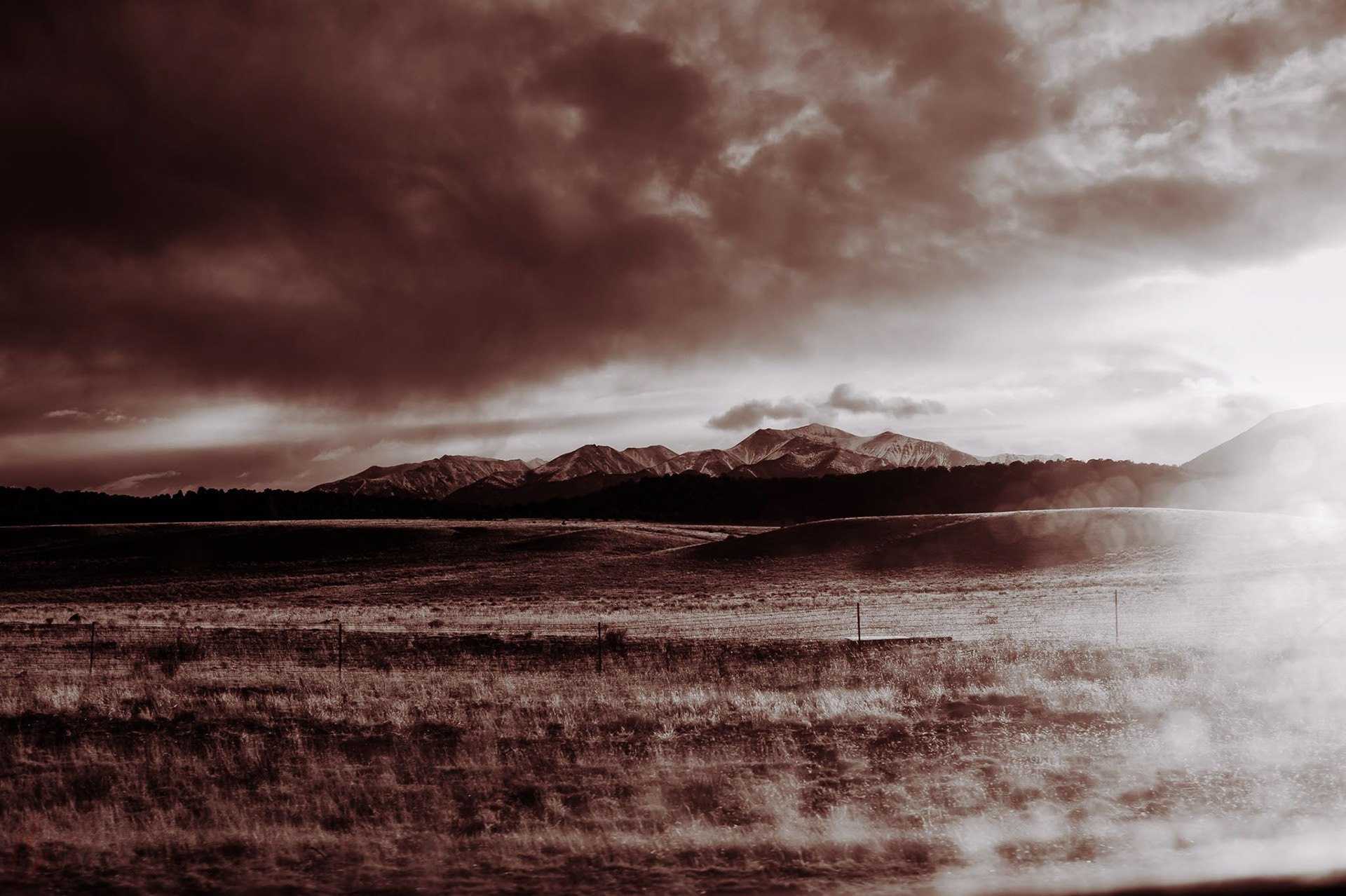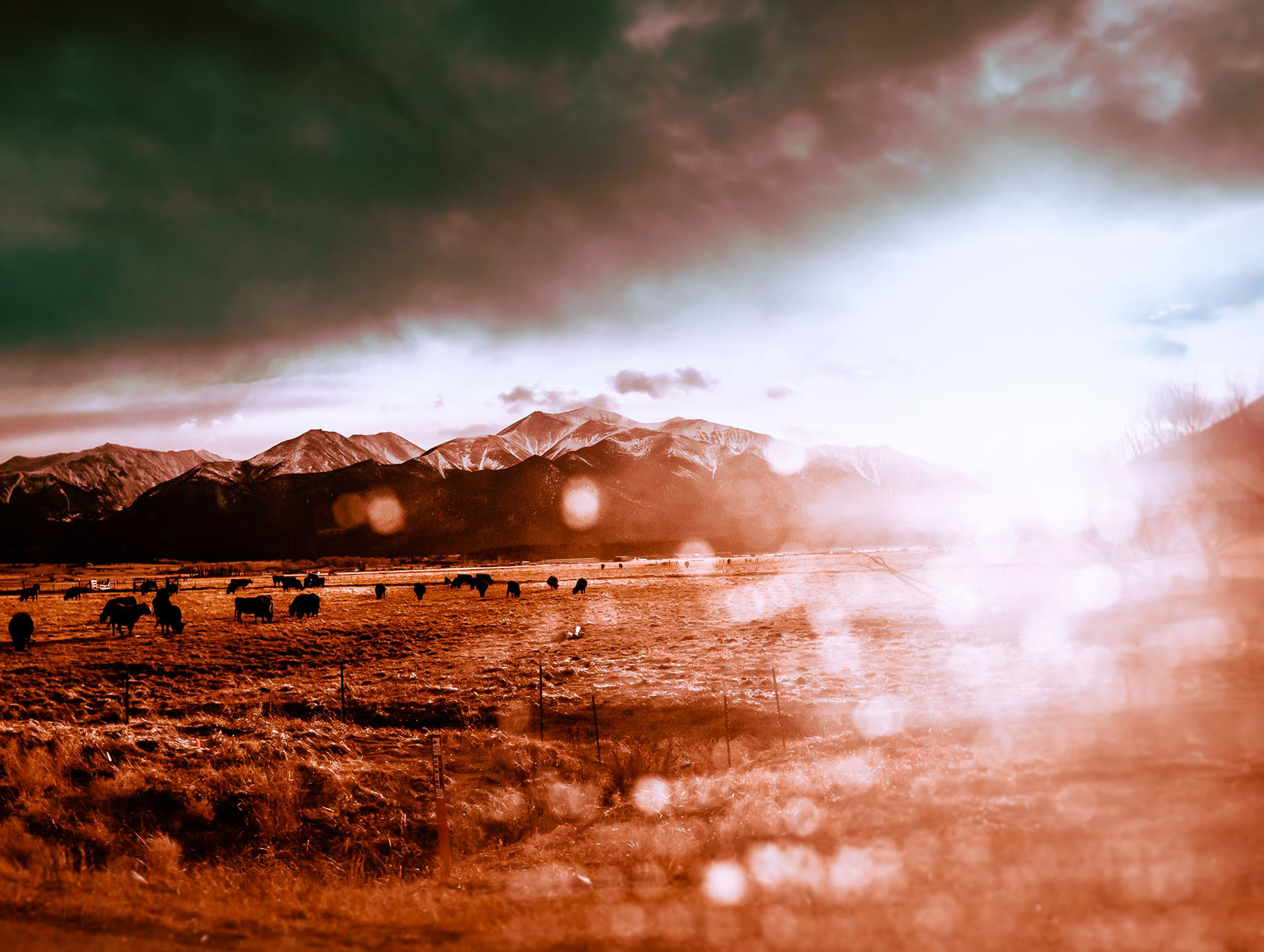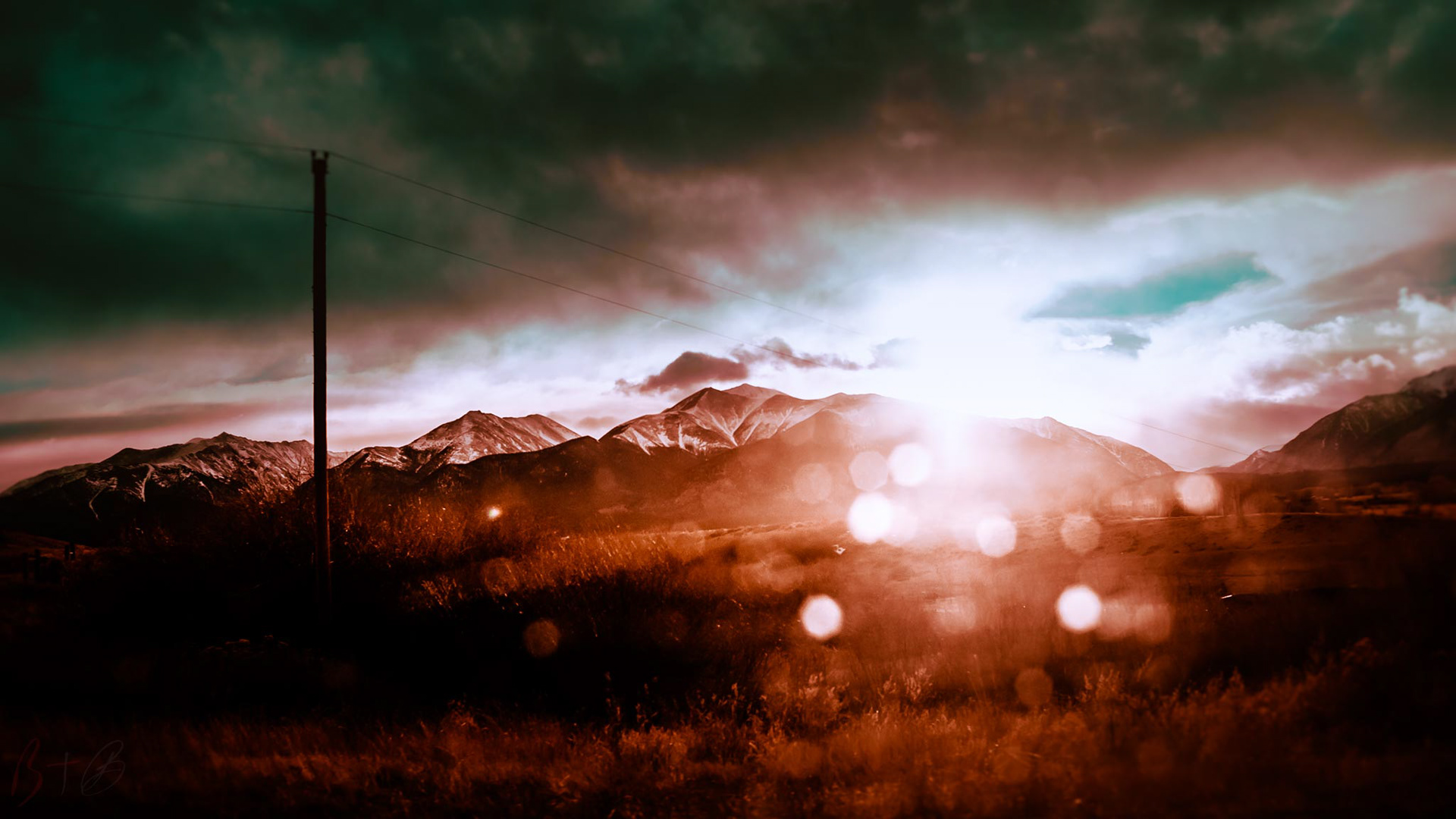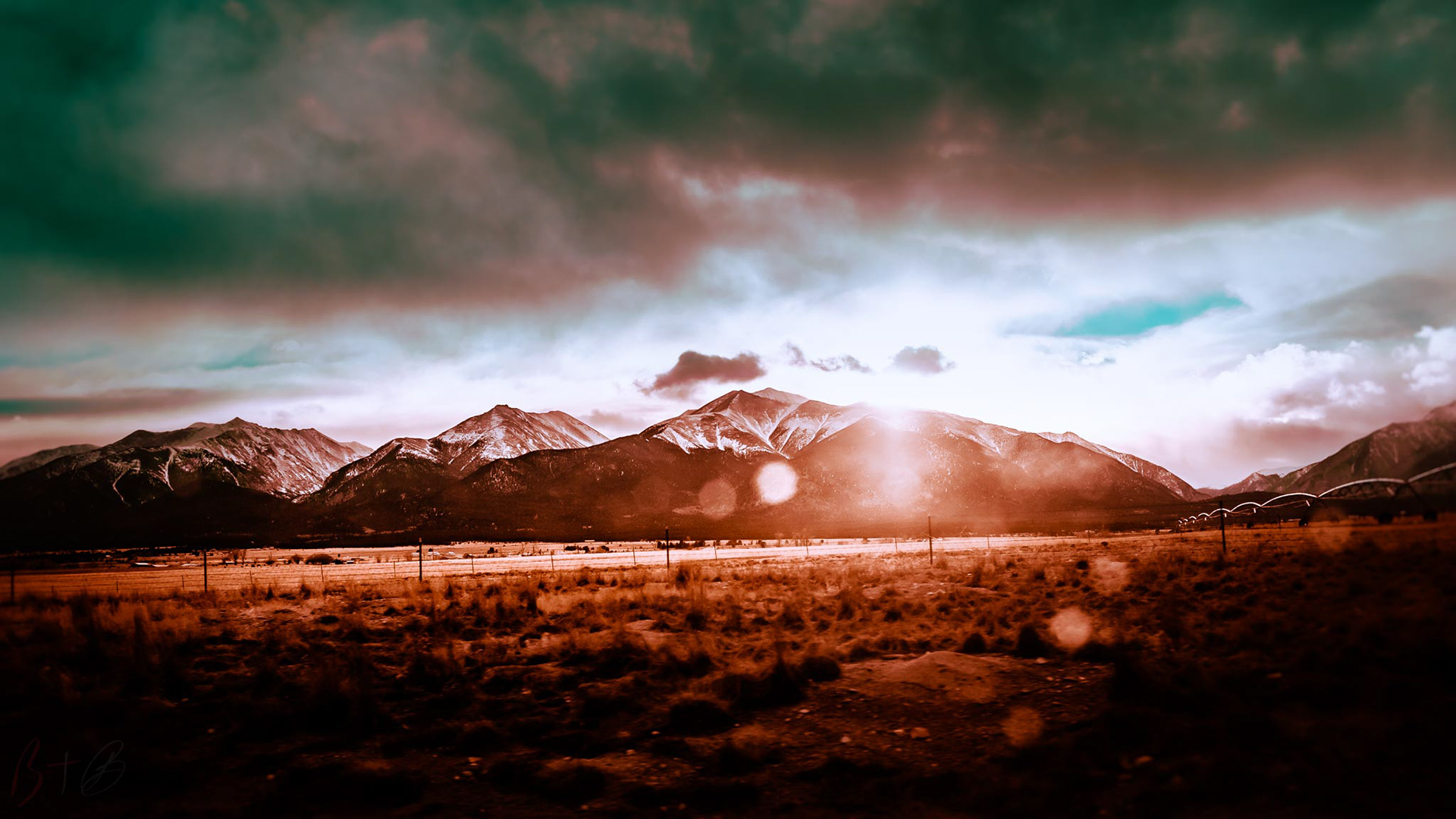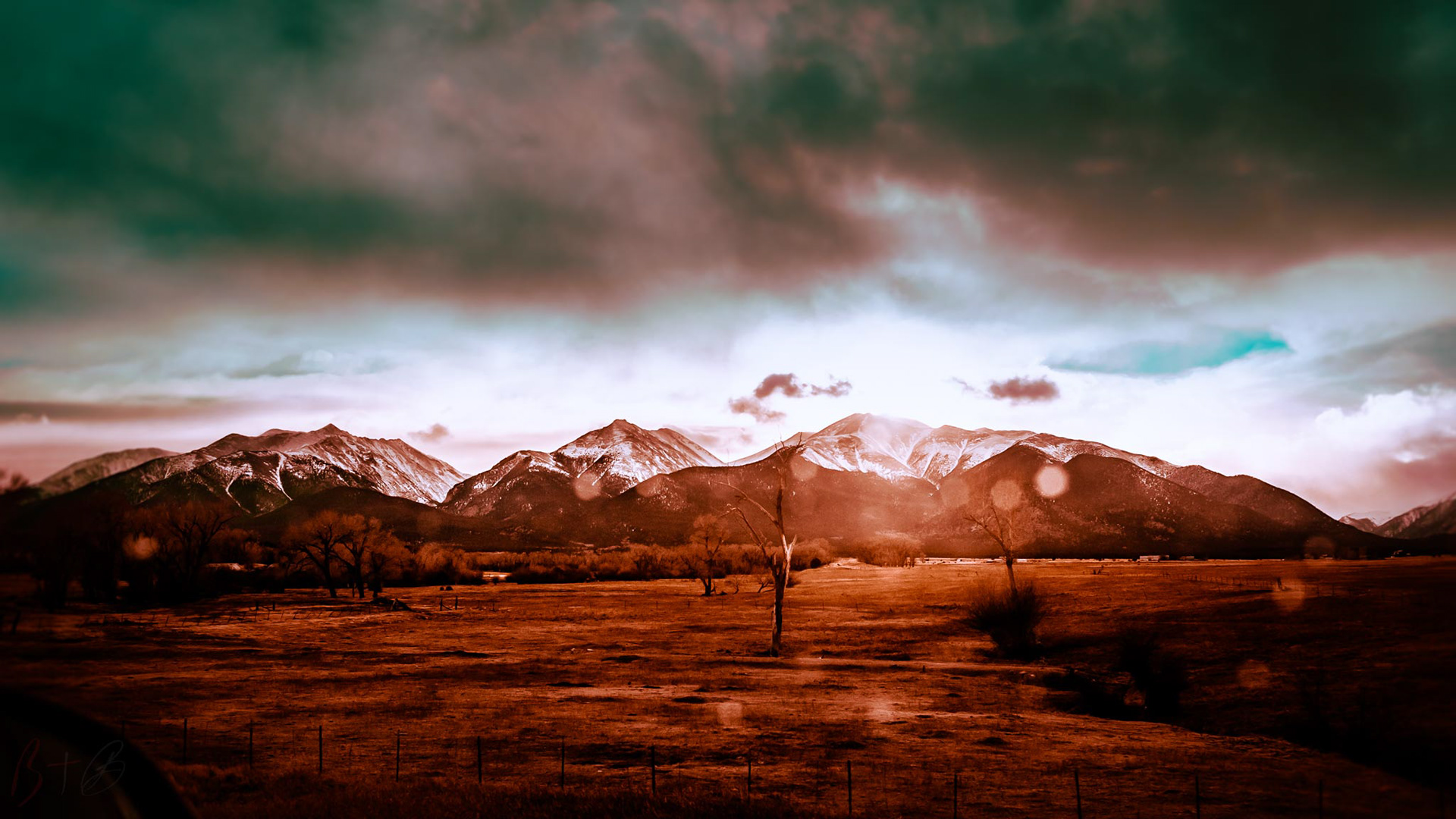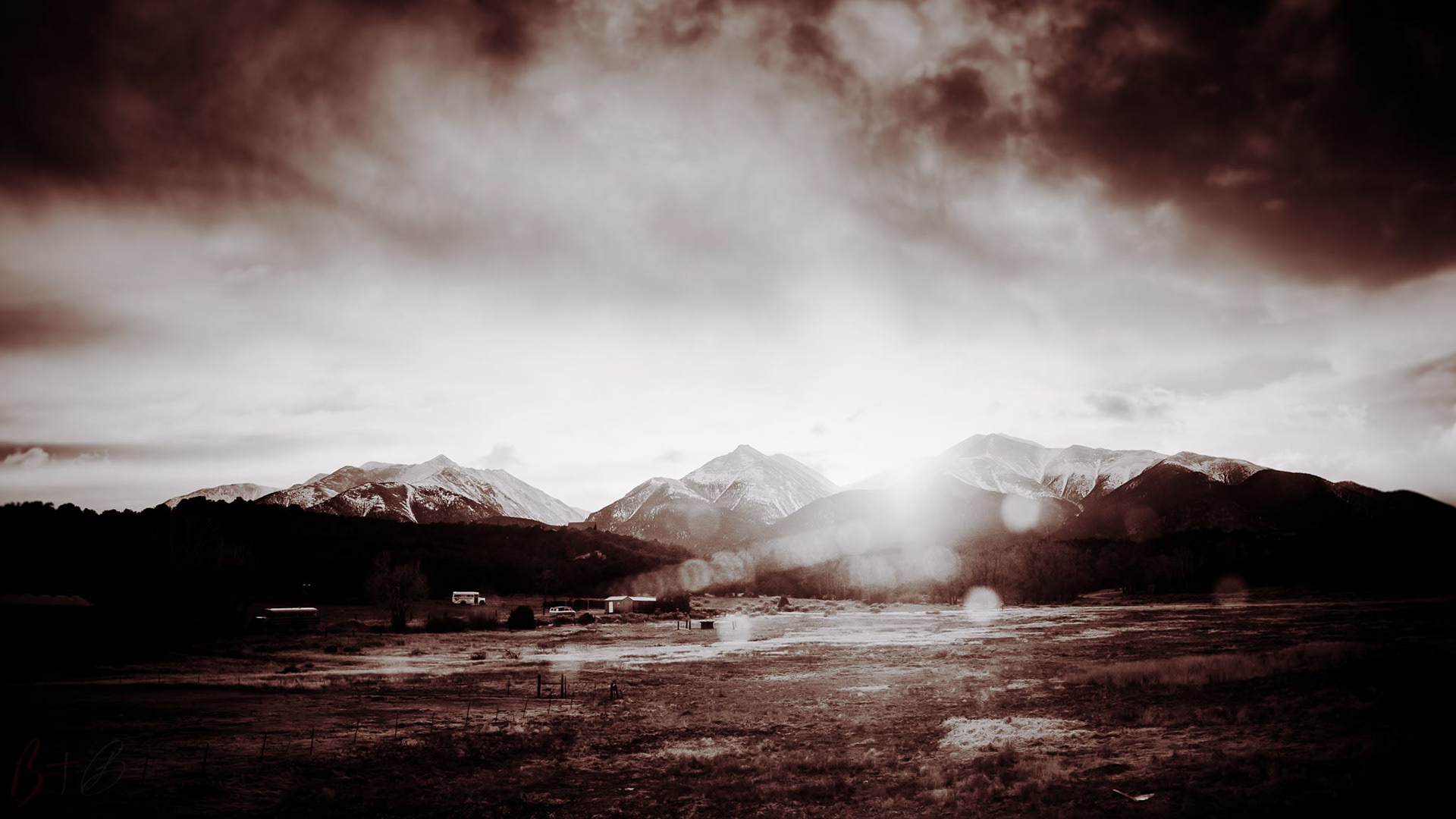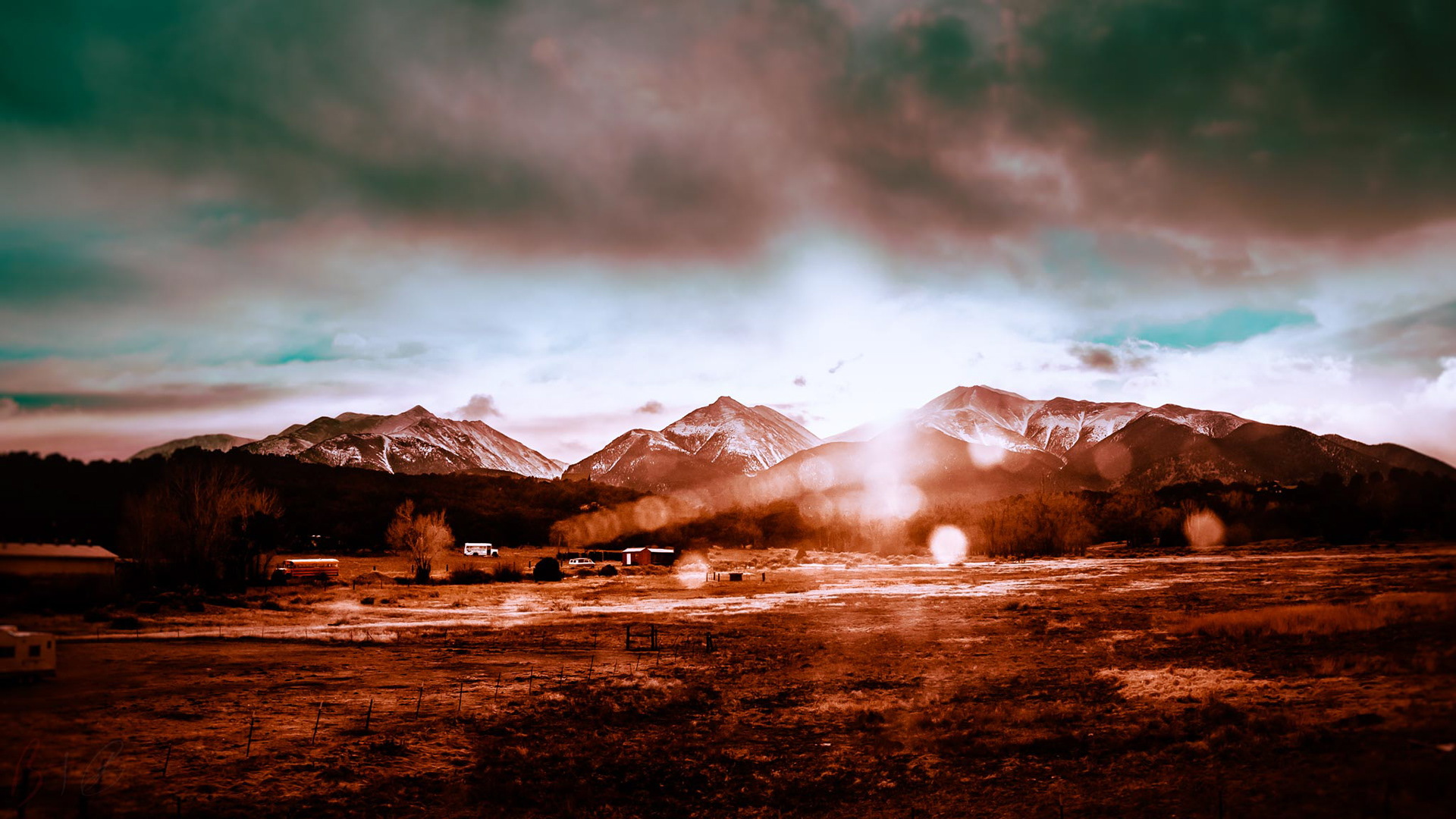 Big thank you to the following vendors that made this day such an epic adventure of a memory!!
Models: 

Chelsea Manning
Megan Rooke 
Jocelyn Weir
Melanie Graham
Sammie Stiles
Devan Ganze
Rebecca & Ben Pettis

Autumn & John

Thanks for your feedback and time reading❤️